The ITU elects its new Secretary General, but will we see a shift in policy?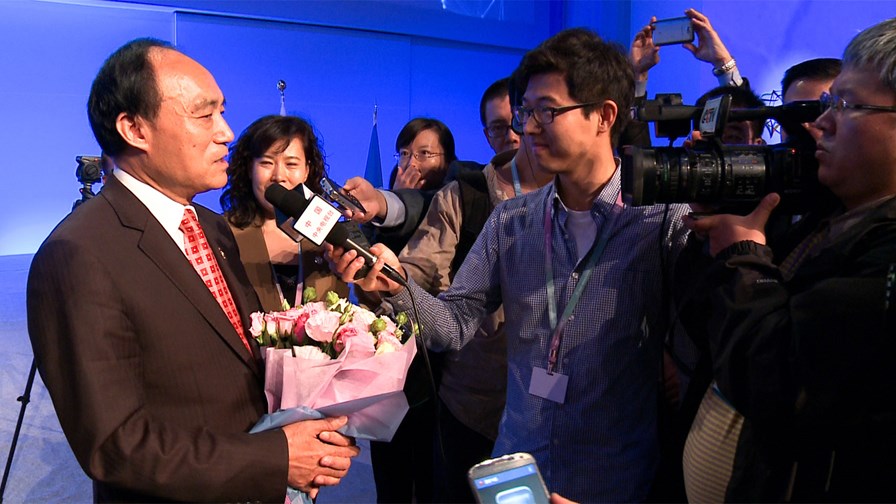 At the ITU's 19th Plenipotentiary Conference (PP-14) in South Korea, delegates elected China's Houlin Zhao as the next secretary-general, replacing Hamadoun Touré. Zhao has been ITU Deputy-Secretary-General since January 2007 and will hold his new role for four years.
Zhao was elected with 152 votes from the 156 countries present and voting. Rather surprisingly, given the amount of competition at the last election, he was elected unopposed in the first round of voting. No details were given of which four countries managed to vote for the wrong person in a one-horse race...
"I would like to thank Liu Lihua, Vice Minister of MIIT, and to the Chinese delegation to this PP-14, as well as to all Chinese friends who have worked hard to promote my candidature over the last two years," said Zhao in his acceptance speech.
China, along with Russia and some Middle East nations, favour intergovernmental control facilitated by the ITU or the UN, not least because it could legitimise national measures to control Internet access by citizens in their countries. It's a view that runs counter to nations such as the USA. "We don't believe that centralizing power that way would be either effective or correct," said US Ambassador Daniel Sepulveda. "It would disenfranchise the community of people who have created the Internet and operate and work on it today."
"The future role of ITU should be to encourage and enable connectivity of networks," he told US media this week. "It shouldn't be to say what people can or cannot do with that connectivity [because] it need not provide protocols by which to connect to each other and it need not provide a naming and numbering system for the Internet."
Whilst the ITU currently has no formal role in coordinating international public policy on Internet issues, there are several proposals and resolutions that start to chip away at this barrier. Indeed, outgoing SG Hamadoun Touré declared on Monday that "we will discuss public policy issues related to Internet governance," with the aim of building bridges between the telecoms and Internet communities.
Policy scrutiny
The PP-14 conference extends a further two weeks, with a hugely ambitious and complex schedule of meetings, and the occasional cocktail reception or two. Plenty to keep new SG Zhao busy.
"Over the recent two years, I have seen an ever-increasing support to ITU by our Members and a very high expectation of ITU's role by ITU's friends and partners worldwide," said Zhao, playing his strategy cards close to his chest. "As the newly elected Secretary-General, I would like to assure you that I will do my best to fulfil ITU's mission, and through our close cooperation, to make ITU deliver services to the global telecommunication and information society at the level of excellence."
So don't expect radical changes in ITU strategy. At least not yet, not until the subject of Internet governance comes up again. But judging from his closing remark, we respectfully suggest that he spends a little more time on marketing and delivery – his plea that we work together for a common goal "better telecommunications/ICTs, a better life for all" doesn't exactly light our fire.
Zhao is going to have to work hard to counter the inevitable allegations that he will pull the ITU too close to the Chinese government's view of the industry. There are already mutterings from US organisations and these will no doubt intensify. He is going to have to stamp his mark on the organisation pretty quickly – with Internet governance and 5G spectrum issues looming, it's going to be an important four years for the ITU.
Email Newsletters
Sign up to receive TelecomTV's top news and videos, plus exclusive subscriber-only content direct to your inbox.