Here are the starting positions for the upcoming China-US technology trade war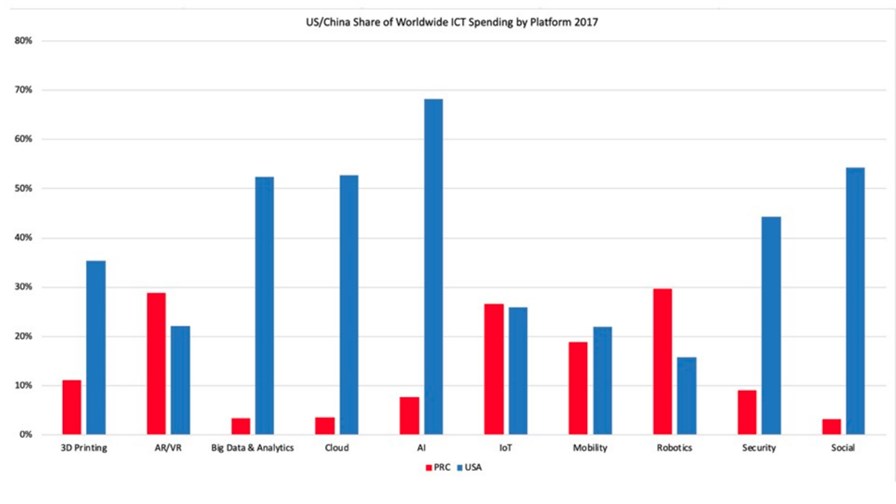 China is doing well in IoT, augmented and virtual reality and robotics
The US dominates in software-driven markets including AI, analytics and cloud
An intensified trade war threatens to disrupt both countries IT strategies
Anxiety about the US/China trade war and how it might up-end the currently globalized technology market is starting to rise.
IDC which, in common with its peers usually likes to stick to the numbers and to steer clear of anything that might be construed as 'political' lest someone somewhere perceives bias, has seized the moment to warn about the dangers of a fracture between the US and China. The two economies, it claims, are already following "different paths to the 3rd Platform as new technologies drive the worldwide ICT market towards $6 trillion in annual spending by 2022."
IDC says China has emerged as the world leader for spending on the Internet of Things (IoT), AR/VR, and robotics, so that by 2022 it will account for nearly 40 per cent of worldwide robotics spending with almost $80 billion in annual expenditures. It already accounts for more than a quarter of global spending on IoT and AR/VR.
Meanwhile the U.S. occupies the other corner by continuing to dominate spending on software-driven markets. It currently accounts for almost 70 per cent of total spending on artificial intelligence (AI) and more than 50% of big data & analytics (BDA). U.S. annual spending on AI will grow to nearly $50 billion by 2022, while annual BDA investments will reach $140 billion. (see bar chart above).
The trouble is, says IDC, that the current trade war threatens to disrupt both countries and any escalation will be a drag on traditional technologies in the first half of 2019, while spending on new categories would likely begin to slow by 2020 if businesses are forced to reassess their budgets.
If that keeps up it will almost certainly be damaging to the entire global IT market.
For the U.S., it claims, the risk is that an economic slowdown could damage its leadership in new software categories. For China, the government would be constrained in its stated goal of diversifying the country's economic growth: the famous "Made in China 2025" plan which apparently set off extra warning bells in the White House.
"The U.S. is still leagues ahead of other countries when it comes to software spending in general and early-stage software deployments in particular," said Stephen Minton, vice president, Customer Insights & Analysis at IDC. "That's partly related to general recognition by U.S. firms of the productivity benefits related to software investments, partly to a strong local ecosystem of vendors and channel partners, and also partly to the rapid adoption of cloud computing in recent years. Cloud enables fast, scalable deployment of new software applications and it's no coincidence that the U.S. is also way ahead of other countries when it comes to migration to the cloud."
In 2017, the U.S. accounted for 54% of all cloud-related ICT spending worldwide at $145 billion. This included $70 billion in spending on cloud software, $35 billion on cloud-related IT services, and $10 billion on infrastructure as a service. The U.S. accounted for almost 70% of worldwide cloud software spending, while China accounted for just 1.5%.
IDC is not alone in sensing a likely fracture in the global ICT world. An editorial yesterday in the New York Times raised the spectre of an inevitable fracturing of the internet - not just a US/China split, but a three-way rending, with Europe going off in a slightly different direction. It says that all three spheres - Europe, America and China - are generating sets of rules, regulations and norms that are beginning to rub up against one another - a fracture, it implies, seems inevitable.
Certainly China's unease with the Internet's traditional freedom of expression has been long-running and getting more serious - most recently Google, which started off all principled in matters of censorship, appears to have yielded Chinese government oversight of its activities (and users) in China as the price for its getting back into the country after it flounced off in 2010.
A fracture with Europe, however, might be pushing things a bit. The NY Times points to the workings of the GDPR as a sign that Europe is casting itself off from the US, whereas we assume that GDPR is a sign of Europe moving ahead on the privacy front. We're just waiting for the US to catch up.
Email Newsletters
Sign up to receive TelecomTV's top news and videos, plus exclusive subscriber-only content direct to your inbox.