Trust me, I'm a Google Glass Doctor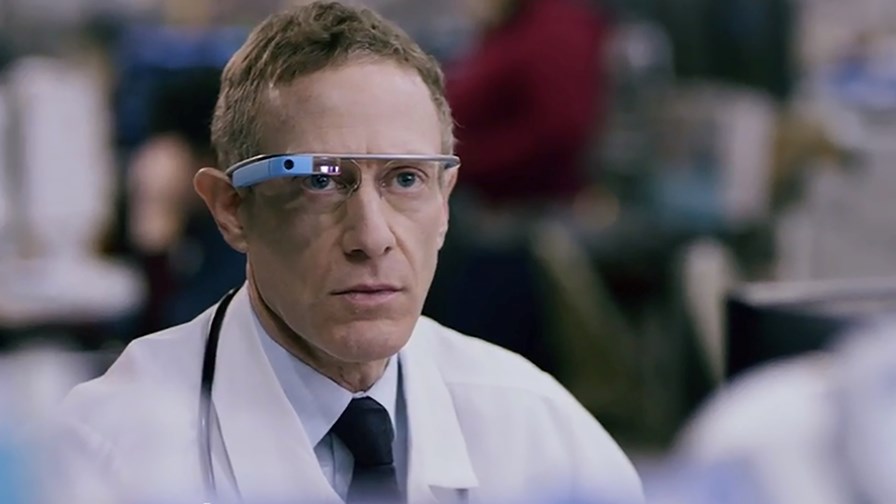 Google's revolutionary eyewear might well make you a prime target for muggers if you are brave enough to walk the city streets, and get you banned from bars and nightclubs, but it is proving popular with the healthcare sector and in particular surgeons.
Tempted by Google Glass yet? Ready to draw attention to yourself in a crowded room? Not afraid of the taunts you'll get from those who either think you are an idiot or are just plain jealous that you can fork out $1,500 for a pair? Whilst Google is working hard to make its Glass less conspicuous, there are some people (real people mid you, not self-important bloggers) who are already signing the praises of the new wearable tech.
Doctors, surgeons and healthcare professionals are taking to Glass and are already singing its praises. Forget tablets and iPads, the new wonder tech for doctors could well be Glass.
The Beth Israel Deaconess Medical Center (BIDMC) in the US has been working with start-up firm Wearable Intelligence since the beginning of the year on various pilots, including the use of Google Glass.
"As procedure oriented specialists, emergency medicine clinicians must stay visually engaged with their patients while also using their hands to complete critical tasks," explained Dr John Halamka, CIO of the BIDMC. "Wearing a device that enables clinicians to view different forms of information without having to disrupt workflow to access a computing device is empowering."
When a clinician walks into an emergency department room at the Beth Israel hospital, they look at a bar code or QR code placed on the wall. Software running on Google Glass immediately recognizes the room and then the Emergency Department computer system sends information about the patient in that room to the glasses. The clinician can speak with the patient, examine the patient, and perform procedures while seeing problems, vital signs, lab results and other data.
"Over the past three months, I have been using Google Glass clinically while working in the Emergency Department," said Dr Steve Horng, of the Beth Israel Emergency Department. "This user experience has been fundamentally different than our previous experiences with tablets and smartphones. As a wearable device that is always on and ready, it has remarkably streamlined clinical workflows that involve information gathering."
He adds that patients in extremis are often unable to provide information as they normally would. For example, a patient who was having a massive brain bleed was only able to tell him that he had severe allergic reactions to blood pressure medications, but couldn't remember their names, but that it was all in the computer.
"Google Glass enabled me to view this patient's allergy information and current medication regimen without having to excuse myself to login to a computer," he added. "I believe the ability to access and confirm clinical information at the bedside is one of the strongest features of Google Glass."
Beyond the technical challenges of bringing wearable computers to the hospital, the pilots tested other concerns of using Glass, such as protecting security, evaluating patient reaction, and ensuring clinician usability. Google Glass is only being used to access data already stored on the hospital's servers, and access can't be granted outside of the building.
The American Journal of Emergency Medicine reported last November that community emergency physicians spend a staggering 44 per cent of their time interacting with electronic medical record systems (EMRs). That's been equated to $168,000 per year in lost physician productivity for a typical emergency department.
"When it comes to interfacing with the EMR, discreet head-mounted displays like Google Glass seem to hit a sweet spot," said Dr Carl Spitzer, chief medical informatics officer at Marin General Hospital in California. "They're out of the way, but there to consult when you need them."
He added: "While there will doubtless be an awkward period of time during which the etiquette and protocol for using these devices in clinical settings becomes codified, I have no doubt that wearables will soon become an acceptable part of medical practice, much as smartphones and other mobile devices already have."
Prep for Surgery
And it's not just ER doctors that are using Glass for accessing patient records, surgeons are also getting in on the act.
The first Google Glass assisted operation was conducted in Madrid, Spain in June last year. Dr. Pedro Guillén performed and streamed the surgery via the Glass' camera, allowing experts at Stanford University and other locations to consult in real-time. A 49-year-old man successfully underwent a chondrocyte knee transplant, in front of a live internet audience of 150 doctors.
Guillén said that his virtual peers were particularly interested in the comfort factor: "They wanted to know if this was uncomfortable to me, because surgeons want to know about the comfort. And I said I wasn't aware that I was wearing something extra."
It's an expensive alternative to webcam, but it's early days. Google Glass alone is not enough; just like tablets, you need relevant apps. MobiHealth News gives details of various start-ups and initiatives in this sector, such as Pristine, Augmedix and Qualcomm Life. The latter has partnered with Californian healthcare provider Palomar Health to create the Glassomics incubator.
"The goal of Glassomics is to explore the potential of wearable computing in medicine, specifically Google Glass," Orlando Portale, chief innovation officer at Palomar Health, told the eWeek website last year. "We are designing and building applications for Glass that empowers physicians with real-time access to information about their patients, such as laboratory results and genomic information."
A team of researchers from UCLA recently developed a Google Glass application and a server platform that allow users to perform instant, wireless diagnostic testing for a variety of diseases and health conditions. Google Glass wearers can use the device's camera to capture pictures of rapid diagnostic tests (small strips on which blood or fluid samples are placed and which change colour to indicate the presence of HIV, malaria, prostate cancer or other conditions). Users can upload these images and receive accurate analyses in as little as eight seconds.
"This smart app allows for real-time tracking of health conditions and could be quite valuable in epidemiology, mobile health and telemedicine," said Aydogan Ozcan, Professor of Electrical Engineering and Bioengineering at UCLA. The application could improve public health monitoring and rapid responses in disaster-relief areas or quarantine zones where conventional medical tools are not available or feasible.
You and I might feel a little uneasy about wearing Google Glass, but for others it could prove to be a life saver. There's no better endorsement of connected technology that that.
Email Newsletters
Sign up to receive TelecomTV's top news and videos, plus exclusive subscriber-only content direct to your inbox.