O2 gives civil servants a blinder of a 4G deal: just £10 a month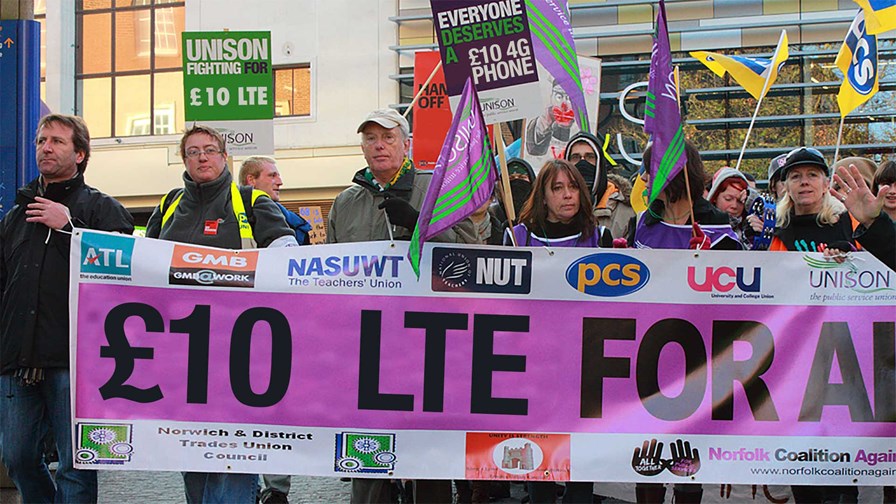 Fantastic news for UK public sector bosses; you can now order 4G phones and very generous tariffs for your teams at a ridiculously cheap price. So cheap, in fact, that you'll easily be able to get the purchases authorised (it's all central government approved), save money from your ever-shrinking budgets and grind out increased productivity from your employees (rival EE reckons an extra 9 minutes).
So, well done public sector managers, you get access to a too-good-to-be-true deal. Mind you, it's rather a slap in the face for the hundreds of thousands of small and medium businesses (SMBs) in the UK who don't get such great terms.
O2's new "4G value tariff" is called No. 10 – a not so subtle reference to 10 Downing Street – and as well as being available to public sector workers, it's also available to the "Third Sector", or the voluntary sector as it used to be called.
And it costs just £10 a month.
That's £10 per month for a new 4G handset, unlimited calls and texts, and a generous 1GB of data (or forget about voice calls and opt for 5GB of data only). You can have either a Nokia Lumia 635, worth £139, or a Samsung Galaxy Ace 3, worth about £180.
O2 is the first UK mobile operator to achieve the secure and government-approved network certification (CAS-T). The new deal will be available under Lot 6 of the Public Services Network (PSN) Framework as a Direct Award option. That's Civil Service speak for "a lot of paperwork involved".
Actually, the UK government set up a £410m 'transformation fund' for local authorities to, in the words of the Communities Secretary, "help to fundamentally change the way local public services are delivered to residents". Sounds like a job for LTE.
What about the rest of us?
Well bully for the public sector. Now what about the private sector, which accounts for 80 per cent of the UK workforce?
The cheapest 4G deal from O2 for a small business in the UK is, according to O2's own website, £19.17. That's for just 500 minutes a month and a paltry 500MB of data. To match the No.10 deal, an SMB would have to pay from £23.33 a month (you get 2GB as there is no 1GB option). And if you want a free phone for that, it would have to be the Samsung S4 mini, which is decent but not a great looker. If you want a 8GB iPhone 5c, then you need to pay an extra £108. And prices exclude VAT, so you had better be VAT registered.
Now let's not get into a bitter argument of the differences between the working conditions of public and private sector workers and management, but remember that this deal is for "the entire public sector". So that includes the local NHS doctor who is earning an average of £70,000 per year.
Over 5.7 million people in the UK work in the public sector, equating to about 20 per cent of all employment. And according to the government's Office for National Statistics, the average public sector worker is paid £28,802, compared with a private sector employee who receives an average of £25,000.
Admittedly, these phones are not going to be bought by individuals but by departments and organisations via standardised procurement processes, or so we assume, and they will remain the property of local government and voluntary groups, not the employees. But that's not so different to the way businesses by phones for their staff.
So why the special treatment O2? According to Billy D'Arcy, MD of Public Sector Business at O2: "We recognise the increasing pressure on the Public and Third sectors to save money and increase productivity, and the No.10 proposition has been built to respond to these exact two things. By giving public sector workers access to the latest digital technology, we can ensure that citizens are being served by the Government in the best possible way."
Oh really? For any doubters out there, who are convinced this is purely about selling bulk airtime to a specific target industry segment, D'Arcy sets our minds at rest: "For example, by giving doctors the technology to deliver remote diagnoses to patients."
Yes, those same doctors earning megabucks (did you know 16,000 GPs on the NHS earn over £200,000 a year?) can now get their hands on a £10 4G deal. I mean, it's not like they can afford to go out and buy their own handset, is it? BYOD? Never heard of it.
If a UK operator can do a £10 per month 4G deal packed with generous features, then why can't the same deal be made available to the rest of us? How much are we over-paying?
"We have worked closely with the Crown Commercial Service to deliver a proposition that offers maximum value to the whole of the public sector," an O2 spokesperson told TelecomTV. "We wanted to treat the sector as one customer and utilise the PSN framework to achieve this. We create value packages for all of our customers and have a number of competitive offers available for our SMB customers that have been built for them."
Firstly, well done O2 for creating a deal like this. It's going to be popular and the other MNOs are bound to try and follow suite as soon as they can. But obviously we want more from O2 and its rivals. How about improving your offers to the private sector? Yes, there are packages available, but nowhere near as attractive as the No.10 tariff. How about all of us SMBs struggling with the faltering economy, trying to keep people in jobs – how about "the increasing pressure to save money and increase productivity" for us? You can do it, you know you can, and we look forward to reporting on it in due course…
Email Newsletters
Sign up to receive TelecomTV's top news and videos, plus exclusive subscriber-only content direct to your inbox.