Industry partners gather for creating new values of 5G FWA
[Dubai, UAE] During the 5G Industry Summit at the Global Mobile Broadband Forum (MBBF) 2023, FWA industry partners gathered to share the industry progress, commercial use experience and achievements, and industry requirements of 5G FWA, fully demonstrating the industry maturity and business success of 5G FWA. The participants, who are from industry organizations, operators, network equipment vendors, and CPE vendors, jointly released the "Global 5G FWA Acceleration Initiative" declaration to promote sustainable development of 5G FWA and call for the entire industries to work together to accelerate 5G FWA development.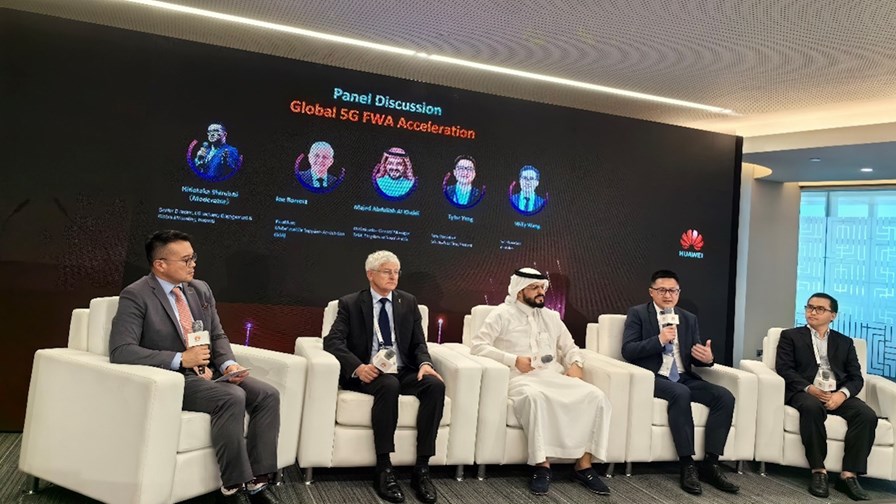 The Global 5G FWA Acceleration Initiative is committed to making 5G FWA the first choice for home broadband. In the terminal industry, it advocates balanced development of all CPE products. High-end CPE products can achieve the ultimate experience comparable to that of fiber connections, while low-end CPE products, with similar prices to 4G CPEs, can be used to connect the unconnected and migrate 4G users. In terms of networks, equipment vendors offer innovative solutions to minimize the FWA cost per line and guarantee E2E experience to build FWA into the optimal home broadband access mode. As for operators, the Initiative advocates the deployment of 5G FWA as soon as possible to accelerate the positive business outcomes and ensure sustainable development of FWA through experience-centric operations.
Mr. Majed Abdullah Al Khaldi, Optimization General Manager of Zain KSA, said that FWA is a must in the 5G era and is a major service now and in the future. Zain focuses on the spectral efficiency, uplink experience, and latency of FWA. To accelerate FWA development, Zain KSA launched FWA+ that offers 300+ Mbps downlink rate, 50 Mbps uplink rate, and 20-30 ms latency, enabling experience-centric FWA service operations.
Joe Barrett, president of GSA, said that the 5G FWA industry is developing rapidly. So far, 113 operators from 62 countries have deployed 5G FWA services, and more than 200 types of 5G CPEs are in use. The annual growth rate of CPE shipment exceeded 100% in the past few years.
Willy Wang, vice president of Asiatelco, said that 5G FWA with fiber-like experience has proved to be a global success, with a forecast CAGR of 67% in the next 5 years. Asiatelco has launched a full range of products from cost-effective entry-level to high-performance CPEs to accelerate 5G FWA development.
Yang Tao, vice president of Huawei Wireless TDD Product Line, said FWA has proven to be FWA's most successful business. Huawei continuously invests in FWA solutions to improve spectral efficiency and ensure user experience for real-time services such as videos and gaming, driving the healthy and sustainable development of FWA.
5G FWA has become a major service on 5G networks and a key access mode for home broadband. According to predictions, the number of 5G FWA users will jump from 10 million to 50 million in 5 years. It is an inevitable trend to embrace FWA and accelerate the deployment of 5G FWA services.
Email Newsletters
Sign up to receive TelecomTV's top news and videos, plus exclusive subscriber-only content direct to your inbox.