Huawei IntelligentRAN innovates towards 'zero-bit, zero-watt' networks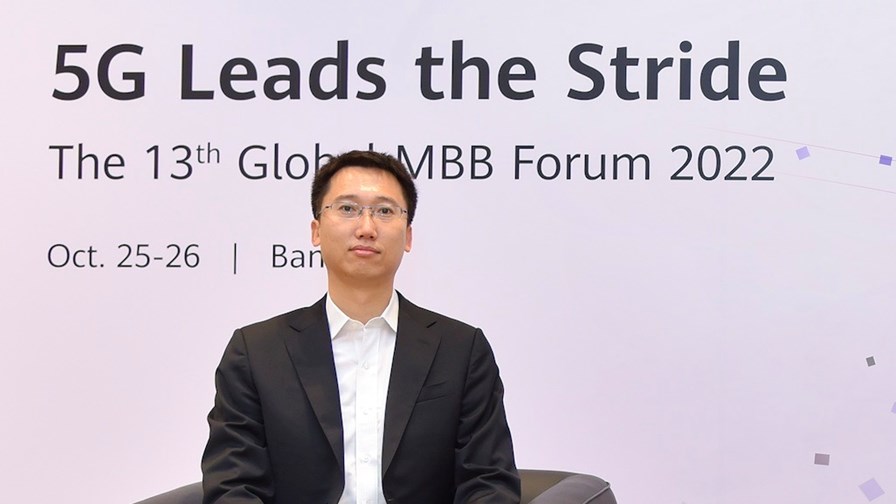 Chinese telecoms equipment vendor Huawei is confident it has what it takes to make telecoms networks so sustainable that they are moving towards 'zero bit, zero watt' as the company strives to address challenges faced by telcos with both data traffic and energy prices rising.
Talking at the Global Mobile Broadband Forum (MBBF) 2022 in Thailand's capital city, Alex Zhao, VP of Huawei Wireless Mobile Automation Engine (MAE), noted that minimising energy consumption growth is "a universal challenge" given the surge in network traffic that is expected over the next decade.
To address it, the company has made an effort to maximise energy savings across networks, including turning off services when they are not in use, using only a portion of the spectrum when traffic is small by switching off unneeded frequency bands, and reducing the transmission power of certain frequencies or services without affecting user experience – this is achieved by leveraging the overlapping between different cells. Huawei can also use "the innovations in massive multiple-input, multiple-output (MIMO)", which comes with lots of special streams that can be partially switched off.
"We have applied multiple intelligent algorithms to balance multi-objects, for example energy saving and network performance. With that, we can maximise the energy-efficiency improvements of the network without impacting user experience," explained Zhao.
Another goal for Huawei is to save energy by simplifying all redundant and repetitive operations at the network, including ways to "mix and match, or orchestrate, all the features" in the areas of switching off frequency, reducing running time, transmission power and using massive MIMO. "And with intelligent algorithm, it can be realised to set differentiated threshold values for different features, enabling the policy to be customised by site, which is the so-called 'one site, one policy'", he added.
Ultimately, as Zhao put it: "Our goal is to achieve a network that can deliver 'zero bit, zero watt'. I believe that we will have more innovative solutions to be released in the future for telecom operators."
At this year's MBBF, Huawei highlighted a new solution, dubbed iPowerStar based on IntelligentRAN architecture, that can help operators cut energy consumption by combining "the network element capabilities in the time, space, frequency and power domains with the network parameter tuning and optimisation capability" based on IntelligentRAN architecture.
"We have conducted joint innovation and POC [proof of concept] testing with more than a dozen telecom operators around the world", noted Zhao, adding that the solution has helped the operator to save 20 million kWh of electricity in China, representing a 25% reduction of its energy consumption. This equates to 20,000 tonnes of carbon dioxide emissions saved.
One of Huawei's other achievements is helping telcos to operate and maintain networks with lower operating expenditure (opex), all while the networks become increasingly complex due to the use of more and more frequency bands as evolve towards 5G and expected 5.5G.
"The vision of autonomous network can be summarised as 'three zeros' and 'three zeros' and 'three self-X capabilities'. The three zeros are defined from the perspective of the customers – zero touch, zero wait and zero fault. And the three capabilities refer to network capabilities that are self-configuration, self-optimisation and self-healing", explained Zhao. "It's like autonomous driving for vehicles. This is going to be a long journey ahead and will require concerted efforts in the industry," he added.
On that note, Huawei is urging the sector to adopt a new architecture, which includes multiple layers of network autonomy and applies vertical collaboration between them. It also calls for different levels of autonomy to be defined and for collaboratively defined "high-value use cases" in autonomous networks.
"The challenges facing operators are quite different because they have different networks. They serve different users and use different spectrums. Therefore, we hope that operators, partners and vendors can come together to define the high-value use cases," said Zhao.
At the MBBF, Huawei released a three-layered architecture for autonomous networks to simplify and optimise the network, and to "support business success".
It has also launched a solution iFaultCare that helps operators deal with faults in the mobile networks and includes precise analysis and prediction of faults before they happen, as well as an application iHashBAND, which pledges to improve network performance by 15% to 20%. Its role is "to achieve the intelligent selection between multiple frequencies within one site and carrier aggregation between different sites".
The Global Mobile Broadband Forum 2022 is hosted by Huawei, together with its industry partners GSMA and GTI. This annual forum gathers mobile network carriers, vertical industry leaders, and ecosystem partners from around the world to discuss how to make 5G a commercial success, as well as other high-priority industry topics like green development, intelligence, and 5G evolution. For more information, please visit: https://www.huawei.com/en/events/mbbf2022.
Email Newsletters
Sign up to receive TelecomTV's top news and videos, plus exclusive subscriber-only content direct to your inbox.