Is Vectoring the answer to cheaper broadband speed improvements?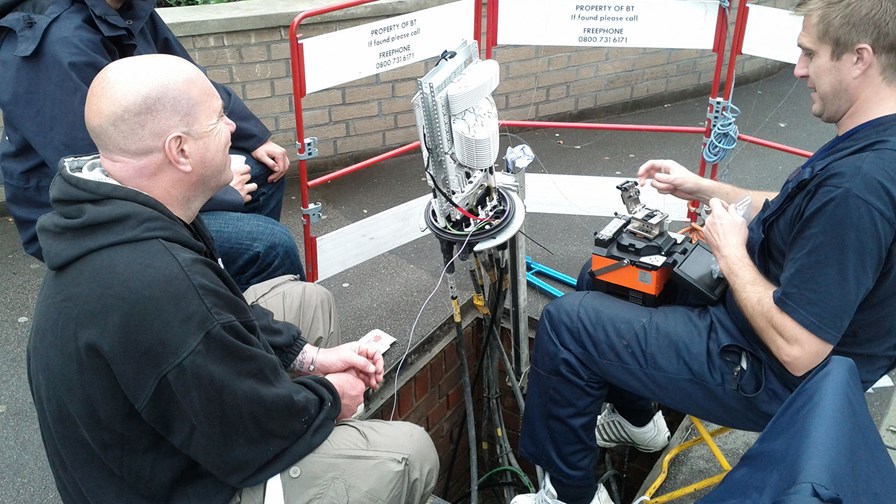 US-based telecoms vendor Adtran has announced what it says is an industry first that will overcome several of the key barriers that service providers face when expanding their broadband service deployments. It has demonstrated how Frequency Division Vectoring (FDV) enhances the capabilities of both G.fast and VDSL2 vectoring by enabling them to better coexist by working in parallel across a single subscriber line.
According to Adtran, this new patent-pending technology enables service providers to take advantage of the maximum G.fast performance without the expense of migrating their entire existing subscriber base from VDSL2 to G.fast. By using the same FTTC infrastructure, FDV doubles data rates and increases the reach of intermediate-rate services – between 100Mbit/s to 1Gbit/s – allowing the delivery of faster broadband to 80 per cent more subscribers.
"While G.fast and VDSL2 have always been seen as complementary technologies, the limitations of G.fast have been exposed when forced to operate in a VDSL2-compatible mode at higher rates," said Jeff Heynen, principal analyst at research firm Infonetics. "As service providers look to build out their G.fast adoption strategies, Adtran's FDV technology has a key performance impact by allowing G.fast and vectored VDSL2 technologies to work in concert to boost performance."
VDSL2 can reach data rates of up to 200Mbit/s on twisted pair cable, although its performance deteriorates with distance (at just half a mile it falls away to 100Mbit/s). G.fast also uses twisted pair from the cabinet, and is being developed to deliver speeds 1Gbit/s, although again, performance falls away with distance and highest speeds are best achieved at just 250m or so. Adtran has worked with the ITU on the standardisation process for G.fast.
Delivering advertised speeds
Vectoring is a transmission method that coordinates line signals to reduce the level of crosstalk and improve network performance, rather like noise cancellation. Rather than adding to data speeds, vectoring helps subscribers get the speeds they were originally expecting – although speed bumps are not ruled out. The more VDSL lines there are in a cabinet, the more likely that crosstalk will be a problem.
Adtran says that FDV expands the market for G.fast by broadening its applicability from Fibre-to-the-Building and distribution points out to existing street cabinet sites (FTTC) – in other words, it gets over the limitations of G.fast's short distance architecture.
"FDV allows service providers to expand the capacity of their Fiber-to-the-Cabinet architecture to Fiber-to-the-Distribution Point levels without a deeper investment into their fibre infrastructure," said Kevin Schneider, CTO of Adtran. "This will enable service providers to cost-effectively accelerate premium broadband services for their entire subscriber base."
Infonetics analyst Jeff Heynen added: "Service providers can now maximize a broader market opportunity without wasting unused bandwidth in their networks or prematurely forcing subscribers served by 100Mbps VDSL2 to move to G.fast."
In the UK, BT is in the second phase of its VDSL vectoring trials via its Openreach infrastructure unit, which are likely to run for the next three months. There is speculation that BT will look at system-level or node-level vectoring solutions, but for the moment engineers are only looking at the impact of an enhanced vectoring engine ASIC in selected trial cabinets.
Current work suggests that vectoring has the most impact on lines between 50m and 500m from the cabinet, with fewer gains for end users further away. There are a number of different technical components to vectoring, of which FDV is one. Others include physical retransmission (G.INP) and seamless-rate adaptation.
In Germany, Deutsche Telekom has ordered around 24 million new vectored DSL lines (mostly from Adtran, if reports are true) that will start to enter service in the second half of this year, and trails are underway in Switzerland, Italy and Belgium.
There is also speculation that AT&T may be putting its broadband expansion plans on hold, not because of any deal with DirecTV but because it wants to see what G.fast can offer. Like Adtran, AT&T has played a big part on the development of the technology standard. But because G.fast will require a redesign of network architectures (prioritising short distances for maximum G.fast results), it may make sense to pause its existing FTTx U-Verse expansion until more trials have been completed.
Email Newsletters
Sign up to receive TelecomTV's top news and videos, plus exclusive subscriber-only content direct to your inbox.