BT says that its G.fast trials prove the potential for Gigabit over copper (sort of)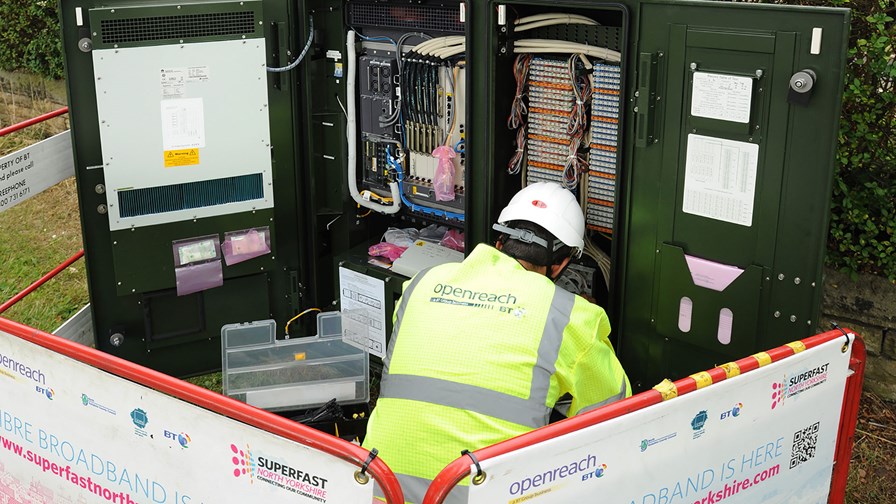 It's not quite the Gigabit City news we've come to expect of late, but it's a step in the right direction, albeit a rather small and tentative one. UK telco BT has revealed the results of new field trials that show 'ultrafast' broadband isn't just the preserve of GPON or point-to-point fibre FTTH networks, but can be delivered via a mix of fibre and existing copper cable.
When BT says ultrafast though, it means combined downstream and upstream speeds of up to 1Gbit/s, rather than purely download peak speeds, so it's not a true comparison with gigabit networks in the truest sense. But still, it managed to get pretty close to a gig in its asymmetrical trials. BT used G.fast technologies for its trials, which is being standardised by the ITU. Approval of the G.9701 recommendation is expected in December.
BT says it achieved downstream speeds of 786Mbit/s with upstream speeds of 231Mbit/s. However, in order to reach these speeds, the copper part of the access network had to be minimised, with the majority of the connection being fibre. Hence for these speeds, the copper length was a mere 19 metres. That's a very short distance, given that the distance of a UK home to an exchange can be well over a mile outside cities.
Even within cities it's a short distance. If you consider a dense urban environment – perhaps a street of Victorian terraced houses – then the average width of a low-cost property is about 5m to 6m, with average front gardens 3m deep (these stats come from the planning department of the London Borough of Waltham Forest). So if you are going to roll out fibre to a distribution point and then continue with copper to premises, you are only going to serve about 3 houses in each direction, for a total of five or six. Remember, these are possibly the narrowest houses in the UK, so your total is going to go down in real world scenarios.
Another way to visualise the 19m distance is to consider that an average Victorian street in London is 12m wide, then add in a front garden on either side and you get to 18m, allowing half a metre to make the connections and you have reached the 19m limit.
Thankfully, BT also released data for longer copper distances. For 66m, downstream speeds reached 696Mbit/s (only about 100Mbit/s down from its 19m scenario) and still managed to hit 200Mbit/s upstream. 66m is a far more realistic scenario, and by placing a distribution point in the middle of an average suburban terraced street you could probably achieve full coverage. In fact, BT says 66m is a distance that encompasses around 80 per cent of connections.
A cheaper alternative to FTTP
BT's existing fibre network, which is being rolled out by its local access network business Openreach, currently passes more than 20 million UK premises using a mix of FTTP and FTTC – although the latter is far the most common and is reliant upon VDSL copper access, hence the most it can offer is 80Mbit/s advertised downstream, with real-world speeds being half that (as I can attest, although there is no reduction in the price… Incidentally, will be one day treat broadband like a true utility and have metered access, as we do for water, electricity and gas, so we only pay for what we use? One can dream.) Vectoring could help push speeds up towards their advertised maximum, but there is currently no sign that BT intends to deploy this technology commercially, despite being discussed for the past three years.
So why is BT experimenting with G.fast when what it really should do is go the whole hog and roll out fibre right to the premises of all its customers, future-proofing gigabit access speeds for decades to come? Because it's a rather expensive undertaking. Physical groundworks account for around 80 per cent of the costs of implementing FTTP, and whilst equipment costs are falling, labour costs are rising. For a telco without a comprehensive network of suitable conduits already in place, it's mission impossible. Unless you want to adopt the US gigabit city approach of cherry-picking the most affluent areas and ignoring the need for universal and affordable connectivity (there are exceptions, but the latest crop of roll-out plans adopt this new approach).
The problem is, those dense urban streets that are ideal for G.fast are also perfect for FTTP, and BT's competitors, such as CityFibre in York, will soon be offering true gigabit speeds. And BT has itself proved that G.fast is not so good for rural areas. BT now needs to work on its economic argument for G.fast. Is it merely a stop-gap technology before FTTP becomes affordable, or is it a long-term viable alternative?
Testing times
But until then, the telco promises to continue its development of G.FAST, and is due to open its new ultrafast broadband lab at its Adastral Park R&D centre in Ipswich (for a sneak peak behind the scenes at Adastral Park, watch our exclusive video). Its researchers will use the new laboratory to study the full technical capabilities of G.FAST hardware designed by vendors such as Adtran, Alcatel-Lucent and Huawei. Incidentally, BT's G.fast trials were conducted in nearby Ipswich.
"We see G.fast as a very promising technology with significant potential – that's why we're putting some of our best minds on the case to assess it fully in a purpose-built facility," said Tim Whitley, MD of Research and Innovation, BT Group. "BT has a long history of pushing the boundaries in telecommunications and it's crucial that we stay ahead of the curve for the benefit of our customers and shareholders."
BT quotes the UK Broadband Stakeholders Group as saying the average UK household will need 19Mbit/s by 2023, with the most data-hungry homes requiring around 35Mbit/s. The current UK average broadband speed according to Ofcom is 17.8Mbit/s. 2023 is a decade away, and to say that households will need less than 20Mbits is incredulous. Multi-occupant use of 4K TV streaming alone will push the figure well over that. With many telcos working towards a scenario where households will have over 100 connected devices operating before too long, speeds of well over 100Mbit/s are going to be required. There's a reason why Gigabit Cities are proving popular with customers – it might be more perception that practical reality at the moment, but it's an irreversible trend. And you don't see many telcos pushing an innovating business case offering "19 Megabit Cities"…
We can only hope that BT's trials prompt it to commercialise G.fast (and whilst it's at it, vectoring to please), as at the moment it says it will only do so if there is a demand. In the words of the former FCC Chairman over in the US, "build it and innovation will come", don't wait to be asked.
Email Newsletters
Sign up to receive TelecomTV's top news and videos, plus exclusive subscriber-only content direct to your inbox.