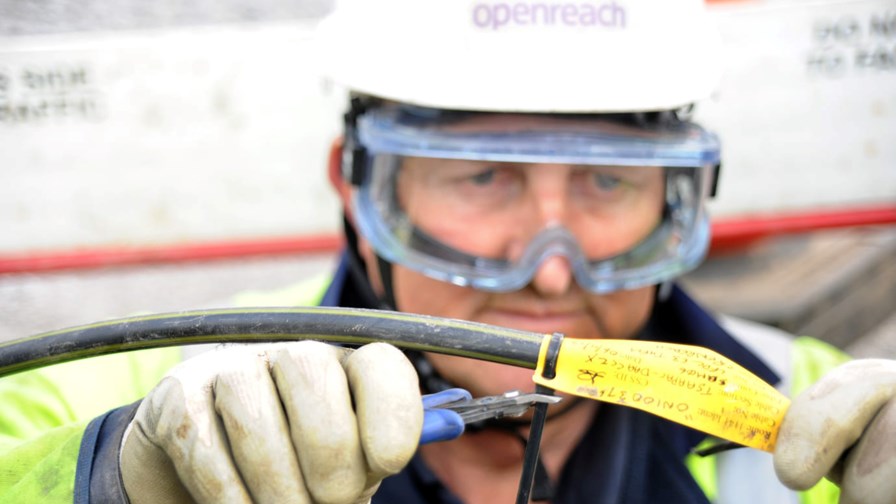 New packages will offer up to 25-fold speed increase on Superfast broadband
Service to go live in 'hundreds' of locations, including all the usual suspects
Smaller, nimble altnets are the true champions of UK full fibre
Say it quietly, but BT really is getting ready to launch a Gigabit home broadband service later this month.
Details are scarce, but the UK incumbent confirmed in a statement that the service will go live "in hundreds of cities, towns and villages" across the country, including: Belfast, Birmingham, Bristol, Cardiff, Edinburgh, Liverpool, Leeds, London and Manchester.
Openreach's FTTP network currently covers more than 2 million households; it aims to reach around 50 percent of homes by the end of 2025.
Pricing and service tiers have yet to be disclosed, but BT said it will unveil a range of new Full Fibre plans, which will offer speeds that are up to 25 times faster than its Superfast fibre packages.
BT's launch will do much to improve ultrafast broadband access, and one would think that its scale means the prices on offer should be competitive, putting it within reach of more people.
"BT's new Gigabit home broadband service will offer customers a best-in-class broadband experience, ensuring it is perfect for busy connected homes where multiple online devices stream, browse, monitor and game at once and at the busiest times," BT said. "It will also provide a future proof connection to enable homes to make the most of new high-bandwidth products and services such as 8K video, online gaming and the increasingly connected smart home."
Finally
After decades of sweating every last drop out of its copper – while proper high-tech economies showed the world what was possible with FTTP – the telco is set to join the ranks of the UK's small, nimble altnets that have been building and operating FTTP networks in the UK for the last few years. These players have proved not just that demand was always there, but that they could make the numbers add up too.
Names like CityFibre, Gigaclear, Hyperoptic. Bigger players too, like TalkTalk and Sky, via their tie-up with CityFibre in York; and as of last year, Virgin Media. KCOM has already installed full fibre across its entire Hull and East Yorkshire footprint.
These are the real champions of UK broadband.
But let's not be too harsh
BT has a harder life than those mentioned above.
For instance, there are the legions of BT staff and retirees who are members of its pension scheme. Nearly 300,000 of them. At the end of fiscal 2018, BT's pension liabilities stood at around £57 billion, and its pension deficit was more than £5 billion. Last year, BT's net debt increased by nearly £1.5 billion, reflecting £2 billion worth of payments into the pension scheme.
That would be a headache for any company, let alone one that operates in a capex-heavy market like telecoms.
BT is also a USO provider, and will from this year be required to offer a 'decent' broadband connection to anyone eligible, no matter where they live. It can seek compensation for the costs incurred in reaching them, but it will have to prove that the network deployment was carried out as efficiently as possible. That's another headache that smaller players don't have. Granted, Gigaclear's whole business model is rural FTTP, but end user demand has to cross a certain threshold before it embarks on a deployment.
Finally it's also worth remembering that a majority of investors must have wanted BT to persist with copper for as long as it did, otherwise they would have forced change upon it.
BT isn't the only big European incumbent lagging in fibre either. Look at Deutsche Telekom, for example, which wouldn't stop banging the VDSL drum, and now finds itself partnering with altnet and full fibre provider Deutsche Glasfaser to offer FTTH. Compare these two to Telefonica. The Spanish incumbent's FTTH coverage in its home market reaches 71 percent of households. So it is possible for a member of the old guard to do full fibre properly.
BT will doubtless – and rightly – celebrate its arrival in the full fibre market later this month, but looking at it another way: the launch date itself will also stand as a monument to a missed opportunity to be the UK's – and one of Europe's – full fibre pioneers.
Email Newsletters
Sign up to receive TelecomTV's top news and videos, plus exclusive subscriber-only content direct to your inbox.