It's Amazon's cloud, and now it wants the enterprise market for itself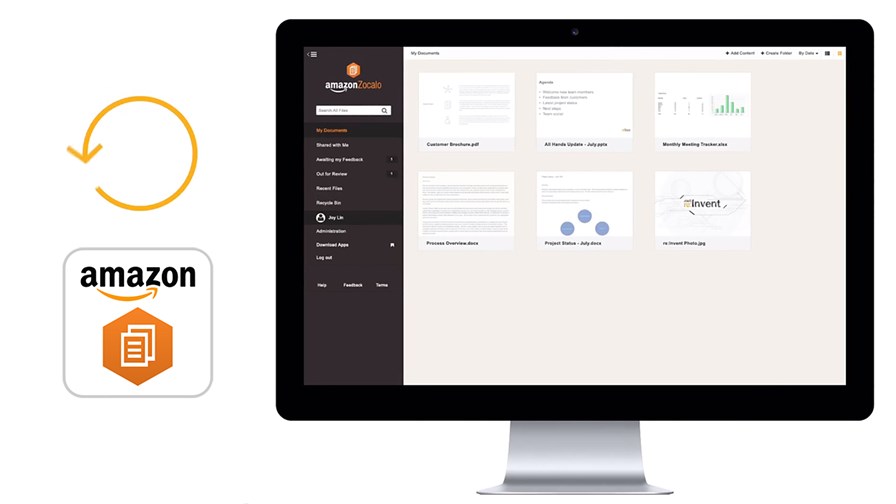 Amazon Web Services powers some of the world's most disruptive and innovative cloud-based services. Dropbox springs to mind, as do Box, Huddle and even Netflix. And there are many others. All of these market-leading services use, to varying degrees, Amazon's cloud.
But whilst Amazon has until now been happy to collect regular usage payments from these companies, and the many hundreds of thousands of others, it appears that it wants more. Amazon built its cloud, so why shouldn't it benefit more? Why should other OTT companies make millions and attract sky-high valuations off the back of Amazon's infrastructure?
Enter Zocalo, the Spanish-named new managed, secure, enterprise storage and sharing service from Amazon. With Zocalo, says Amazon, customers can store, share, and gather feedback on documents, spreadsheets, presentations, web pages, images, PDFs, or text files – all from the device of their choice. Google and Microsoft take note: Amazon is coming after your business.
"Customers have told us that they're fed up with the cost, complexity, and performance of their existing old guard enterprise document and collaboration management tools," said Noah Eisner, General Manager for Zocalo at Amazon Web Services. "AWS was increasingly being asked to provide an enterprise storage and sharing tool that was easy to use, allowed users to quickly collaborate with others, and met the strict security needs of their organizations. That's what Amazon Zocalo was built to do."
Amazon Zocalo claims to be able to integrate with existing corporate directories, and provides administrators with flexible sharing rules, audit logs, and control of the location where data is stored. For $5 per user per month, Amazon Zocalo provides a fully managed service with 200GB of storage.
Amazon is hoping that the security and administration features in Zocalo will persuade enterprise customers to use its service rather than the more consumer-focused Google Docs. All data stored in Zocalo is encrypted in transit and at rest, and administrators can set policies to control users' sharing behaviour, choose the AWS Region where users' data is stored, and view audit logs to track file and user activity.
Users can access data stored in Zocalo and view and leave feedback anywhere – whether from laptops, iPads or Android tablets. Zocalo can sync files across devices to ensure files are available anywhere and anytime. Amazon WorkSpaces, AWS's virtual desktop in the cloud service, is integrated with Zocalo, and all WorkSpaces customers get Zocalo for free with up to 50GB of storage.
Amazon believes that enterprise document and collaboration systems have tried to be too many things to users, and ended up becoming overly complex and expensive for both users and IT organisations. As a result, enterprises have to either use email to share documents and files, or work around the complexity and high cost. Hence the development of Zocalo.
"This is a true enterprise application, and as such, it integrates with the enterprise services you actually have," said company CTO Werner Vogels at Amazon's AWS 2014 Summit in New York yesterday.
Will it impact the likes of Dropbox, Box or Huddle, who all offer varying degrees of storage and collaboration? Or is the market still too young for any direct impact? There is every chance that demand still outstrips supply, and that the race to control this sector has only just begun.
Zocalo, which is Spanish for town plaza, is available from today as a limited preview.
Mobile Services
During its AWS summit, Amazon also announced new services for mobile developers, making it easier to build, deploy, and scale mobile applications. Amazon Cognito is a new service that provides user identity and data synchronization that lets developers create apps that authenticate users through popular public login providers; Amazon Mobile Analytics service allows developers to collect and analyze app usage data and delivers reports within an hour of data being sent; and there is also a new unified Mobile SDK.
Amazon says that whilst many app developers use the AWS Cloud as infrastructure building blocks for their back-end services, they still have to spend time on connecting apps to storage and database services and integrating core functionality. "With Amazon Cognito, Amazon Mobile Analytics, and the AWS Mobile SDK," said Amazon in a press statement, "developers are now able to focus more of their energy on what matters, the differentiated functionality of their app that attracts and retains end users."
Email Newsletters
Sign up to receive TelecomTV's top news and videos, plus exclusive subscriber-only content direct to your inbox.