IBM and Apple finally unveil their first enterprise apps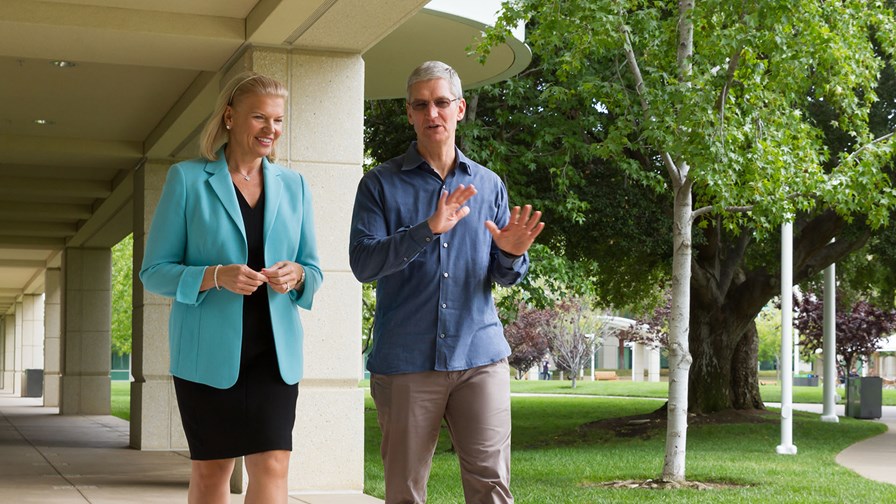 Back in July, Apple and IBM have announced an exclusive partnership with the aim of transforming enterprise mobility through a new class of business apps. IBM was going to devote 100,000 of its employees to the deal – including industry and domain consultants and software developers, a sign of just how serious this deal was.
Five months on, and the two companies have delivered their first apps. Known as "IBM MobileFirst for iOS solutions", they are described as a new class of made-for-business apps that supporting cloud services and that bring IBM's big data and analytics capabilities to iPhone and (more importantly for Apple, given the slowdown in sales) iPad users in the enterprise.
The first apps are now available to enterprise customers in banking, retail, insurance, financial services, telecoms and for governments and airlines. Existing IBM clients that have already announced their support include Citi Bank, Air Canada and Sprint.
"The business world has gone mobile, and Apple and IBM are bringing together the world's best technology with the smartest data and analytics to help businesses redefine how work gets done," said Philip Schiller, SVP of Worldwide Marketing at Apple.
The apps are delivered in a secure environment, embedded with analytics and linked to core enterprise processes. The apps can be customised for any organisation and promise to be easily deployed, managed and upgraded via cloud services from IBM specifically for iOS devices, with security across the data, app and device.
"What we're delivering aims directly at the new quest of business – smart technologies that unlock new value at the intersection of big data and individual engagement," said Bridget van Kralingen, SVP of IBM Global Business Services. "Our collaboration combines IBM's industry expertise and unmatched position in enterprise computing, with Apple's legendary user experience and excellence in product design to lift the performance of a new generation of business professionals."
The first collection of apps include:
Plan Flight: permitting pilots to view flight schedules, flight plans, and crew manifests ahead of time and make more informed decisions about discretionary fuel.
Passenger+: allows flight crews to offer personalised services to passengers in-flight.
Advise & Grow: for bankers to assist their small business clients.
Trusted Advice: allows financial advisors to access and manage client portfolios and gain insight from remote predictive analytics.
Retention: allows insurance agents to access to customers' profiles and history, and includes an analytics-driven retention risk score.
Case Advice: for local government caseworkers who are making critical decisions, one family or situation at a time, on the go.
Incident Aware: gives law enforcement officers with an iPhone real-time access to maps and video-feeds of incident locations, and related information.
Sales Assist: enables retailers to connect with customer profiles, make suggestions, check inventory and ship out-of-store items.
Pick & Pack: combines proximity-based technology with back-end inventory systems for retail order fulfilment.
Expert Tech: allows telecoms engineers to access expertise and location services for route optimisation to deliver improved on-site service.
In targeting key opportunities and priorities within industries, intend their new apps to take enterprise mobility a level deeper, helping employees access their company's full capabilities wherever they interact with clients. The partnership also offers business customers additional levels of capability integrated for enterprise mobility, including access to IBM's global industry consulting expertise, client experience design and enterprise systems integration, and the new AppleCare for the Enterprise customer support scheme.
When the partnership was first announced, mobile data company Citrix reported that iOS was installed on less than half of enterprise devices in EMEA markets – although it fares better in North America with 68 per cent and Asia with 81 per cent. In EMEA, Windows Mobile has a 21 per cent market share, although in certain sectors Windows Mobile dominates, such as oil and gas, with iOS holding less than 20 per cent. Healthcare is also a weakness for iOS, with Android commanding 55 per cent of the market.
It is telling that none of the first highlighted apps cover either of those two problem sectors.
Email Newsletters
Sign up to receive TelecomTV's top news and videos, plus exclusive subscriber-only content direct to your inbox.