Apple signs enterprise agreement with Cisco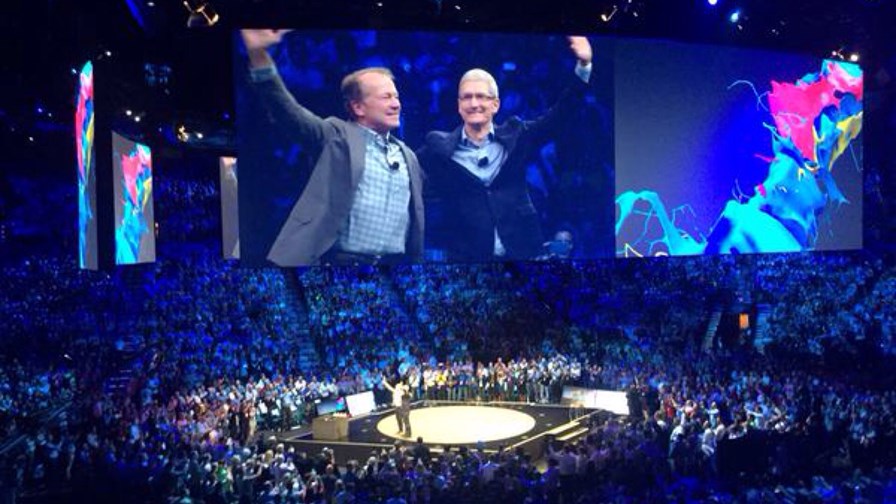 Awesomeness abounds as Cisco & Apple team up to tackle the mobile enterprise

Apple signed a similar agreement with IBM just one year ago

Deal apparently pushed through by ex-CEO Chambers
Apple and Cisco yesterday announced a partnership to create what they describe as "a fast lane" for iOS business users by optimising Cisco networks for iOS devices and apps, integrating iPhones with Cisco enterprise environments and collaborating further across phones and iPads. The deal comes a year after Apple signed a not too dissimilar agreement with IBM to develop enterprise grade apps.
Both companies placed a lot of value on the fact that their respective products are well entrenched within the world's leading public companies. There is certainly no doubt that Apple has penetrated into the heart of enterprise networks, mainly through the back door of BYOD, but nevertheless the firm's devices continue to supplant BlackBerry and Windows in this key market.
"iPhone and iPad have become essential tools for the modern workforce and are changing the way work gets done," said Apple CEO Tim Cook. "Together with Cisco, we believe we can give businesses the tools to maximise the potential of iOS and help employees become even more productive using the devices they already love."
"We're offering our joint customers the ability to seamlessly extend that awesome Cisco environment to their favourite iOS devices," said Cisco Executive Chairman John Chambers. "Together, we're going to help teams achieve higher levels of productivity and effectiveness."
The former Cisco CEO was joined onstage at his company's annual "GSX" Global Sales Experience in Las Vegas by Tim Cook, and if Twitter reaction from the 20,000-strong audience was anything to go by, it's a collaboration welcomed by the Cisco rank and file.
Technical details are a little sketchy, with the promise that "Cisco networks and iOS devices will be optimised so that they work together more efficiently and reliably" in order to "address the ever-increasing demands on corporate infrastructure" and to give "employees a seamless experience between iPhone and their desk phone". Furthermore, Cisco will deliver "experiences" (one up from solutions, surely?) that are optimised for iOS across Cisco's various mobile, cloud, and premises-based collaboration tools.
And that is pretty much that, as far as the official announcement goes. Lacking in substance, certainly, but it provides a pretty strong message that Apple is continuing with its goal of becoming more important in enterprise and business environments. And besides, Apple needs to shift more iPads, especially as its new iOS supports more work-friendly multi-tasking and rumours that a larger iPad Pro might be launched next week.
"We view our partnership and offerings as complementary to the Apple and IBM offerings," said Cisco in a statement. "We're partnering with the leader in consumer technology with the biggest mobile platform to tackle some of the most pressing problems that businesses face today and help bring it to life."
Last year, Cisco's workforce collaboration business unit recorded $4 billion in revenues, mainly through its WebEx service. It also recently unveiled Spark, a rather expensive alternative to popular free team messaging service Slack, which it is obviously keen to promote to a wider user base.
According to one audience member at the GSX event, Cook said the agreement with Cisco – which was apparently arranged directly between the two executives – is "the holy grail" of partnerships. It could also be just what Cisco needs too, and a sign that Chambers may no longer be CEO but is certainly not prepared to relinquish his strategic involvement in the company.
Email Newsletters
Stay up to date with the latest industry developments: sign up to receive TelecomTV's top news and videos plus exclusive subscriber-only content direct to your inbox – including our daily news briefing and weekly wrap.