What's up with… Aria Systems & Salesforce, Amdocs, Deutsche Telekom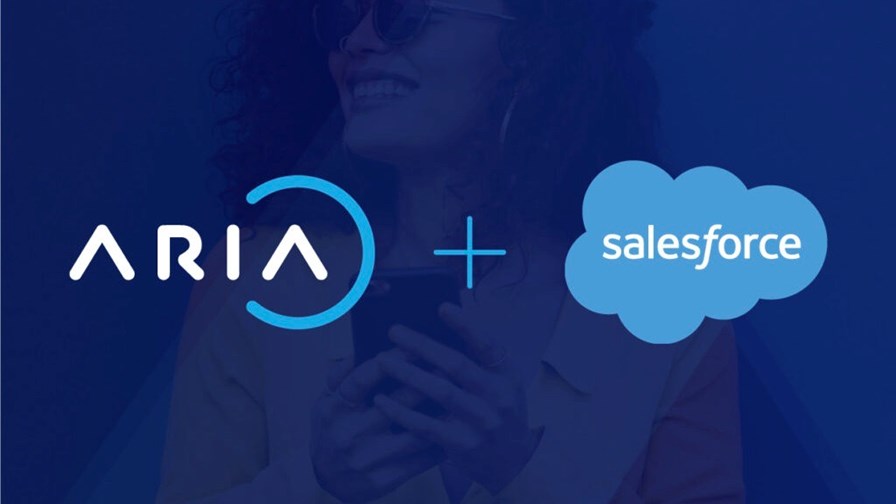 Aria and Salesforce team up for cloud-based BSS
Amdocs adds GenAI to its cloud management solution
Deutsche Telekom to bank massive dividend from T-Mobile US
In today's industry news roundup: Aria Systems and Salesforce are set to provide stronger competition to the established vendor giants in the cloud-based BSS market; one of those giants, Amdocs, is starting to add its GenAI solution to its applications; Deutsche Telekom is cashing in on its majority T-Mobile US stake; and more!
As we head rapidly towards the annual gathering of the telecom software sector at the TM Forum's DTW event (being held again this year in Copenhagen on 19-21 September), expect to hear a lot of noise from the many OSS and BSS companies keen to play a key role in the next-generation, cloud-oriented and increasingly AI-driven operations and business system transformation plans of the world's telcos. And here's a prime example… Cloud-based billing system developer Aria Systems has announced a strategic industries partnership with customer relationship management (CRM) platform giant Salesforce to offer communications service providers (CSPs), and other large enterprises, an "AI-optimised concept-to-care monetisation solution." The solution, based on the integration of Aria's Billing Cloud platform and Salesforce Customer 360, adheres to the latest open digital standards and is intended to "meet the large-scale needs of the communications, media, entertainment, and technology sectors as they manage their increasingly complex subscription and usage-based services on one platform." The two companies have been working on this for some time, having announced their co-development relationship earlier this year. Tom Dibble, president and CEO at Aria Systems, boasted: "As enterprises and communication service providers prioritise digital transformation to enable personalised experiences at scale, our partnership with Salesforce introduces a comprehensive SaaS [software-as-a-service] solution that unlocks and monetises tailored services. Designed for large-scale, sophisticated enterprises, this transformative solution, powered by advanced generative AI capabilities, enhances stakeholder experiences, productivity, and business agility at every level." David Fan, VP and general manager of communications at Salesforce, added: "Service providers are under more pressure than ever to deliver personalised customer experiences, while increasing efficiencies and reducing operational costs… Salesforce and Aria are helping customers use AI and automation to help deliver personalised experiences at every touchpoint, while increasing productivity and delivering faster service, at scale." John Abraham, principal analyst at Appledore research, believes the solution is the kind of package that CSPs are looking for these days. "The Salesforce/Aria Systems partnership combines capabilities in a pre-integrated stack that offers a best-of-suite-like experience for enterprises and CSPs and we see it aligning with a growing preference among many CSPs for full-stack solutions," he told TelecomTV. And it's a relationship that suits both partners, added the analyst. "Salesforce increases its addressable market among enterprises and CSPs, while Aria Systems gets a big boost with a significant new channel to market. From a telco standpoint, this is a clear statement of intent by Salesforce that it aims to expand beyond its core offerings and more squarely compete with the likes of Amdocs and Oracle," pointed out Abraham, who recently published a report on Aria Systems.
Speaking of Amdocs… The digital support systems (DSS) giant has launched a generative AI (GenAI)-enabled version of its Cloud Management Platform, which is designed to help CSPs better understand and operate hybrid cloud environments. Already available to use via the main public cloud providers, it includes a set of GenAI-powered solutions "designed to hyper-automate service development and operations, and manage and streamline a service provider's entire IT and business operations lifecycle," the vendor noted in this press release. "Integrating the automated tools Amdocs has developed for delivering a wide array of services at the world's leading operators into a single platform, the Amdocs Cloud Management Platform is built to accelerate service providers' journey to cloud, utilising DevOps and FinOps methodologies and securely managing thousands of applications in hybrid and multi-cloud environments under central governance and compliance policies," the vendor added. The platform incorporates the vendor's own and fabulously named GenAI framework, Amdocs amAIz, which was announced in June.
And that's not all from Amdocs today: It has provided an update on its 5G-native changing solution, which is being used in more than 20 cloud-based charging projects across a range of public, private and hybrid cloud environments, including "at leading CSPs in North America," it noted in this announcement. It also announced that it plans to achieve carbon neutrality in its business operations (Scopes 1 and 2) by 2040, by which time it plans to power its operations with 100% renewable energy.
Also rocking up to the DTW show in Copenhagen with a GenAI pitch is Netcracker, which is to "showcase its groundbreaking portfolio of solutions designed to help CSPs transform into self-sufficient techcos and utilise generative AI and automation to create new opportunities for monetisation in the network and the rapidly growing B2B2X, Web3 and metaverse markets." That's a lot! For more details, see this announcement.
Deutsche Telekom's majority stake in T-Mobile US, currently standing at 51.4%, is paying off: The German giant is to bank $1.8bn (after taxes) from dividend payments that T-Mobile US plans to make during the next 15 months, the company has announced. T-Mobile US informed the Securities and Exchange Commission (SEC) on Wednesday that it plans to return $19bn to shareholders between now and the end of 2024 through cash dividend payments and stock repurchases. The first dividend of $750m will be paid during the fourth quarter of this year, while further dividend payments of $3bn will be made throughout next year. In addition to raising $1.8bn from the dividend payments, DT intends to sell an as yet undetermined number of its T-Mobile shares on the open market next year, but said it will retain its majority ownership of the US operator.
The new CEO at South Korean operator KT, Kim Young-shub, has pledged to expand the operator's business opportunities with a strategy that will more tightly integrate IT capabilities (such as AI) with the telco's services, according to the Yonhap news agency. "I think there will be wider business opportunities down the road once the telecommunications service is integrated with IT," he noted during a press conference in Seoul.
The European Commission and the UK have reached a political agreement on the UK's participation in Horizon Europe, the European Union's (EU's) research and innovation programme, and Copernicus, the EU's Earth observation programme. From the beginning of next year, UK researchers and organisations will be able to participate in Horizon Europe in the same way as their counterparts in EU member states and will have access to Horizon Europe funding. "This will reinforce the opportunity to be part of a worldwide network of researchers and innovators aimed at tackling global challenges in climate, energy, mobility, digital, industry and space, health, and more," noted the commission in this announcement. The agreement also means the UK will be able to contribute to the Copernicus programme and access its services, as well as have access to services from the EU Space Surveillance and Tracking, a component of the EU Space Programme.
Mobile broadband networks are now accessible to 96% of the population in the Asia Pacific region, according to a new report published by the GSM Association. The report also noted that mobile operators in the region are on track to spend $259bn on their networks between 2023 and 2030.
- The staff, TelecomTV
Email Newsletters
Sign up to receive TelecomTV's top news and videos, plus exclusive subscriber-only content direct to your inbox.