Disaggregating video delivery via the edge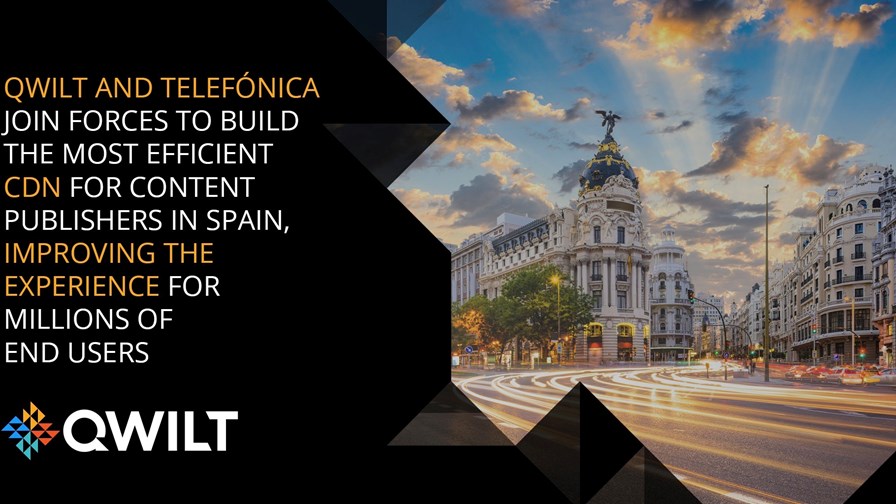 Open content delivery nodes could be key to meeting corporate users' rising demands for their broadband access services
Rather than trying to build a network capable of delivering all streams to all people, it might be better all round to open the telco edge to multiple caching and content delivery players and let diversity do its job
It's still relatively early days for Qwilt's federated cached delivery play, but it's already made some major strides over the past couple of years. Having originally signed up Verizon as a customer for its open caching solution in 2017 and adding BT in 2020, last year it enlisted giant Indian mobile operator Bharti Airtel, which was about to embark on its 5G migration, and has now announced that Telefónica aims to mesh its Spanish content delivery business into Qwilt's global federated delivery model.
According to consultants STL Partners, content delivery via the telco edge is a big opportunity for telcos as they become digital service providers (DSPs). It predicts that by 2030 the largest segment of the $450bn edge computing market will be media and entertainment, generating just less than half of all edge revenue, with content delivery as one of its key use cases.
The edge-based, open-caching model, as promoted by Qwilt (other solutions adhering to open caching standards are available) goes with the current industry flow towards disaggregation, cloud-native processing, application programmable interfaces (APIs) and openness, so ticks quite a few efficiency, flexibility, and power and cost saving boxes.
From the telco point of view, participating in scaled-up edge delivery should see them claw back a sliver of the revenue they had theoretically lost with the arrival of proprietary content delivery networks (CDNs), such as Akamai, while avoiding regulatory scrutiny due to the choke-point potential of such a platform. By disaggregating caching and video processing from the access network and enabling building-block choice for the content provider, telcos may be able to side-step that little problem.
So what about those other attributes? Advocates for the approach say it elides nicely with the broad disaggregation currently in train with increasing adoption of Open RAN. A big plus for Open RAN, it is claimed, is that it enables telcos to pick both best-of-breed or best value components for their networks to better diversify their offerings for customers and drive down capital expenditure and, if necessary, end-user prices. An open edge-based video delivery environment can theoretically do a similar thing for content providers and help them cope with a rising tide of demands from customers
According to STL consultant Ela Eren, that tide includes an increasing volume of video, which edge-based caching and streaming can alleviate. Not only is more video expected, but it must also be delivered in an ever-broadening variety of formats and resolutions to support different applications. Then there's the growth of live-streaming and increasing use by both corporates and home users of virtual and augmented reality applications which, in various ways, demand more processing and personalised treatment for each connection – including video ad insertion. Eren says this all ties in with the increasing demand for more interactive features for gaming, remote collaboration and more.
Mark Fisher, Qwilt's vice president of marketing and business development, claims such needs mean content delivery specialists are building more processing power and sophistication into their service nodes to cope and that makes them a nice fit with Qwilt's open-caching approach in that it meets the need for diversity in the delivery chain so that, with Qwilt, open nodes that best meet the needs of each application can be chosen .
It all adds up to a big plus point for the Qwilt proposition as its edge software and cloud services act as the control plane, matching requests for content delivery with edge delivery nodes close to consumers.
Fisher claims Telefónica is joining a growing roster of telco, mobile, cable and fixed broadband service providers and other impressive can't-talk-about-them-yet customer signings in the telco domain.
On one side of Qwilt's network business model are the content providers, such as Disney, which forward the content to Qwilt. According to Fisher, a content provider will typically use multiple content delivery networks (CDNs) to deliver content and will load balance partly based on the quality that each CDN is returning in terms of the latency, clarity, lack of glitches and so on. The dynamic here is similar to the mechanisms adopted by the early IP telephony ecosystems, where call terminators were selected on a call-by-call basis according to the call's destination and its cost traded against its expected quality, thus creating a highly dynamic real-time market for termination, with load balancing as a natural by-product.
On the other side of its business model, Qwilt maintains a single API connection to each content delivery or caching provider. The procedure goes like this: Disney (for instance) notifies Qwilt that it has a stream requested by one of its subscribers located at a particular access network address (fixed or mobile) and then Qwilt determines where the closest cache to the end user happens to be within the footprint of the user's access network and determines whether the node is capable of supporting the application. The stream is then offered and actioned.
So where now for Qwilt? Once the company has been built out and stabilised, Fisher indicated that it will go after high-performance data delivery. That could include everything from software updates – which he says is already a strand of the business – to software-as-a-service (SaaS) and highly interactive business applications.
"Our first use case is content delivery, but there are many others," said Fisher. "We'll start with CDN use cases but will move to more edge computing use cases as time goes on. For instance, Cisco [a major Qwilt partner] has a deep and scaled enterprise offering and some of [the resulting corporate] use cases are perfect for the edge environment."
The DSP era could be a fruitful one for Qwilt.
Email Newsletters
Sign up to receive TelecomTV's top news and videos, plus exclusive subscriber-only content direct to your inbox.