Orange metaverse chief shares vision for the immersive future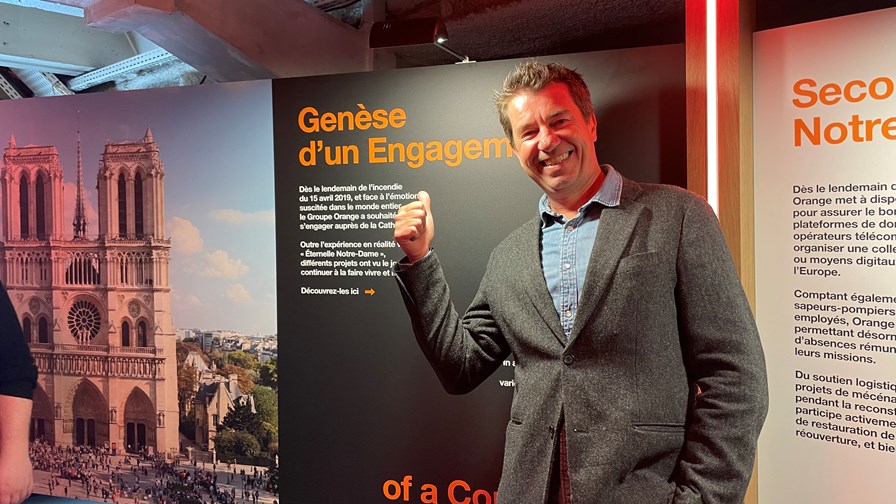 Orange's metaverse boss has shared his vision for the future
The telco doesn't plan to create multiple virtual reality (VR) experiences for the sake of it
Rather, the group will seek offerings that pledge to bring a positive societal and environmental impact
B2B is seen as the most beneficial revenue stream from metaverse-related services
French telco group Orange remains bullish about the potential of the metaverse, especially on the business-to-business (B2B) side, and is exploring novel virtual reality (VR) developments that contribute to society and environmental sustainability. At a media and analyst event in Paris last week, the group's global head of XR and metaverse, Morgan Bouchet (pictured above), elaborated on the telco's vision to capture opportunities in the future of immersive technologies and services.
The company does not want to "develop a lot of projects in VR" because, with every project, it needs to ensure there is "balance between the impact on society and the planet". For instance, the operator's business in Spain has opened a virtual shop (an announcement on this development is available in Spanish here) to get a better understanding of the "future of a boutique in the city virtually," he explained, adding that this is the type of project that needs to have guidelines related to the carbon dioxide (CO2) impact from its operation.
"For example, VR commerce could be a way to minimise travel when going to one place or another," he noted. To achieve this, Orange is currently exploring options for customers to visit a shop and make purchases through a mobile device or VR glasses.
"We don't want to develop a lot of VR experiences just for communication… And it's the same for Web3 and the decentralisation topic, blockchain," Bouchet emphasised.
For example, the company believes its new "Eternal Notre-Dame" immersive VR experience, which it demonstrated in the French capital last week, is beneficial to society. Bouchet argued that it's a "good use case for everything" and that it has already seen strong interest from business-to-business (B2B) clients that "want to explore and understand what the value of this technology is, what they could use in the future for their own business, for industry".
According to Bouchet, the Orange group has a saying that "VR is an impacting machine" and the fact that B2B customers are "just crazy about the power of the technology and the emotion [attached to it]" goes to show how accurate the saying is. So, it's no surprise that Orange believes the B2B sector holds the biggest opportunities for new revenue gains from immersive experiences. Bouchet highlighted the automotive industry, and the training and collaboration sectors as prime opportunities for metaverse-related services.
As yet, Orange doesn't have any revenue targets for the "Eternal Notre-Dame" VR experience, but Bouchet pointed out it has had an indirect impact on communication and relations with B2B clients. The company's vision, which he believes is shared by many other telcos, is that VR is "just the first step" but that, ultimately, the main opportunities will arise from augmented reality (AR) devices and services. Although they will probably not be widely used until 2030, Bouchet noted that if a company wants to be ready by then, it needs to understand now how it works and what impact it has in terms of development and customer behaviour, for example.
The metaverse hype
In light of moves such as The Walt Disney Company reportedly shutting down its metaverse unit, Bouchet dismissed the idea of waning interest in the metaverse. To him, the development of the metaverse is a question of timing, as it is not yet very easy to understand whether it involves just VR, just AR or both.
Leo Gebbie, principal analyst for connected devices at CCS Insight, told TelecomTV that the word 'metaverse' has "arguably done more harm than good" for extended reality (XR). "After a wave of enthusiasm when Meta embraced the term in 2021, the metaverse became a byword for hype around spatial computing, and extremely heavy spending on technologies, which remain in their infancy and mostly unprofitable. Some companies that rushed to build metaverse-focused teams in that period have since disbanded these altogether," he noted.
However, there is still significant interest from telcos towards VR, AR and the metaverse, with many of them "tying the promise of the technology to their 5G networks," he added. "Mobile immersive computing experiences will rely on high-capacity, low-latency networks, which feels like a perfect fit with 5G. As a result, it's been a hot focus for operators looking to recoup their investments in networks."
And while location-based VR and AR experiences are considered "impressive", the analyst noted that it would be interesting to see "how operators try to support mobile XR experiences, which truly stress-test their networks".
Meanwhile, CCS Insight has predicted "modest growth" in the XR industry in 2023 and a "stronger growth phase" from 2024 onwards as the technology matures.
- Yanitsa Boyadzhieva, Deputy Editor, TelecomTV
Email Newsletters
Sign up to receive TelecomTV's top news and videos, plus exclusive subscriber-only content direct to your inbox.