Nokia signals greater enterprise push with brand 'refresh'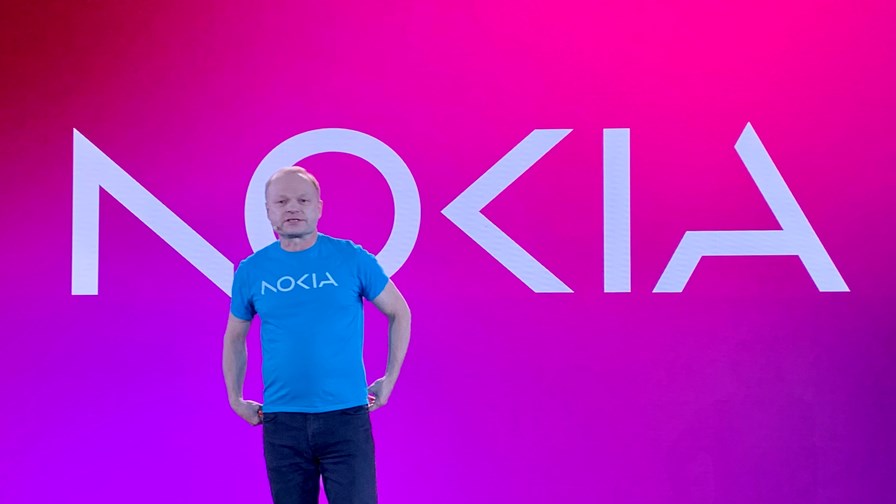 Nokia is trying to distance itself from the consumer market
It wants to be seen as an enabler of the digital enterprise future
"We have to re-position," the company's CEO says at a presentation in Barcelona
BARCELONA – #MWC23 – "We have to reposition ourselves as a B2B technology brand," stated Nokia CEO and president Pekka Lundmark at a press and analyst briefing here today as he unveiled the Finnish vendor's logo "refresh" and, with the help of some of his executive team, outlined the the company's greater focus on the networking and communications technology needs of enterprise users.
In a nutshell, the Nokia team feels its name and brand is still mainly regarded as one for the consumer sector. Sure, the vendor's telco customers know what Nokia does these days (and understand that it no longer makes smartphones but rather licenses its name to device manufacturer HMD), but that grasp of Nokia's portfolio and range of offerings is not so clear to the millions of enterprise users around the world – and that's Nokia's new target market for future growth.
The telecom operator sector is still Nokia's main source of currency revenues but, as Lundmark noted, the market compound annual growth rate (CAGR) for the telco technology market is set to be only about 1% between now and 2027, whereas the CAGR for the enterprise networking sector during the same period is 8% and the CAGR for the private wireless sector is 27%.
Nokia reckons it can grow the enterprise networking part of its business in the coming years. In 2022, enterprise customers generated revenues of about €2bn, up by 21% year on year, accounting for about 8% of the vendor's total revenues, and it wants to increase that to 10% of total revenues "as quickly as possible". The timeframe for that is 2025, the vendor's chief customer experience officer (CCXO), Ricky Corker, mentioned on the sidelines of the Barcelona briefing.
But, of course, Nokia isn't the only one chasing the enterprise sector's digital transformation budgets – there's a very large range of companies already doing exactly that, while Nokia's arch rival Ericsson also has the enterprise sector in its sights.
Naturally, the Nokia team believes it has made a decent start already: Certainly in the private wireless networks sector, it has managed to carve itself a market-leading position (at least for now) with more than 500 private wireless network customers.
That success, while creditable, is only a minor springboard for broader enterprise success, especially in the industrial and enterprise metaverse domain, where the vendor has spied what it believes is a significant business opportunity – see Nokia senses an industrial metaverse business opportunity.
But the move requires a shift in Nokia's market engagement and business model that is going to make things a little trickier in the future, especially as it builds more direct business with large enterprise users while trying to keep its telco customers happy. Such a move also means building broader industry relationships with enterprise vertical specialists and systems integrators to broker and build new enterprise business opportunities, a move that can easily lead to business conflicts between partners that both want to be the lead on lucrative opportunities.
There's also the question, of course, of whether such enterprise opportunities can, at scale, deliver meaningful bottom-line as well as top-line growth: Nokia's medium-term vision sounds like one where, no matter the advances in digital enterprise customer digitisation and automation, it will still involve significant resource allocation. And the sales process is different to the telco sector: In enterprise, Nokia is pitching to CFOs and CIOs on an "outcome basis," noted Corker, which is different to the way Nokia's networking products are sold to telcos, though in the enterprise sector, the opportunity to sell more once a business foot is in the door is more readily apparent.
Nokia is keen to reinvent itself. Its management knows (hopefully) that only hard outcomes and financial numbers based on an ability to execute within a viable and sustainable business model, rather than a logo re-design, will cut the mustard.
Nokia is bullish right now, courtesy of recent growth and the success of its expansive networking portfolio. But can it, or indeed Ericsson, transform itself from a telco network technology supplier to an enterprise tech partner? It's a seemingly obvious move, but history shows that this is a massive pivot to make.
- Ray Le Maistre, Editorial Director, TelecomTV
Email Newsletters
Stay up to date with the latest industry developments: sign up to receive TelecomTV's top news and videos plus exclusive subscriber-only content direct to your inbox – including our daily news briefing and weekly wrap.