Nokia reports a stellar 2022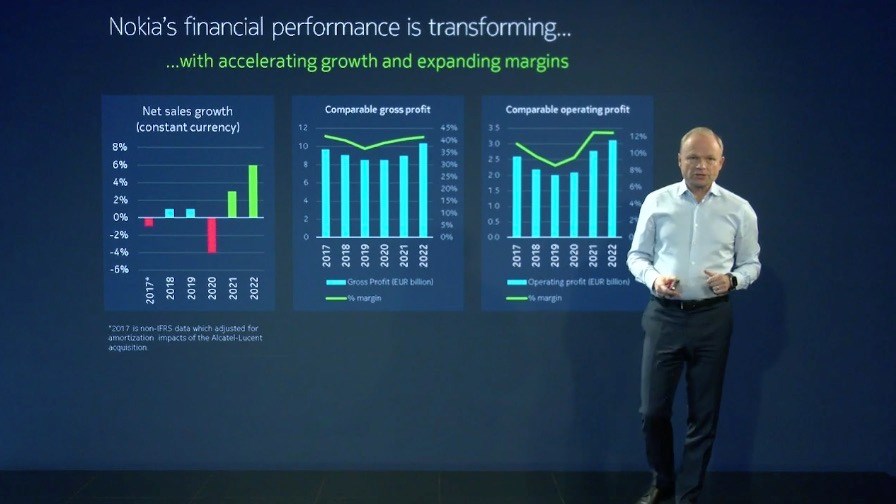 Finnish vendor 'delivers on its promises', says CEO
Full-year sales grew by 6% like-for-like to €24.9bn, margins on the rise
Portfolio breadth proves to be a strength
Mobile networks unit recovering, fixed-line unit going gangbusters
"We said this would be a year of acceleration… we delivered what we promised," crowed Nokia CEO Pekka Lundmark as he presented the vendor's fourth-quarter and full-year 2022 results early on Thursday morning, and he had every right to be happy. A combination of ongoing heavy operator investments in fixed and wireless access networks, the decline in Huawei's influence in the global market, the breadth of the company's product portfolio and the focus Lundmark has instilled since his arrival in 2020 paid off last year as Nokia reported a 6% increase (at constant currency rates) in annual revenues to €24.9bn, an increase in gross margins to 41% from 39.8%, and a 7% increase in operating profit to €2.3bn.
What's important to the company, its customers, partners and investors, is that this isn't a one-off: The vendor is expecting further revenue growth this year – anywhere between 2% and 8% – the drivers for that growth aren't going away, and the company is confident of growing at a faster pace than the market overall. The results and forecast gave the company's share price a lift in Thursday trading as it jumped by 4.5% to €4.40. That's positive, of course, but the stock is still trading 13% lower than a year ago – what would be ultra-impressive would be for Lundmark and his team to boost the value of the company on a consistent basis and get it back closer to the €10 mark.
In the here and now, though, the company at least has a more solid foundation to build upon for the coming years than it did when Lundmark took over. In 2020, the company's mobile networks business was in turmoil and needed a dramatic fix at a technical platform level to make it competitive with its main rivals again (mainly Ericsson but also still Huawei and, increasingly, Samsung). With the company's mobile access network equipment portfolio now based on its ReefShark system-on-chip (SoC) components (a development in which chip partner Marvell has played a large part), Nokia is now reporting increasing market traction and sales: Mobile network division revenues for 2022 were up by 3% (at constant currency rates) to €10.7bn, almost back to 2019 levels. It remains the company's largest single line of business.
But while the mobile networks unit has been turning itself around, Nokia has been leaning heavily on its network infrastructure unit, which comprises its fixed network (broadband access), optical, IP (routing) and submarine product lines. This division has grown enormously over the past few years. In 2020, the network infrastructure portfolio generated total sales of less than €7bn, but last year it grew by 10% (at constant currency rates) to just more than €9bn, with all four lines of business growing and the division overall reporting an increase in gross and operating margins.
Nokia's cloud and network services division, which includes its enterprise-focused product lines, also reported year-on-year growth, of 2% to €3.35bn. Lundmark noted that by the end of 2022, sales to enterprise customers accounted for about 8% of all revenues. "Our goal is very clear. We want this trend to continue. We want enterprise to grow at a double-digit [rate] going forward and we want it to reach 10% of our sales as quickly as possible," he added. Nokia's focus and growth in private wireless and campus networks has already helped here and looks to be a linchpin of that future growth too.
The vendor's 'technologies' division, which deals with the licensing of its patented technology, is also playing a role in its ongoing financial recovery and growth, reporting a 5% year-on-year increase in revenues to almost €1.6bn. The unit recently struck new deals with Samsung and Huawei and is currently in litigation with two device companies, Oppo and Vivo, that have not renewed their licensing agreements.
So it's fair to say things are looking brighter now for Nokia than they did a few years ago. But as Lundmark pointed out, there is still a lot of work to be done and further investments to be made. He explained that while the company is out of its "reset phase" and into its "acceleration phase", there is still more to do before it gets to "the final goal final phase, which we call scale…", adding that, "Once we reach there, we want to be an undisputed technology leader in all those segments where we operate, we will have higher market share with service providers, we want to become market leader in targeted, but not all, enterprise opportunities, and obviously we want to have higher operating margins. This is the foundational phase where we will get to at least [a] 14% operating margin."
At that point, the CEO noted: "We will have meaningful partner-driven revenue streams, not only direct sales to operators or enterprises, [with a] meaningful, strong partner network helping us to grow. And, very importantly, we will have implemented new business models, such as as-a-service" that deliver annual recurring revenues from software.
Like Lundmark said, Nokia has, pretty much, so far delivered on its promises. Let's see how the scale phase works out.
- Ray Le Maistre, Editorial Director, TelecomTV
Email Newsletters
Stay up to date with the latest industry developments: sign up to receive TelecomTV's top news and videos plus exclusive subscriber-only content direct to your inbox – including our daily news briefing and weekly wrap.