News brief: Public cloud market revenues topped $540bn in 2022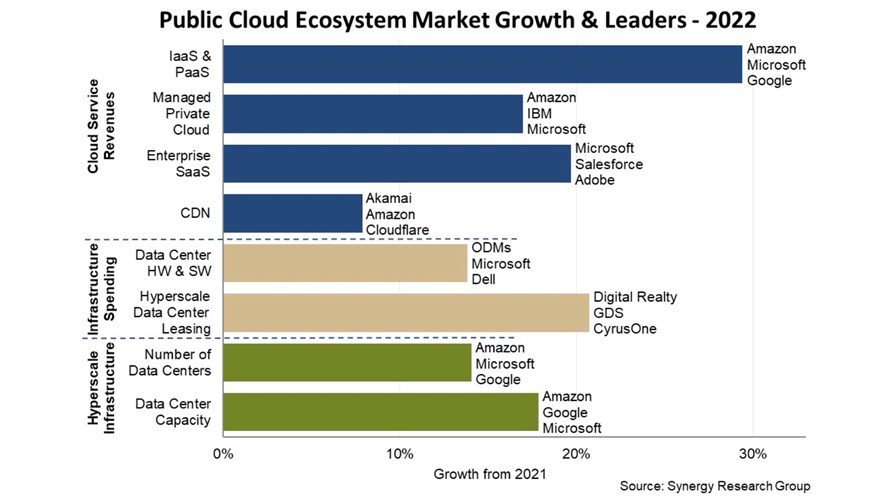 Synergy Research monitors the cloud services and technology sectors
The value of the total public cloud market grew by an incredible 21% in 2022
And it sees no end to the staggering market growth
Despite multiple economic hurdles, the value of the public cloud services and infrastructure market grew by an incredible 21% year on year in 2022 totalling $544bn, with growth in the cloud services sector outpacing growth in the cloud infrastructure hardware and software sector, according to the latest data collected and analysed by the team at Synergy Research.
As the chart above shows, the biggest growth was in infrastructure-as-a-service (IaaS) and platform-as-a-service (PaaS), which grew by 29% to be worth more than $195bn, "despite some major headwinds from the strengthening US dollar and problems in the Chinese market," noted the Synergy Research team in its market analysis. As you'd expect, Amazon Web Services (AWS), Microsoft Azure and Google Cloud are the leading companies in this sector.
In the other main service segments, managed private cloud services, enterprise software-as-a-service (SaaS) and content-delivery networks (CDN) added another $229bn in service revenues, representing average year-on-year growth of 19%. The total spend by the public cloud service providers on building, leasing and equipping their facilities with the necessary hardware and software to support that level of services growth was $120bn, according to the Synergy Research team.
The US remains the largest single market, accounting for 45% of all cloud service revenues and 53% of hyperscale datacentre capacity in 2022, followed by China, which accounted for 8% of cloud service revenues and 16% of hyperscale datacentre capacity last year.
And there's no sign of the market's growth letting up: Synergy Research expects the value of the total public cloud ecosystem to double within the next four years, which would take it to more than $1tn.
- Ray Le Maistre, Editorial Director, TelecomTV
Email Newsletters
Sign up to receive TelecomTV's top news and videos, plus exclusive subscriber-only content direct to your inbox.