News brief: Amdocs tops eSIM orchestration chart – Counterpoint Research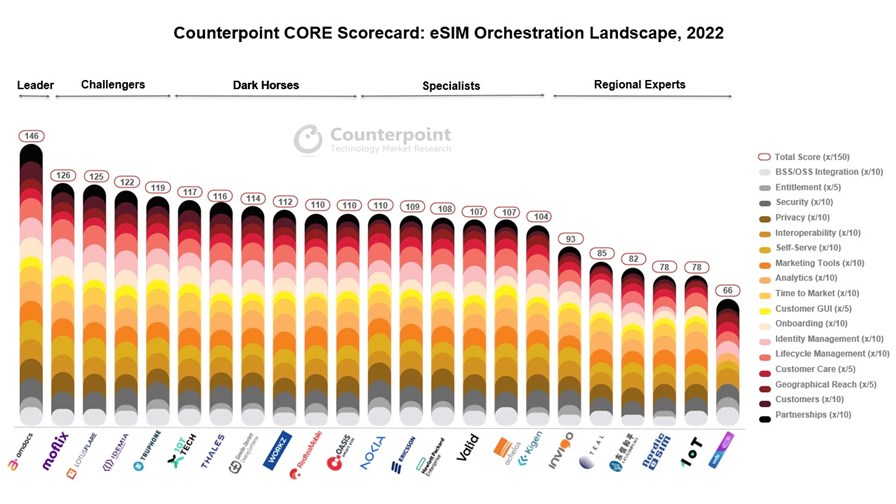 Counterpoint Research has assessed the global embedded SIM (eSIM) orchestration landscape
Amdocs ranks top for its capabilities and numerous collaborations in the ecosystem
Last year was a landmark year for eSIM, according to the research company
Amdocs was named the top player in the global embedded SIM (eSIM) orchestration landscape in 2022, as the ecosystem experienced a landmark year of increased telco and device support for the technology, a new study has shown.
According to Counterpoint Research's eSIM CORE (Competitive, Ranking and Evaluation) report, Amdocs was granted the top spot as it covered a wide range of criteria, including business support systems (BSS) and operations support systems (OSS) integration, security, interoperability, self-service and what the company dubs "success in the ecosystem".
Neil Shah, research vice president at Counterpoint, described Amdocs as "the most well-rounded player when it comes to the completeness of products and solutions." The company has also signed numerous partnerships across the eSIM value chain, which has helped it "translate its advantages in products and solutions into success in the ecosystem," explained Shah.
The top-five positions are completed by Moflix, Lotusflare, IDEMIA and Truphone, with highlighted capabilities being lifecycle management, interoperability, analytics and self-serve capabilities (see chart, above).
According to Ankit Malhotra, senior research analyst at the research company, 2022 was "a landmark year for the global eSIM ecosystem" as more than 260 mobile network operators (MNOs) and mobile virtual network operators (MVNOs) are now supporting eSIM, providing support for an average of more than 30 devices.
"The operators are also taking eSIM more seriously and enthusiastically than before. It is no longer just a tick on the checklist but also an essential component of the digital revolution. Therefore, it is important to ensure fast, reliable and consumer-friendly eSIM orchestration and implementation practices to maximise the vast potential of the eSIM," emphasised Malhotra.
According to Juniper Research, the eSIM market will rise from $4.7bn in 2023 to $16.3bn by 2027, requiring telcos to quickly adapt to the trend – see eSIM market to top $16bn by 2027 – report.
- Yanitsa Boyadzhieva, Deputy Editor, TelecomTV
Email Newsletters
Sign up to receive TelecomTV's top news and videos, plus exclusive subscriber-only content direct to your inbox.