Network investments shift as telcos eye sustainable DSP future – report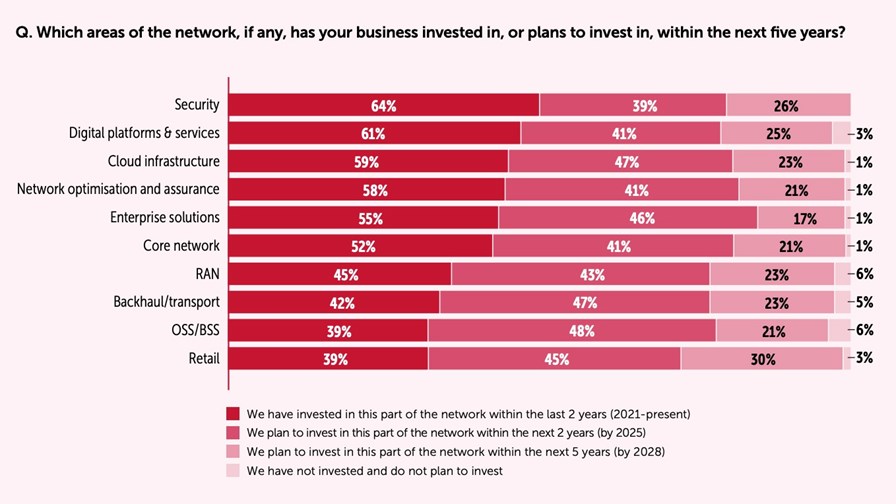 Telcos are increasingly focused on becoming digital service providers (DSPs)
As part of this journey, their priorities for network investments are shifting, according to the results of a survey conducted by media firm CCgroup
Energy efficiency is a main driver for investment shifts
Operators need vendors to help them overcome several challenges around cloudification and automation
Telcos are looking to direct network investments towards OSS/BSS, cloud infrastructure and network backhaul, as they aim to boost the energy efficiency of their networks and become digital service providers (DSPs), a new study has found.
In its 'Telco Transformation: Lessons for vendor marketing' report, based on the results of a recently conducted telecom sector survey, media company CCgroup identified a shift in investment focus by telecom operators. Over the past two years, security, cloud, and digital platforms and services were the main areas of focus for network investments, but now telcos appear to be shifting towards operations support systems (OSS), business support systems (BSS), network backhaul and cloud infrastructure, the survey found.
These three areas are expected to receive the most investment between now and 2025, according to responses from 150 technology decision-makers in telco organisations that have more than 500 employees across the US, UK, France and Germany (see graph, above).
Another finding from the company suggested that the main driving force for network investment in the period to 2025 is the desire to enhance the energy efficiency of the network – this was the most important factor for nearly a quarter of the respondents.
It is worth noting that telcos based in the US were those most concerned with reducing energy consumption, with 38% citing it as their main driver for network investments. French operators were at the other end of that scale, with a mere 6% of telcos highlighting energy efficiency as the main driving force behind network investment plans (see graph, below).
Aside from sustainability-related goals – which come as no a surprise given that telcos are facing increasing pressure to reduce their carbon footprint, save energy and, of course, cut down on energy bills – the telcos noted that near-term investment plans will also be motivated by the need to develop and offer new products and services, to upgrade existing network capabilities, and to replace legacy or redundant technology. In fact, many major telcos around the world have been making a push to replace old technology, including BT, which expects to achieve some £500m in savings from the move – see BT eyes savings of £500m by pulling the plug on legacy fixed networks.
If telcos had to opt for just one priority area of investment between now and 2025, cloud infrastructure "reigned supreme" for almost a third of respondents (28%).
According to CCgroup's report, hybrid cloud is seen as the way forward for operators, but this approach comes with multiple challenges related to security, the management of cloud infrastructure and data regulation.
The pace of automation is another challenge for telcos, with only 46% of respondents expecting to have completed their network function automation plans by 2025.
As is so often the case these days, the clarion call from the report's authors is that collaboration and partnerships will be the key to network and operational transformation success.
"Network upgrades are essential to any transformation, but telcos can't go it alone. Telecom technology vendors have the perfect opportunity to position themselves as critical evolution partners," CCgroup noted in its report. It added that now more than ever, telcos need vendor partners to "understand their unique challenges, demonstrate knowledge and expertise, and showcase experience across a multitude of channels and touchpoints".
- Yanitsa Boyadzhieva, Deputy Editor, TelecomTV
Email Newsletters
Sign up to receive TelecomTV's top news and videos, plus exclusive subscriber-only content direct to your inbox.