KDDI to Collaborate with AWS to Bring Generative AI to Society
KDDI will collaborate (hereinafter referred to as "this partnership") with Amazon Web Services Japan (hereinafter referred to as "AWS") to comprehensively support businesses and municipalities using generative AI to accelerate generative AI's introduction to society.
Through this collaboration, KDDI will offer support to businesses and municipalities facing with challenges such as the workforce shortage and operational inefficiency. This support will cover how to apply generative AI developed by start-ups, as well as open-source generative AI, and provide AI solutions fit for specific problems. KDDI will start providing businesses, municipalities and start-ups with support as a one-stop-shop for developing and utilizing competitive generative AI from early October 2023.
Together with AWS Premier Tier Services Partner iret and other KDDI group companies, KDDI will provide infrastructure-design/development/operation/maintenance and a data-utilization platform that leverage AWS services, and conduct agile development of apps etc. Further, KDDI will serve as a matchmaker for businesses, municipalities, and start-ups through KDDI ∞ Labo. Bringing together the rapid development capabilities of start-ups and the KDDI Group's integration prowess, this collaboration will support the customization (fine-tuning) of generative AI models tailored to the respective challenges facing businesses and municipalities.
AWS will provide its latest generative AI services including diverse foundation models, cost-effective computing infrastructure, for customers to build applications, while also supporting start-ups through AWS Activate.
Through this collaboration, KDDI will expand the use and social implementation of generative AI to improve productivity throughout society and invigorate generative AI.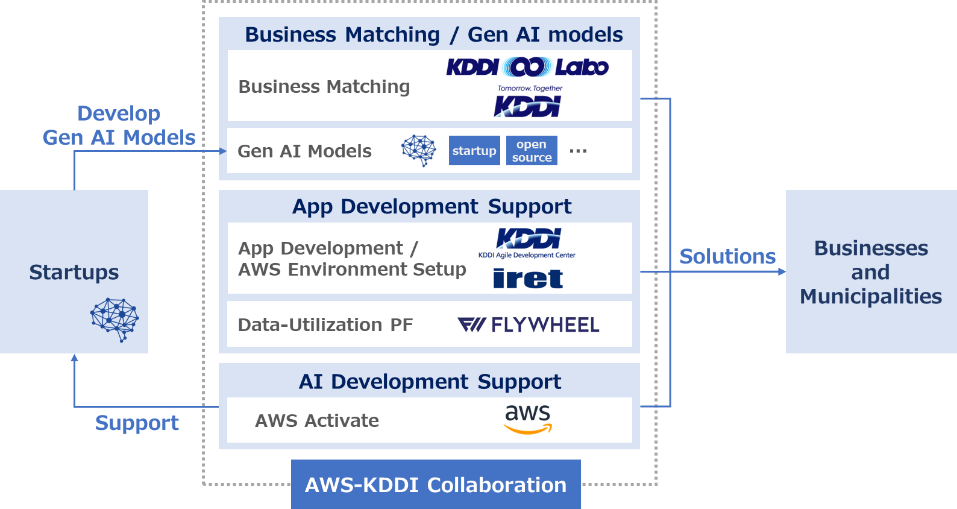 <Outline of this collaboration>
■Background and issues
As the working population declines due to the low birth rate and Japan's aging society, the workforce shortage has been accelerating, making better productivity a pressing issue.
In this environment, businesses and municipalities are advancing AI-based digital transformation initiatives to improve productivity. Generative AI in particular holds great potential for improving productivity.
The environment surrounding generative AI is changing quickly, spawning new technologies every day. If businesses and municipalities want to adopt generative AI with a sense of speed, partnering with start-ups that have new business ideas and cutting-edge expertise is a promising way to do it.
Meanwhile, for start-ups to develop generative AI for businesses and municipalities in ways optimized for their challenges and in a competitive manner, they need data for customization, efficient development environments, and more opportunities to collaborate with those businesses and municipalities.
■About this collaboration
Under this collaboration, the following support will be provided to businesses, municipalities and start-ups that need to solve certain challenges to revitalize operations and realize DX.
1. Content of support
Content of support
Support provider

Providing cloud services necessary to build generative AI solutions
Providing tools, resources, and expert support through the start-up support program "AWS Activate"

AWS
Designing, developing, operating and maintaining infrastructure that the AWS services use
Agile development of applications etc.
KDDI Agile Development Center
iret
Providing data-utilization platforms
FLYWHEEL
Business matching
KDDI ∞ Labo
KDDI
2. Target organizations
(1)

Businesses and municipalities
Businesses and municipalities with specific challenges that want to promote DX and reform their operations

(2)

Start-ups
Start-ups looking to develop generative AI
3. Starting date of support
Scheduled for early October 2023
This content extract was originally sourced from an external website (
KDDI
) and is the copyright of the external website owner. TelecomTV is not responsible for the content of external websites.
Legal Notices
Email Newsletters
Sign up to receive TelecomTV's top news and videos, plus exclusive subscriber-only content direct to your inbox.