Is 'super bundling' a slam dunk for telcos?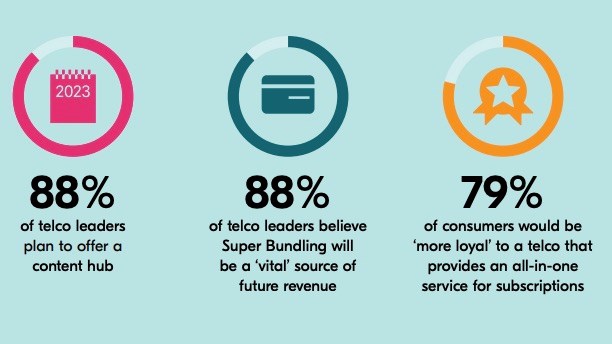 The value of the digital subscriptions sector is growing quickly
Mobile operators have the chance to aggregate multiple subscriptions into a single portal or hub
So-called 'super bundling' is an obvious business opportunity for telcos, reckons analyst
And a survey of telco executives finds there's an appetite for the strategy
With communications service providers seemingly desperate to find ways to generate additional revenues, retain customers and improve customer experience metrics, we might be about to witness an increase in 'super bundling' among mobile operators, if the results of a recent industry survey and the expectations of industry analyst firm Juniper Research are anything to go by.
Juniper Research values the global digital subscriptions market (including video streaming and digital music) at US$331bn this year, up by 20% year on year, and it expects this to have grown enormously by 2026 to be worth $599bn. The issue for consumers is that these digital subscription services are provided by multiple companies and it is increasingly hard for consumers to manage and track their multiple subscriptions.
As reported earlier this month, the Juniper Research team believes an increasing number of mobile operators will offer super bundles that aggregate multiple digital subscriptions through a single portal or hub, and bundle the subscription costs into a single bill, from which the operator takes a slice of the action: That trend will contribute to the expected increasing value of 'carrier billing' transactions, which the analyst house expects to increase from $9.3bn this year to be worth $13.8bn in 2027.
Sam Barker, head of analytics and forecasting at Juniper Research, believes there is "an obvious and immediate opportunity for telcos to capitalise" on the growth in the digital subscriptions sector by adopting a super bundling strategy.
It's not as simple as that, of course: Mobile operators have to "position themselves as the bridge between mobile subscribers" and the digital service providers to capitalise on the opportunity.
And some are doing this already: Examples include Verizon, with its +play offer, and Australian operator Optus, with its SubHub.
Both of those operators have developed their super-bundling offer using the DVM (Digital Vending Machine) platform, developed by carrier billing system specialist Bango, which recently conducted a survey of 115 senior executives from mobile, fixed-line telcos and cable operators in the US and UK, and found that the vast majority (88%) are planning super-bundling hubs, with the main driver for the move being the need to develop new revenue streams.
You can find out more in this announcement from Bango which, of course, has plenty to gain from a positive industry view of the super-bundling opportunities. That said, this does seem like a pretty obvious opportunity for telcos to leverage the size of their customer bases by making it easy for users to get the services they very clearly want. It's hard to imagine there won't be plenty more operators following in the footsteps of Verizon and Optus in the next few years.
- Ray Le Maistre, Editorial Director, TelecomTV