Huawei's profits slump as it ups its R&D spending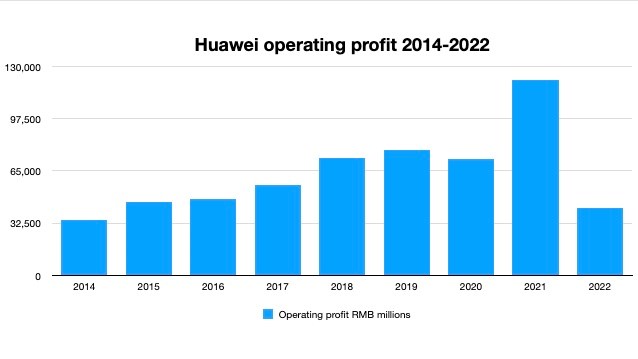 Huawei has unveiled its annual report
The vendor's numbers have taken a hit in recent years due to US sanctions
But it has been investing heavily for the future
Those investments, and other factors, have hammered its profit margins
Current chief likens the company to plum blossom
Huawei reported its lowest operating and net profits in almost a decade in 2022, as higher costs and an increase in R&D investments hammered its bottom line despite managing to slightly increase its annual revenues year on year, the company revealed in its latest audited financial numbers. The numbers were shared during a webcast presentation, during which senior executives issued a bullish outlook for the under-pressure Chinese vendor.
As part of its 2022 annual report, Huawei reported a very slight year-on-year increase in full-year revenues to 642.3bn Chinese yuan (CNY) (US$92.4bn, based on the exchange rate at the end of last year), compared with CNY636.8bn in 2021.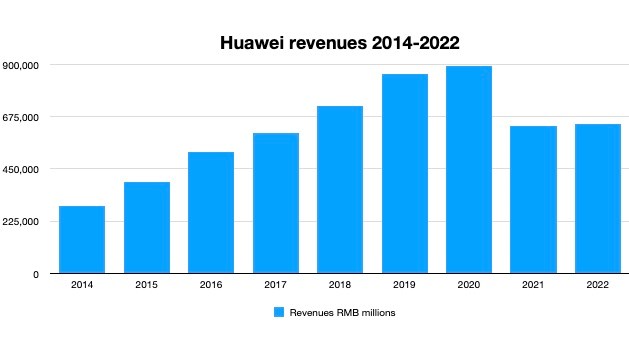 Its operating profit in 2022 was CNY42.2bn ($6.1bn) and its operating margin 6.6%, down from CNY121.4bn and 19.1% respectively in 2021. As the chart at the top of the page shows, that is Huawei's lowest operating profit since 2014.
Net profit for 2022 came in at CNY35.6bn ($5.1bn), down from CNY113.7bn the year before and, again, the lowest since 2014, as the chart below shows. This was the first time the company's net profit had fallen year on year.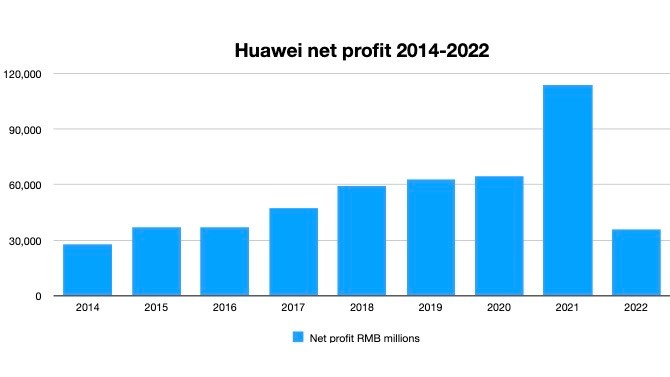 Profit margins were hit by rising costs but also by the vendor's decision to increase its research and development (R&D) spending as it seeks to diversify its product and services portfolio: It needs to do that as its traditional strong lines of business – telecom network infrastructure and mobile handsets – have been affected by years of US sanctions. Now the company sees future growth coming from the enterprise technology and cloud services sectors.
In 2022, Huawei pumped CNY161.5bn ($23.2bn), equivalent to a quarter of its total revenues, into its (R&D) programmes. That level of R&D 'intensity' is "among the highest in Huawei's history," noted CFO Meng Wanzhou, who will become rotating chairwoman and run the company for six months from 1 April, taking over from Eric Xu (another of the company's senior executives who has long been 'rotating' in and out of the lead role).
In her presentation, Meng noted that the company's "continuous and heavy R&D investments made it possible for us to complete component replacements and redesign the OS [operating system] and database development. Therefore, it was the R&D intensity and the massive scale of R&D investment that helped us achieve our goals for robust business operations."
As is customary these days, the Huawei executives didn't shy away from noting the impact that US sanctions and various political pressures are having on the company's trading and development opportunities, while issuing defiant and bullish statements about the determination of the company to further grow its sales, reverse the profitability trend and remain a global influence.
Outgoing rotating chief Xu even managed to sum up the situation in a rather poetic fashion. "Today, Huawei is like plum blossom [which] tends to grow sweeter from a harsh winter's freeze. While it's true that we have considerable pressures ahead of us, we still see opportunities to grow a resilient business portfolio, a unique competitive edge, the trust of our customers and partners, and have the courage to invest heavily in R&D. We're confident in rising above any challenge, laying a solid foundation for sustainable survival and development," he stated as he ended his presentation.
Fortunately for Huawei, it still has the solid foundation of seemingless endless business in China. In 2022, the vendor's domestic revenues accounted for 63% of all sales, driven by investments in 5G and fibre access networks by the three major network operators and increasing enterprise customer spending, while EMEA generated 23% of revenues, Asia-Pacific 7%, and the Americas just 5%.
And despite the impact of various bans and restrictions in a number of countries, including the UK and Sweden as well as the US, the vendor's telco infrastructure business continues to drive most of its sales: Remember, Huawei is still king of the telecom network infrastructure sector hill – see Huawei is still the world's biggest telecom equipment vendor.
Its Carrier division, which does business with the world's telcos, generated 44% of its revenues, with sales up by 0.9% year on year at CNY284bn, while its Enterprise unit brought in revenues of CNY133.2bn (20.7% of the total), up by 30% year on year. The Consumer division, which sells mobile and other end user devices, continues to suffer the most from the US sanctions that deprive Huawei of easy access to chipsets, modules and software: Its sales were down by 11.9% to CNY214.5bn, accounting for 33.6% of total revenues.
And what about this year? Xu sidestepped a question about that, noting only that 2023 will "continue to be challenging", however, "we hope through our own efforts we can grow revenues and profits… but there are still too many uncertainties along the way."
That's as may be, but Huawei has its eyes on the big global enterprise prize (the same one that Ericsson and Nokia are also chasing, of course). Xu noted: Countries around the world have turned to developing their digital economies as a key counterweight against economic downturn. Digital economies are now in full swing, and an intelligent economy is right on the horizon. The global push for green development is … [opening up] abundant growth opportunities for Huawei. We estimate that by 2027 our addressable markets will exceed US$1tn."
- Ray Le Maistre, Editorial Director, TelecomTV
Email Newsletters
Sign up to receive TelecomTV's top news and videos, plus exclusive subscriber-only content direct to your inbox.