Huawei is still the world's biggest telecom equipment vendor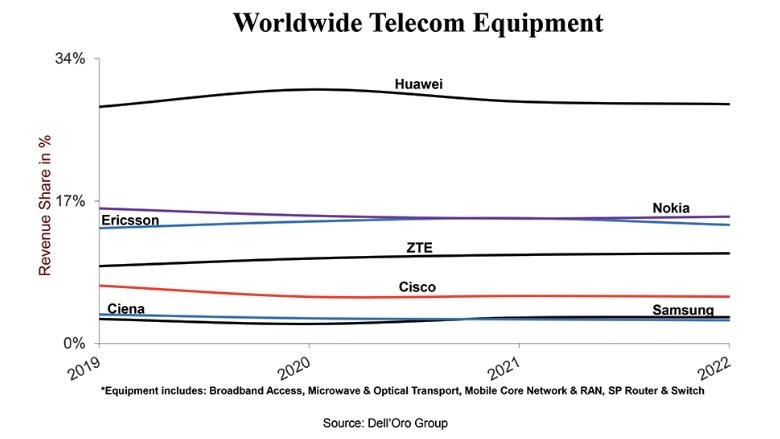 Dell'Oro Group has pulled together its 2022 stats
The analyst firm tracks spending on five categories of networking equipment
Total spending edged up by 3% last year
Huawei is still by far the global market leader
So much has changed in the telecom world in the past year, but some things stay the same… such as Huawei easily holding onto its global telecom vendor crown for yet another year, according to the latest annual calculations from research house Dell'Oro Group.
The Dell'Oro team tracks spending in six telecom networking technology categories – broadband access, microwave transport, optical transport, mobile core network (MCN), radio access network (RAN), and service provider router and switch. Together, the spending in these categories comprises the global telecom equipment sector (as defined by Dell'Oro – every analyst house has its own way of looking at the overall market).
According to the Dell'Oro team, the value of the global market increased by 3% year on year in 2022, a quite dramatic drop from the 8% increase in 2021. And while the research company didn't give a specific value, it had noted a year earlier that the market was worth almost $100bn in 2021, so it's safe to assume that in 2022 the total market was worth at least, if not slightly more than, $100bn.
And while the company doesn't always offer market values in each of those categories, it looks (based on snippets of information gathered during the past year) that the RAN market accounted for about $40bn, broadband access another $19bn, optical transport about $15bn, service provider router and switch more than $14bn, mobile core between $9bn and $10bn, and microwave transport $3bn.
And as the chart above shows, Huawei was still by far the overall global telecom equipment market leader in 2022, "despite on-going efforts by the US government to limit Huawei's TAM [total addressable market] and access to the latest silicon," noted Dell'Oro vice president Stefan Pongratz in this analysis of the market.
Huawei's dominance comes largely, but not exclusively, from its leading position in China, where the major operators have been investing heavily in 5G and fibre access networks in recent years and have been handing much of the work to the domestic vendor duo of Huawei and ZTE.
Even beyond its domestic borders, Huawei is still a major supplier to telecom operators, though Pongratz did note that it has "lost some ground" outside China: According to the Dell'Oro team's calculations, Nokia, Ericsson and then Huawei were the top three telecom equipment vendors outside China in 2022, with market shares of 20%, 18% and 18% respectively. It seems likely, though, that Huawei's share outside China will shrink further in the coming years as pressure weighs in key markets such as Germany, where the Chinese vendor is still very active but now faces a potential ban – see Germany prepping Chinese telco vendor ban - report.
Globally, the market is still dominated by a small number of companies: The top seven vendors – Huawei, Nokia, Ericsson, ZTE, Cisco, Samsung and Ciena – command between them about 80% of the total market (so about $80bn of telecom equipment revenues), which leaves relatively slim pickings for the rest of the system vendor community.
As for 2023, the Dell'Oro team is expecting more total market growth – but only just. "Following five consecutive years of growth, the Dell'Oro Group believes there is more room left in the tank. Collectively, the analyst team is forecasting the overall telecom equipment market to increase 1% in 2023 and record a sixth consecutive year of growth," noted Pongratz. "Risks are broadly balanced and the analysts will continue to monitor the 5G rollouts in India, capex cuts in the US, and 5G slowdown in China (preliminary data by MIIT suggest new 5G BTS [base station] volumes will drop by a third in 2023 relative to 2022), wireless and broadband investments in Europe, forex fluctuations, and inventory optimisation," he added.
- Ray Le Maistre, Editorial Director, TelecomTV
Email Newsletters
Sign up to receive TelecomTV's top news and videos, plus exclusive subscriber-only content direct to your inbox.