DT, Orange et al join the 'running on ODA' club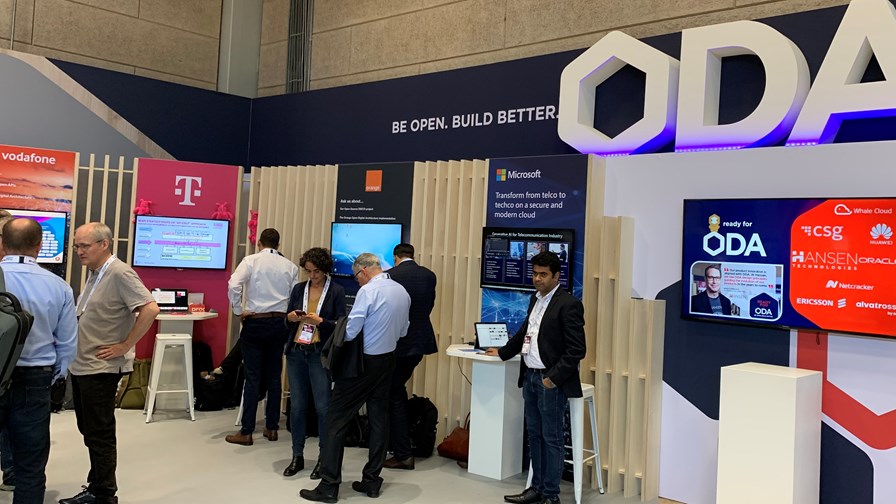 Deutsche Telekom, Orange, Telia, Telstra and UK altnet CityFibre are the latest to go all in on the TM Forum's open digital architecture (ODA)
They take the number of operators 'running on ODA' to nine
The cloud-native software architecture blueprint enables the deployment of reusable software modules
Major hyperscalers support the framework and more operators are adopting ODA
Copenhagen – DTW23 – The TM Forum has kicked off its latest annual gathering of the digital support system fraternity with an announcement that suggests increasing adoption of cloud-native processes and methodologies, as five more major network operators are now running their IT systems based on the organisation's open digital architecture (ODA).
The five are Deutsche Telekom, Orange, Telia, Telstra and UK altnet CityFibre, all of which have now achieved 'Running on ODA' status: To attain that badge, the operators have to pass a rigorous set of tests related to the deployment and running of a cloud-native, ODA-compliant architecture.
It brings the total number of operators that have achieved 'Running on ODA' status to nine – the other four being Axiata, Reliance Jio, Vodafone and Telus. And as Hesham Fahmy, CIO of Telus, was keen to point out to TelecomTV earlier this year, the operator underwent years of back-office transformation before it was awarded the status – see Telus gains a new lease of telecom software life.
There are others at various stages of the assessment, according to the Forum's president and CEO Nik Willetts. "What we're not announcing yet, but is I think significant, is the number of other operators who are now on that train. So it takes most operators between nine and 12 months to go from our starting assessment through to really running on ODA. And we can see a significant growth in the number of operators wanting to do that and getting real results from that process as well," he noted.
But the process isn't limited to the network operators – it also means vendors need to be developing true cloud-native applications that will work in an ODA architecture, and as that happens those vendors are also being recognised as 'Ready for ODA'. As the Forum also noted today, eight of its vendor members – Alvatross, CSG, Ericsson, Hansen Technologies, Huawei, Netcracker, Oracle and Whale Cloud – have developed products that conform to ODA key principles and specifications.
The major hyperscalers are also getting in on the act, as Amazon Web Services (AWS), Google Cloud and Microsoft Azure have each developed what the Forum is calling an ODA Canvas to "offer a standardised cloud-native operating environment to significantly reduce the cost, complexity and risks for CSPs deploying and operating ODA-compliant software in a multi-cloud environment," the organisation noted in its announcement.
That broad involvement is key to helping the industry find an agreed way to introduce cloud-native processes and methodologies and become true digital service providers.
"What matters with ODA is not just people following an arbitrary architecture, but that actually the whole supply chain is pulling through," Willetts told TelecomTV. "This creates… clarity for the vendor community in terms of what's expected. Our goal remains to get rid of the cost and complexity of integration," not only to reduce costs but also to give operators the kind of flexibility they now need, he added.
And to help that supply chain, the Forum has enhanced its long-standing Open API programme with Generation 5 Open APIs that are better suited to automated processes – for the full details, see this announcement.
What's important here is that this isn't an industry body trying to make itself relevant by using popular terminology and ticking the right boxes – as Telus explained earlier this year, the adoption of the ODA architecture helps to reduce costs and improve productivity, while Malaysia-based pan-Asian operator Axiata noted in its latest annual report that it has reduced its IT costs by 40% through the implementation of the ODA and Open APIs.
As more such stories emerge, and as operator cloud-native strategies progress, there's a good chance that the ODA will become the de facto approach for the sector and that would be good for all involved, giving the tech developers certainty about what they need to deliver and enabling network operators to get a step closer to the best-of-breed, cloud-native nirvana that's been promised for years.
- Ray Le Maistre, Editorial Director, TelecomTV
Email Newsletters
Sign up to receive TelecomTV's top news and videos, plus exclusive subscriber-only content direct to your inbox.