Telus gains a new lease of telecom software life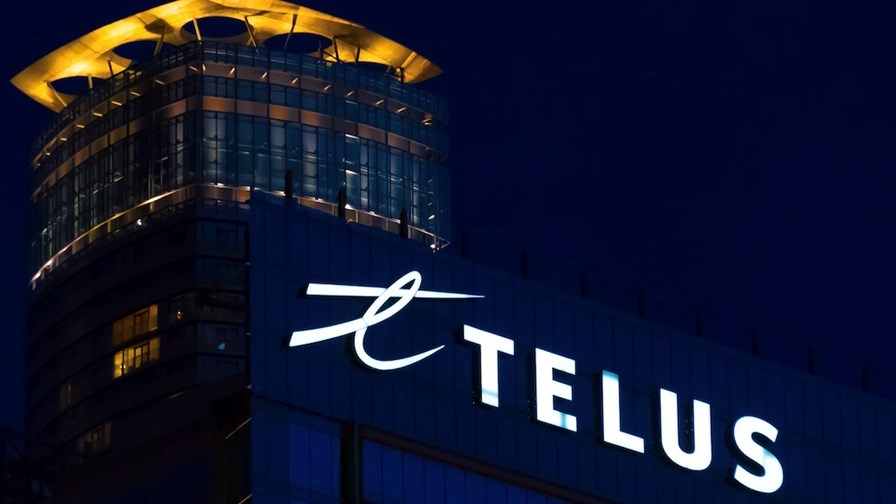 Canadian operator has adopted a cloud native, API approach to its enabling IT strategy
It has adopted the TM Forum's Open Digital Architecture (ODA) blueprint
Telus can now take a best-of-breed approach to its OSS and BSS
The operator's CIO, Hesham Fahmy, says the move has improved time to market and cut costs
But it's been a long process and has taken years to start reaping the benefits
Like many telecom operators, Canada's Telus was for years stuck in a telecom software rut, weighed down with IT silos and running fast to stand still at enormous cost. But a change of direction and the adoption of a uniform approach to reusable, application programmable interface (API)-driven software modules developed by industry body TM Forum have delivered a host of benefits, according to the operator's chief information officer Hesham Fahmy – but it hasn't happened overnight.
The approach that has helped Telus with its back-office transformation is the TM Forum's Open Digital Architecture (ODA), a cloud-native software architecture blueprint that has been in development for several years and is now gaining traction with multiple telcos: Axiata, Reliance Jio and Vodafone were the first three operators to achieve 'Running on ODA' status, having passed a "success framework" assessment last year.
Now, Telus has joined that club following a lengthy process that began five years ago when the team realised they were driving themselves into the ground for little gain, as Fahmy told TelecomTV recently.
"As we got into more and more verticals in our business, the complexity just kept increasing, the cost to maintain our complex infrastructure was [high], and adding incremental value became much more complex – if we wanted to build a new feature, a new value proposition for our customers, we were having to do it four or five different times, because we were repeating the same implementation on multiple stacks, using either internal systems we had [developed] or vendor systems," noted the CIO. "This is when we realised we needed to hit pause, because it was hurting our efficiency in terms of agility and time to market and it was very expensive to add new value to our customers."
That was in 2018.
Fahmy continued: "So we went on this journey to solve this complexity problem, and this is why we went down this journey of ODA, because we [realised] we needed to leverage our components, we needed stuff that was reusable – we needed to build it once and reuse it everywhere. Even though we're in a lot of verticals, there's a lot of similarity between these verticals. So we started on a journey towards an API economy and started building our own APIs. Then we looked out at the industry and saw that the TMF [TM Forum] provided a great reference implementation for a lot of what we wanted to do, so instead of reinventing the wheel… we started adopting [ODA] and it has helped us drive that simplification, drive that reuse, and really helped us increase our service agility and speed to market and reduced the overall complexity.
"Our ODA journey began in about 2019 – that's when we started engaging with the forum and it was 2020 before we started adopting some of the practices. And this isn't just about the APIs – it's a set of principles. It's how you operate, your processes, and how you adopt those processes. And it's been a great journey so far. And it is a journey, because I don't think there's going to ever be an end state – it's going to be a constant evolution, working with the TM Forum and evolving the ODA as well. ODA has a great set of APIs, but as the industry grows, and more verticals come in, become involved, this is going to be continuous evolution. So this is probably step one in the journey."
For Fahmy, the biggest positive has been the efficiency gains. "The most important thing is that it's really given us this ability to reuse and gain leverage from the assets we build. For example, we're heavy users of TMF680, which is the personalisation recommendation API. We've been able to build an internal personalisation engine, and then expose that functionality into our different verticals through that common TMF680 API. And so this was an instance where we built it once, it's something new [and] of high value for us, and we didn't have to build it five or six different times in each of those verticals. And so that's the most important thing – it's given us that leverage."
And savings?
"Our costs have really improved. For a lot of these new value-added features we want to give to our customers, we're able to deliver, in many cases, at half to a third of the previous costs and timelines," stated the CIO.
And it's simplified the Telus IT operation across its wireless and wireline network domains. "They were two stacks, two different product catalogues… so we couldn't see a customer across both systems and I couldn't offer any customer a single catalogue [of service options]. So again, through the TMF APIs, we have a common product and service catalogue and… now we're in the process of retiring those separate systems and simplifying everything – there's only one global catalogue that we serve from and so that has [delivered] cost efficiencies… that's one part of the equation – it's not a cost-cutting exercise, as the real magic comes from how we build new functionality, new value propositions and have a speedier time to market."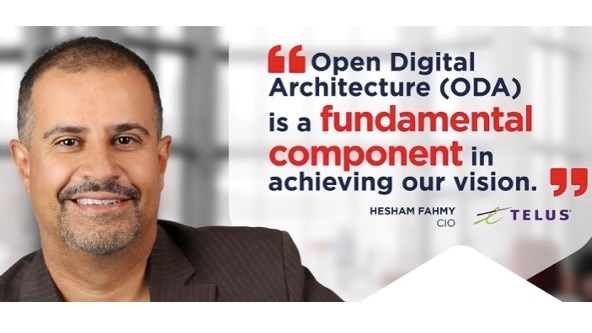 And what has this meant for the Telus team?
"It's less about technology and more about a mindset," stated the CIO. "We have to get our team members to understand why we are doing this, and what's in it for them. And this is where it became an easy sell. Because we came from a place where it was highly complex, there was a lot of toil for everything we wanted to build: We wanted to build all this great stuff but then we'd look at the amount of effort that would need to go into it and the amount of complexity, and it was kind of wearing down the team. So there was already the desire to solve this problem… it was an easy sell when they realised if you kind of decompose this into some components… and start playing with some clear APIs, you can reuse things and you can build this once and reuse [it] everywhere. It was a real 'Aha!' moment, so everybody bought into this. This was the catalyst for everybody to say they're willing to learn a new way of doing things."
And hundreds of Telus staff are now versed in the ODA way: As the operator's vice president of platform engineering and common services, Hasan Jafri, noted in the official announcement about Telus's new status, "We've trained and upskilled 170 team members to implement and maintain an ODA-aligned, platform-based architecture and our goal is to ensure ODA runs through the fabric of our entire company. The certification validates our commitment to adopting TM Forum standards on Open APIs and the Business Capability Framework, so we can bring innovative products to the market faster and more efficiently."
And the new way of doing things starts right at the beginning of each process, noted Fahmy, as the team has to take the approach that "whatever you're building, it's going to be reused everywhere. What happened [in the past] was that you'd look at something you're trying to build and [have a] very narrow view and only optimise it for certain things, not thinking about how it could be used elsewhere, in other verticals, in other customer channels, in a mobile app or in a web experience. When you realise you've got to build it in a way that can be reusable, then you design it slightly differently… and it's not just the API, it's the SLAs [service level agreements] behind the API. How does it behave? What's its availability? What's the expected response time? And then that becomes a contract you have to adhere to as that API operates," explained the CIO.
A route to best of breed
And how has this affected the way Telus works with its technology partners and suppliers? Has it opened up opportunities to work with new developers?
Absolutely, said Fahmy. "Because we can decompose our needs, and our systems' needs, into these different modules, we're able now to go best of breed. In the past we were beholden… to an entire stack, where nine things might be amazing but, for the tenth one, there's someone else out there that's doing it better, but we were locked out of being able to bring that into the [proprietary stack]. Now we have this modular level, and we're able to pick the best of breed for everything that's out there. And it's really opened the door for us to pick and choose and assemble and have the optionality… You can almost have two or three vendors, because they're all adhering to the same API, so you're able to almost swap seamlessly between them. And so that's opened a lot of doors for us with the third-party developers."
Such as?
Fahmy didn't want to upset any partners by naming and shaming those with the inflexible proprietary stacks but highlighted the 10-year partnership struck with Google Cloud in 2021 as an example of a new partnership that has been the direct result of the transformation.
"That partnership has opened a lot of doors within Google, and there are a lot of services at Google that we're using – and Google has opened its doors to other third parties, to its ecosystem. This is not about your typical telco, vendors… we're getting into spaces where there's a lot of innovation in the startup world, and that's opened up our ability to start tapping into some of those capabilities."
And has this had an impact on the Canadian telco's procurement and request for information/proposal (RFI/RFP) processes? Is it specifying ODA adherence from suppliers?
"What matters most to us is this ability to reuse… so that's something that we always put in all of our RFIs – are you standards compliant? Are you fully cloud native? Can we get the flexibility of everything being modular and have the optionality of moving those workloads wherever they need to be? For cloud native, is the infrastructure built in such a way that it's highly declarative, and that you have clear contracts? And when it comes specifically to stuff that falls into the business capability framework in that domain, are you ODA compliant? So these are all things we look for and these are all hard requirements that we put in RFIs now," said the CIO.
How cloud native is telecom?
And does Fahmy believe the vendor community has caught up with the cloud native needs of telcos?
"It's definitely not easy – it's an industry transformation that's happening now and… many [vendors] have embraced this. I think a lot of the vendors in this industry are realising this is something that is good for the industry and are driving these standards. I think everybody's realised the cloud-native ship has sailed, and there are a lot of benefits in terms of scalability, reliability, resilience… Everybody's realising there are benefits for the vendor themselves, even for their own operations… and the interoperability can… drive a lot of innovation. It can help vendors specialise in certain domains. Because it's so modular and plug and play, a developer can pick one area to play in and be excellent at it, rather than trying to own the whole landscape if you will."
And this is helping Telus to discover new partners – the "gems in the rough" as Fahmy refers to them.
"When we do our RFIs, we hear from the big players that have tried to play in the whole stack, the OSS and BSS, and they have mixed results in terms of how cloud native they truly are. And now you're seeing emerging players that don't try to take the whole OSS stack, but take a portion of it and do it really well… We're starting to find these gems in the rough, and they become interesting partners that we would have previously overlooked. We don't just take what they bring in terms of marketing-ware on slides – we will actually do bake-offs, and we will truly run those operations and bring their technology and try it, test it. Can we manage them in a cloud-native way? Can we do it in a fully declarative way? Can we do auto-scaling? And can we shift workloads? Are those API contracts true to what they're saying? And so in that work, we're really shaking out the best of breed, and it's helping us find those diamonds in the rough. And at the same time, our large vendors that we've had great partnerships with over many, many years and that own the whole OSS and BSS stack have upped their game too. And so I think this has been a scenario where all boats have risen in the industry."
And while Fahmy again wasn't keen to name names, a quick look at the history books shows that the Canadian operator has, over the years, engaged with a number of large OSS and BSS vendors, including Amdocs and Netcracker, both of which have mapped at least some of their products to the TM Forum's ODA component architecture.
So the ODA architecture isn't just there for the operators – it's applicable and helpful to the whole ecosystem – the vendors now know that Telus has achieved 'Running on ODA' status, and this means they know how they can work with the operator, as that status isn't just handed over without a detailed process, explained Andy Tiller, TM Forum's executive VP of member products and services.
"With Telus we conducted what we call the ODA success framework assessment, which is what we've done with 13 of our CSP members. And for all of them, it's a journey. In order to get the award, we've set thresholds on various aspects of succeeding with ODA – there are six dimensions, including things like governance, conformance to ODA, architecture, principles, API skills, and so on… and there's a certain level of consumption of ODA and commitment to producing ODA that qualifies you for the success framework assessment," he noted.
Fahmy confirms that the forum doesn't make it easy for the operators looking to achieve 'Running on ODA' status.
"You get measured on several dimensions; we actually had our first attempt at that in very late 2019, and we didn't score very highly on it. That was a rallying cry for us… to up our game and find the gaps, double down and improve if we really want to walk the talk here. And now we're at the point where we're certified – this is part of the journey, and I'm pleased to hear there are many other CSPs going on that same journey," stated the Telus CIO.
- Ray Le Maistre, Editorial Director, TelecomTV