Colt completes $1.8bn acquisition of Lumen's EMEA assets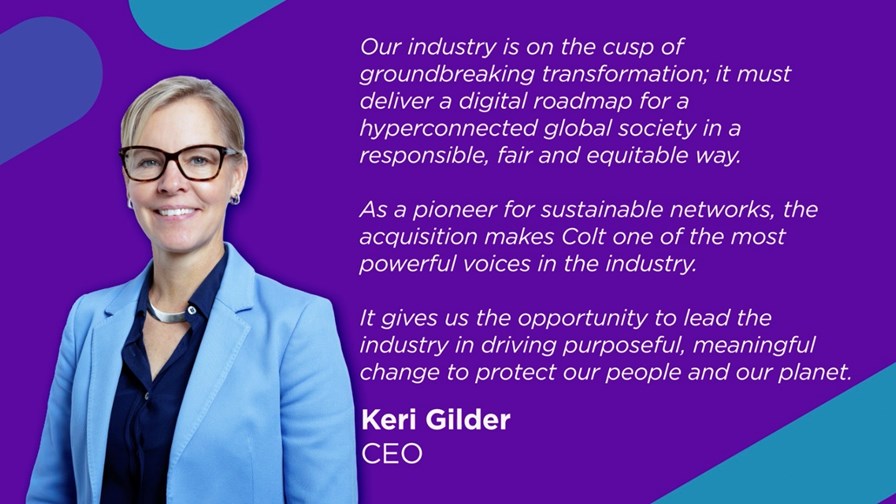 Colt announced its intention to acquire the EMEA assets of US operator Lumen Technologies a year ago
Now the takeover has been completed, with Colt gaining 2,700 customers
As part of the deal, Colt and Lumen are forging an international partnership
Colt CEO Keri Gilder spies an opportunity for growth as some incumbent telcos scale back their international focus
A year after the deal was first announced, international network operator Colt Technology Services has completed the $1.8bn acquisition of the Europe, Middle East and Africa (EMEA) assets of Lumen Technologies, the US-based operator formerly known as CenturyLink.
The acquisition adds significant assets, customers and staff to its existing and extensive international network operation. Colt, which has more than 6,000 staff headed up by CEO Keri Gilder, already boasts a dense cross-border and urban area network infrastructure in Europe, as well as network assets in Asia, the US and on multiple subsea routes, with 1,100 datacentres and 230 cities connected via more than 50 metro networks. It has fibre running to more than 32,000 buildings, has more than 250 cloud points of presence (PoPs) and services more than 27,000 enterprise and wholesale customers.
Bringing Lumen EMEA on board is adding:
2,700 customers including blue chip corporations, leading enterprises and public sector customers

1,300 staff across 16 countries

1,630,031 kilometres of fibre connecting 125 European cities in 34 EMEA countries (see map, below)

11,000 kilometres of metropolitan network in 23 countries and the UAE

12 cable landing stations in six countries

10 subsea cable systems (six transatlantic and four within Europe)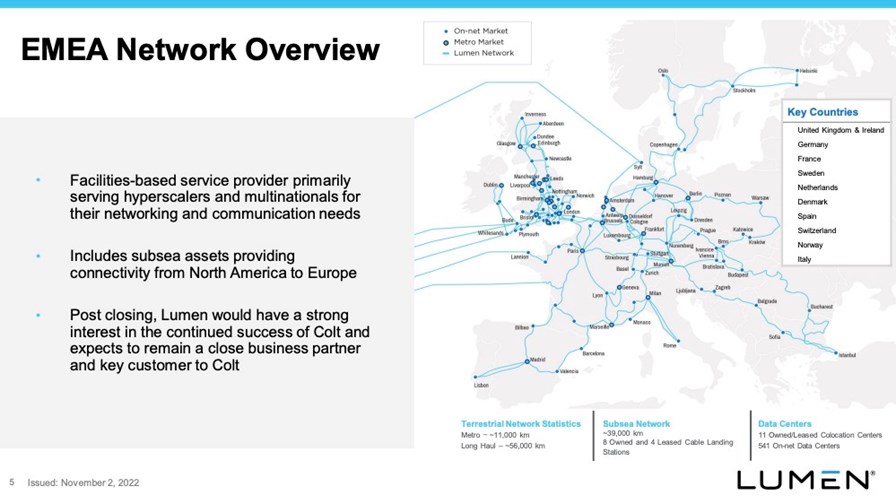 The acquisition also sees Colt expand its connectivity (including SD-WAN), cloud, security, edge and unified communications services portfolio with "new security technologies, market-leading SASE [secure access service edge] products, managed hosting and professional services" and extend the reach of those services via PoPs in Dubai, Estonia, Greece, Iceland, Israel, Kenya, Serbia, Slovenia, South Africa and Turkey.
And as part of the deal, Colt and Lumen have struck a partnership that will see Lumen's enterprise customers in North America gain access to Colt's network and services across the US and internationally.
Financial details are harder to come by: Neither party has shared the financial performance details of the Lumen EMEA assets, though investor presentations made by Lumen this year suggest current annual revenues of about $600m and adjusted earnings before interest, tax, depreciation and amortisation (EBITDA) of around $160m. And as a private company (owned by Fidelity Investments and Fidelity-backed Eight Roads) Colt doesn't share its financial details, though company filings show it reported an operating loss in 2022 of €183m.
For Colt, the move is mainly about gaining scale as the enterprise sector further embraces digital operations that require secure connectivity and associated services. "Closing this acquisition brings us to a momentous point in our growth journey and marks our deep commitment to our customers, helping them scale and grow," noted Gilder.
"It brings us amazing new talent; extends our technology portfolio and our partner ecosystem; and significantly expands our digital infrastructure as we enter new markets across eastern Europe, the UAE and parts of Africa. Our industry is on the cusp of groundbreaking transformation; it must deliver a digital roadmap for a hyperconnected global society in a responsible, fair and equitable way. As a pioneer for sustainable networks, the acquisition makes Colt one of the most powerful voices in the industry. It gives us the opportunity to lead the industry in driving purposeful, meaningful change to protect our people and our planet," added the CEO, who is a strong advocate of environmental, social and governance (ESG)-focused strategies.
Camille Mendler, chief analyst for enterprise services at Omdia, also highlighted the additional scale achieved by the takeover. "Colt has always been relentless about delivering brilliant experiences to business customers. That mission has now gained wider global scale at a critical time. Enterprises worldwide need steadfast partners to navigate profound changes in digital consumption, including network-as-a-service, zero-trust security and hybrid cloud computing," she stated.
The M&A-enabled expansion comes at a time when Colt's Gilder believes the operator has the opportunity to expand its addressable market as many traditional telcos are scaling back international activities.
She told TelecomTV during a recent interview that she is seeing incumbent operators "moving out of their global business and [focusing on] their country business. And we're seeing that… not just in Europe, but around the world. We believe that makes Colt a great aggregator for global business" opportunities because enterprises still need international reach.
"Operators are still going to be required to sell a global solution, but the operating dynamics, the business case, doesn't prove in that well anymore when they have so much to focus on in their core business. So… we are expanding and our desire is to basically be the global aggregator of connectivity services around the world. And that's not only to help enterprises but also to help other operators around the world have that capability without having the operational complexity and the cost associated with developing that infrastructure," stated Gilder.
Of course, not all incumbent telcos are scaling back their international operations and Colt will continue to face fierce competition from the likes of BT Enterprise, Deutsche Telekom (T-Systems), Orange Business, Telefónica Tech, Verizon Business and Vodafone Business in the international data services sector.
In addition, acquisitions are never easy: Colt is adding to its assets, customers and headcount, but it'll do well to do that while keeping Lumen's international customers happy (and on board) and without interrupting its ongoing operations.
- Ray Le Maistre, Editorial Director, TelecomTV
Email Newsletters
Sign up to receive TelecomTV's top news and videos, plus exclusive subscriber-only content direct to your inbox.