BT turns to 5G-powered 'immersive spaces' to give its Business unit a boost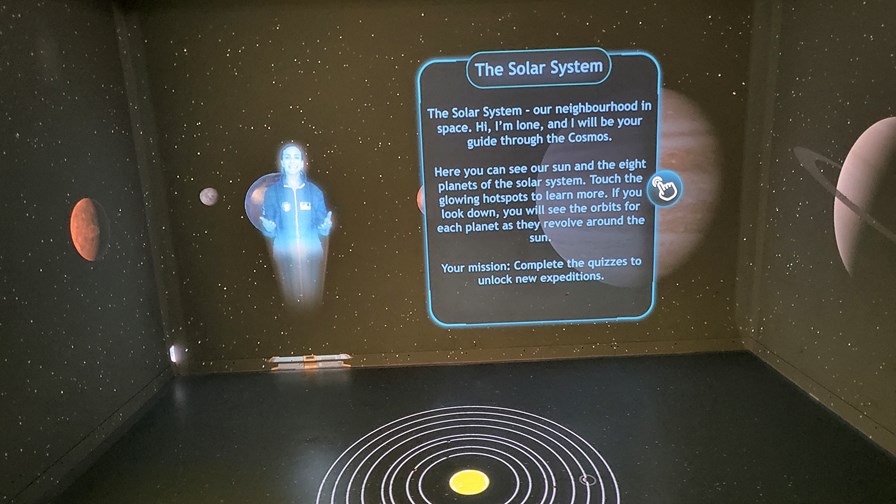 BT Business unit desperately needs a new lease of life
The unit tasked with developing 'unique customer solutions' for enterprises, Division X, is trying to give it just that
It has launched a service called Immersive Spaces to offer interactive experiences
The main benefits are seen in educational and training use cases, with the first users in Scotland and Wales already deploying interactive classrooms
LONDON – BT's Division X, which was set up to develop unique customer solutions for the enterprise sector, has launched a 5G 'interactive simulation experience' targeting UK enterprises and the public sector, at a time when the group's Business unit keeps making losses.
Gathering journalists and analysts at its headquarters in the UK capital, Alexandra Foster, director at Division X, and the unit's technical principal, Ian Robertson, demonstrated the company's newest service, dubbed Immersive Spaces.
In the form of a mobile unit – a temporary ad-hoc, pop-up unit that looks like a small shipping container, though there is also an option to install the 'immersive space' in a fixed environment – the offering comprises three head-to-toe interactive walls, presenting audio-visual content and space for people to interact and observe the experience, all supported by 5G connectivity.
The service is offered on a three-year contract and includes a cloud-based content library of more than 3,000 different computer-generated scenarios made in partnership with Immersive Interactive, a UK-based provider of "fully interactive immersive learning spaces". Customers can also create, edit and live stream their own content.
The service is supported by 4G, 5G and fixed fibre but, according to Robertson, 5G is the most suitable solution, especially for live streaming, for its low latency and "high quality of transfer".
During the showcase, Foster and Robertson "walked" visitors virtually through several landscapes with a focus to education, including a deep-sea dive with whales (an experience in which touching the wall creates virtual bubbles and other prompts provide more information and quizzes about the marine mammal, all accompanied by the sound of whales).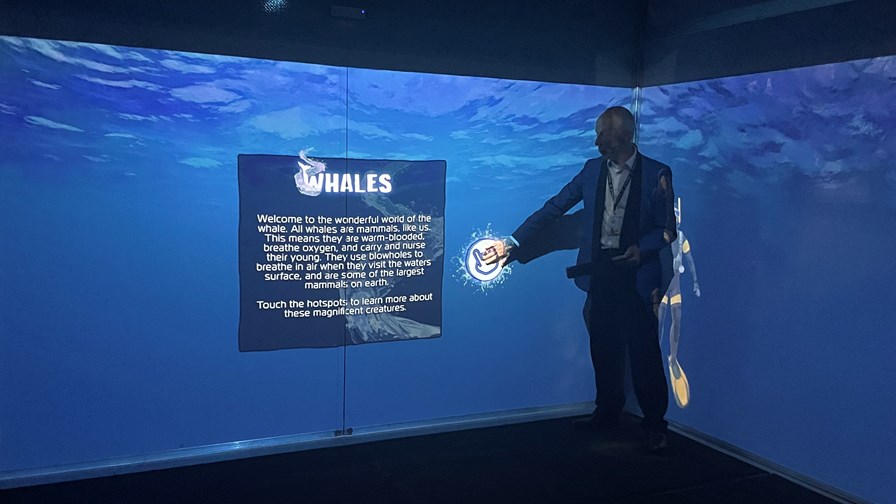 Other scenarios depicted the solar system (see main image), a "magic" den, and a spelling bee game aimed at entertaining and educating children.
BT Division X's experts also highlighted that the service can help enterprises and public sector organisations to train staff. For example, it could be used to train paramedics and ambulance staff, and provide health and safety instructions to warehouse personnel and construction workers. Other potential uses could be at organisations that work with people struggling to overcome phobias, such as enabling people with social anxiety to experience virtual simulations in a safe environment.
BT claimed its offering is the first 5G-enabled "interactive simulation experience", replicating real-life environments. The immersive settings are connected to the 5G networks of BT's mobile division, EE, and use cameras and HD projectors to bring content "to life" across the walls, and there is a potential for it to be presented on the floor as well. As well as using lights and sounds to make an experience more immersive, a space can also deliver smells.
Robertson noted that BT's Immersive Spaces offering can serve as a standalone environment. And though it is notably less immersive than virtual reality (VR), augmented reality (AR) and extended reality (XR) technologies, it provides the option to bring a group of people together for a shared experience, such as students in a classroom, as opposed to other immersive services that require headsets and offer more of an individual experience. The offering is, however, compatible with such headsets and could complement VR, AR and XR experiences, he added.
Immersive Spaces is already being deployed by Borders College in Galashiels, Scotland (see image below), and Cadoxton Primary School in South Wales. And BT is already seeing early demand for training and development use cases across education, healthcare, retail, transport, tourism, construction and sport sectors.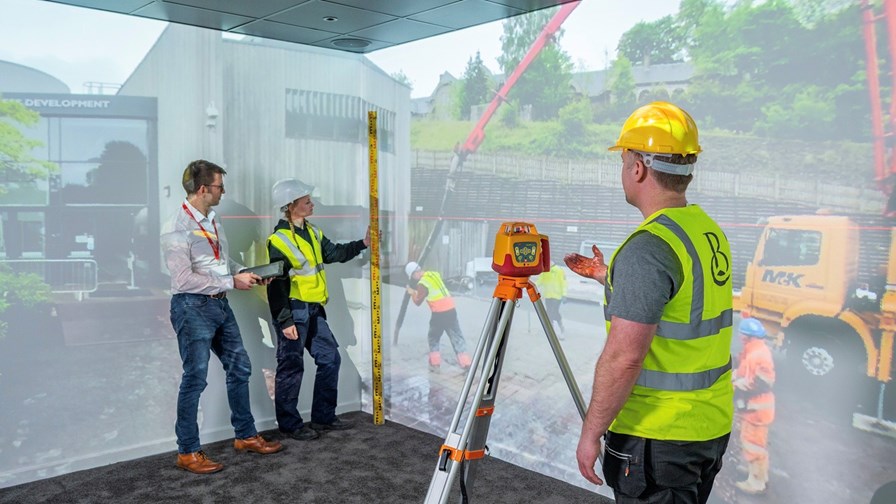 "This is a purpose-built, three-metre space that's going to transport you to pretty much anywhere in the world – real or imaginary. It's also the first off-the-shelf immersive space," explained Foster.
The offering "has the power to absolutely transform experiences, transform industries – from learning to development to training," she added.
Commenting on the demo, CCS Insight director of consumer and connectivity, Kester Mann told TelecomTV: "Amid the dearth of tangible 5G use cases, it was great to experience a solution that offers clear benefits to a range of sectors. The demonstration was impressive and it was encouraging to see first hand the fruits of BT's Division X group, which was formed around 18 months ago, but is now a part of BT's new Business unit."
But he added that its commercial opportunity "may be limited" if the lead focus of the offering is education and it is mainly provided as a "relatively niche service".
BT needs to do whatever it can to develop successful and profitable services and offerings for enterprises, as its Business unit continues to weigh on the telco group's total earnings: Its revenues for the full year ending 31 March 2023 fell by 4% year on year to £4.96bn, following a 5% decline the previous year, ending 31 March 2022, to £5.15bn.
- Yanitsa Boyadzhieva, Deputy Editor, TelecomTV