Brussels to play semiconductor chemin de fer with Eurochips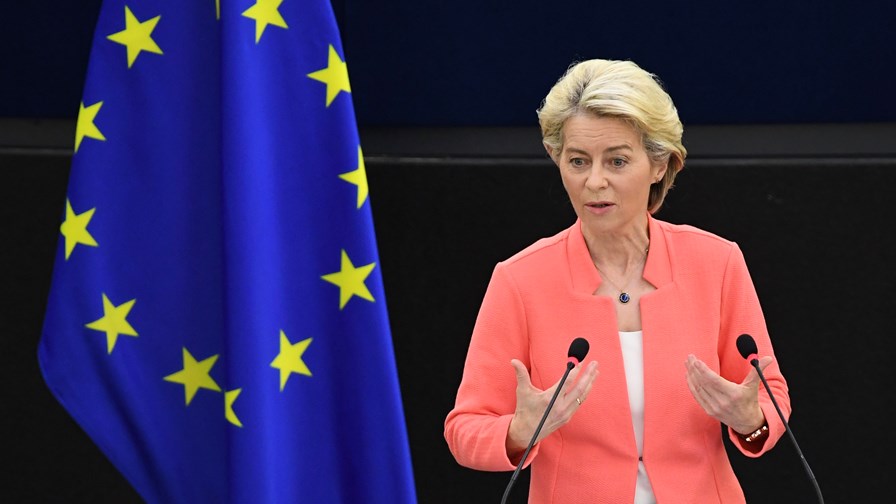 European Commission increasingly worried about chip shortages and global supply chain fractures
Public/private "semiconductor alliance" mooted to double EU global market share by 2030
Time to "be bold" and build a "state of the art ecosystem" to achieve "technological sovereignty"
Hugely expensive undertaking will need massive injection of public funding and last many years
The worldwide shortage of semiconductors, caused by disruption across global supply chains, is now really worrying the leaders of the European Union (EU) as car production and the manufacturing of consumer goods, such as televisions, is hit. That's why the European Commission (EC), the EU's executive branch that is responsible for proposing and enforcing laws and directing the union's administrative operations, is looking to pass legislation that will make the EU very much less reliant on the supply of chips from outside the trading bloc - and that includes not only China, Korea, Taiwan and other Asian nations but, potentially, also the US.
The European Chips Act, trailed last week by Commission President Ursula von der Leyen (pictured above), is designed to encourage EU member states to boost their microchip industries and create a "state of the art ecosystem" wherein the different member states of the EU will work together to determine priorities in research and development and to agree on the financial contributions each country will make towards the greater goal.
Speaking in Strasbourg during the annual "State of the European Union" address, von der Leyen accepted that it will be a huge and expensive effort to start to build (or, in reality, to rebuild) a leading-edge, vital and competitive European semiconductor industry more or less from the ground up. The past decades of growing complacency and increasing reliance on cheap imported chips has seen much European semiconductor design and manufacturing decline and the bloc's global market share of the sector slip back.
Now, with relations between a newly assertive China and the west in marked decline and aggressive confrontation with the US becoming more intense along several fronts, the chickens are coming home to roost even as the supply of chips dwindles. The likelihood that some overseas governments will, sooner or later, move to gain political or economic advantage over the EU by cutting exports of semiconductors is growing and that realisation is now percolating at Commission level. Recognition of the reality has been a long time coming, but better late than not at all: The talk now is of doubling the EU's share of the global chip market by 2030. Given that the region's market share is currently less than 10 per cent and Europe has few fabrication plants, it's a very big and immensely expensive ask.
von der Leyen admitted that it will "be a daunting task" to build a strategically autonomous chip industry and it will take years to come to fruition, but she stressed there is little choice other than "to be bold again" and set about it forthwith. To that end, the new legislation will provide incentives to bolster domestic chip design and production within a public/private "semiconductor alliance."
Adding some detail to the bare bones of the proposal, the EC President also declared that the provision of a European semiconductor ecosystem and fabrication capability "is not just a matter of our competitiveness. It is also a matter of technological sovereignty" as the EU moves away from reliance on chips from Asia.
The EC's new policy is a European echo of the CHIPS for America Act in the US. This year, under the terms of the National Defense Authorization Act (NDAA), the US Congress acknowledged the critical role a powerful domestic semiconductor industry will have in future: As a result, the administration will enact tax credits for semiconductor R&D, manufacturing and the security of the supply chain. Initially worth at least US$52 billion, the support will continue until 2026 at the earliest.
The US government acted following the espionage furore that occasioned the banning of Huawei equipment from US comms networks and has belatedly acknowledged that it took its eye off the ball whilst America's share of global semiconductor manufacturing capacity fell from the 37 per cent it was in 1990 to 12 per cent last year even as successive administrations declined to invest more in the strategic industry.
A decade-long programme that could run for 20 years
Before Covid-19 so disrupted global supply chains and nationalistic realpolitik soured relations between China and much of the western hemisphere, the EC had already outlined the EU's ten-year '2030 Digital Compass' plan, the very purpose of which was to establish up-to-date and innovative semiconductor manufacturing across Europe. Since then the task has gained urgency and will soak up "a decade or decades" of investment of public money alongside a myriad of private investments. Public subsidies will inevitably be needed to achieve the touted "technological sovereignty" of independence from foreign chip makers, while the European Chips Act will ensure that initiatives by individual member states are integrated into "a coherent European vision and strategy." On the other hand everything could get mired in yet another Brussels bureaucratic bog.
Some Brussels apparatchiks are pushing the agenda that the EU should become so competitive in silicon chip fabrication that, at some indeterminate time in the future, it will actually emerge as a world "third-force" capable of going head-to head with Asia and North America and winning. Others think that is no more than a delusional pipe-dream and the focus must be on protecting EU security via technological sovereignty. Certainly some sort of competitive advantage in niche areas would be a "nice to have" but it will perforce be a long-term aspiration that, in truth and reality, is extremely unlikely ever to come to pass.
Following von der Leyen's speech, Thierry Breton, the European Commissioner for Industrial Policy, published a blog in which he outlined his vision of 'chips with everything', whereby the EU will define a "collective plan" he calls the "European Semiconductor Research Strategy". This would be predicated not only on collaboration between member states but also one wider (but as yet undefined) international cooperation and partnership. He also floated the idea of including the possibility of setting up a "European Semiconductor Fund", but gave no concrete details of what (or who) that might involve.
The fact of the matter is that the EU will have to single-mindedly work for upwards of a decade towards the clearly-defined objective of creating a revivified European semiconductor industry and forgo wishful blue-sky thinking until the summer of 2032 - at the earliest.
Email Newsletters
Stay up to date with the latest industry developments: sign up to receive TelecomTV's top news and videos plus exclusive subscriber-only content direct to your inbox – including our daily news briefing and weekly wrap.