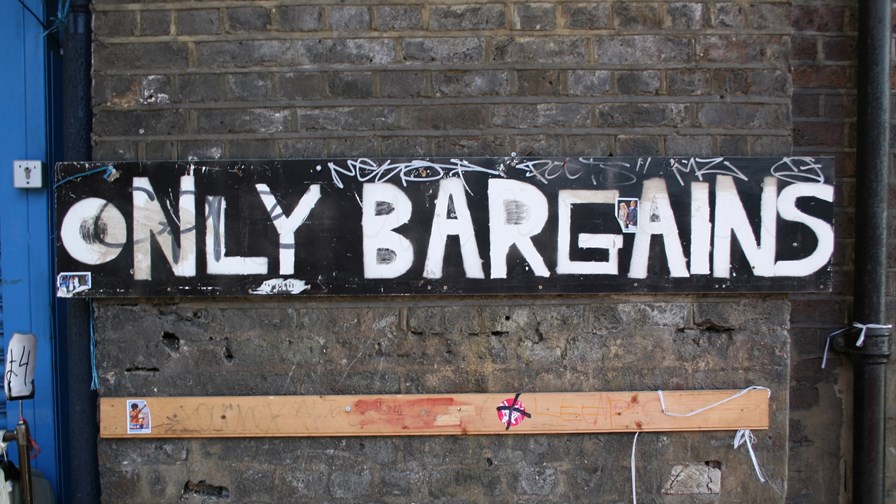 Global sales in third quarter decline 0.4 percent on last year to 387 million
Players who fared better were those focused on mid-tier and entry-level devices
Which is another way of saying Apple turned in another lacklustre performance
Foldable touchscreens and iPhones with cameras all over the back of them are all very exciting, but consumers appear to want something a little more modest at the moment. Not cheap; not bank-breakingly expensive; somewhere in the middle.
"For the majority of smartphone users, desire has shifted away from owning the least expensive smartphone. Today's smartphone user is opting for mid-tier smartphones over premium-tier ones because they offer better value for money," said Anshul Gupta, senior research director at Gartner.
As well as looking for handsets at the right price, many consumers are delaying purchases of 5G devices until network coverage reaches the sweet-spot too, he added.
Gupta's comments come as global smartphone sales in the third quarter fell to 387.5 million from 389.1 million a year earlier, a decline of 0.4 percent.
Samsung, Huawei and OPPO were the only major vendors to grow sales, Gartner said, precisely because they strengthened their entry-level and mid-tier product lines. Samsung in particular managed to grow sales by 7.8 percent year-on-year thanks to the "aggressive revamp of its portfolio, with a focus on mid-tier and entry-tier segments," Gupta said.
In contrast, Apple, which has always focused its attention more towards the upper echelons of the market, sold 40.8 million iPhones in Q3, down 10.7 percent compared to a year ago.
"Although Apple continued its sales promotions and discounts in various markets, this was not enough to stimulate demand globally," said Gupta. Having said that, Apple's recently-refreshed iPhone line-up has been well received, "which suggests sales may be positive in the remaining quarter."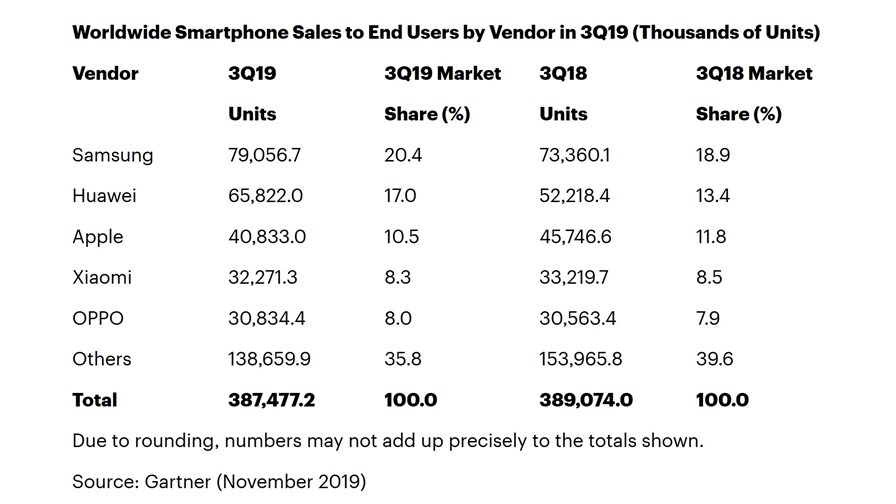 Unlike a lot of analyst firms, which measure the health of the smartphone market based on shipment volumes, Gartner instead counts sales to end users, a slightly different metric. That's why earlier this month, everyone was saying how the smartphone market bounced back in Q3 because shipments showed modest growth. However, by Gartner's calculation, consumer demand is still soft compared to a year ago.
Upcoming Black Friday and Cyber Monday sales could help turn things around though, Gartner believes.
"Vendors including Google and Samsung are likely to offer aggressive price promotions not just for their older smartphones but also for newer devices such as the Google Pixel 4 and Samsung Galaxy Note 10," Gartner predicts.
Meanwhile, despite its travails with the US government, Huawei was the standout performer of the quarter, being the only top-five smartphone maker to record double-digit sales growth. The Chinese company sold 65.8 million smartphones in the three months to 30 September, up 26 percent on last year. It did particularly well in its home market, selling 40.5 million smartphones, increasing its share of the Chinese market by 15 percentage points, according to Gartner.
"Huawei's strong ecosystem in China continued to show growth. The current situation with the U.S. has also fostered patriotism among Huawei's partners, which are now keener to promote its smartphones in China — a development that makes it difficult for local competitors to compete aggressively against Huawei," Gartner said, adding that its investments in sub-brands (Honor and Nova); in online and retail sales channels; and 5G and technological innovation has underpinned its success in China.
So there you have it: if you want to be a successful smartphone maker, head for the Goldilocks zone, and incur the ire of your biggest economic rival. Easy.
Email Newsletters
Sign up to receive TelecomTV's top news and videos, plus exclusive subscriber-only content direct to your inbox.