Move over Samsung, Xiaomi has just become China's top smartphone vendor
Well that didn't take long, did it? Samsung's total Android dominance has taken a battering lately, with multiple assaults from low-, mid- and high-end rivals. The emergence of low-cost start-up OEMs, primarily in China and India, have proved to be more than capable of providing viable alternatives to the devices from the global players.
China's Xiaomi has had its ups and downs in its short lifetime. It may well be accused of copying Apple far too closely, but that hasn't affected its stellar sales figures. According to new research from Canalys, it has just overtaken Samsung to become the best selling smartphone vendor in China.
In the second quarter, the global smartphone market grew 23 per cent to 292.4 million units, with mainland China accounting for 37 per cent of total shipments. Canalys says that eight of the top ten vendors in the country are now local companies. Leading the pack is Xiaomi with a 14 per cent market share, equating to around 15 million smartphone sales in the quarter. It equated to an incredible 240 per cent year-on-year growth.
'This is a phenomenal achievement for Xiaomi," said Canalys Research analyst Jingwen Wang. "Undoubtedly this was helped by an anticipated, temporarily under-strength Samsung performance during the quarter. But that is only half the story – Xiaomi has also executed on its strategy to grow volume shipments. It has delivered compelling products at aggressive price points, focused chiefly on its locally relevant MIUI software features and services."
Canalys says its affordable RedMi range is booming and has been the driver for growth, despite attracting less global media attention than its flagship Mi products. However, Jingwen sounds a note of caution: "It does now need to deliver LTE products in China to address growing demand for 4G services if it is to retain its momentum."
Another aspect for its long-term growth is international expansion. The vast majority (97 per cent) of Xiaomi's Q2 shipments were into mainland China. The firm is looking to expand into other markets, including Indonesia, Mexico, Russia, Thailand and Turkey.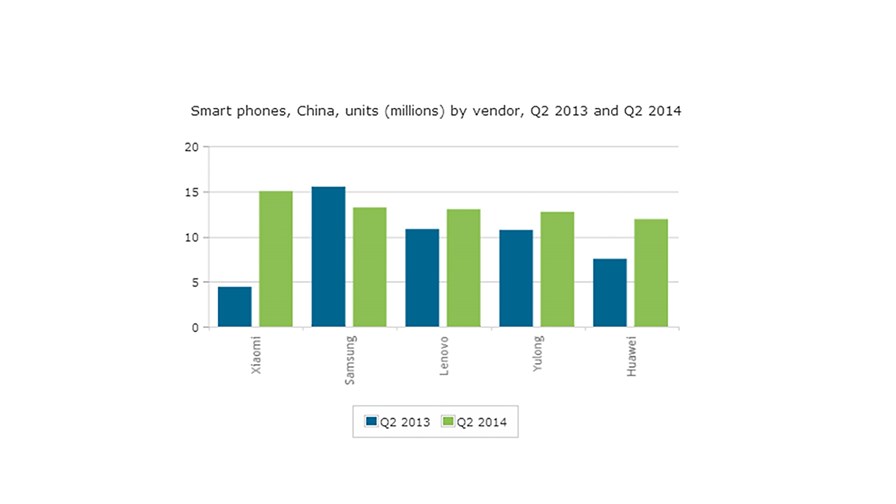 But as it does so, it's going to come under intensive scrutiny from IP holders. The big global players are wary of instigating legal action in China, but will have no qualms about doing so in more IP-friendly countries. Then there are the logistical questions.
"Its aggressive pricing model will certainly resonate beyond China, but the challenge it faces in scaling its model for success on a global stage should not be underestimated," said Canalys analyst Jessica Kwee. "Xiaomi needs to build its international brand, and will need to localize its services offering with MIUI for the different markets into which it expands, else its differentiation, value proposition and service-oriented revenue streams will be eroded. And it must tailor its marketing and largely online sales channels accordingly."
Joining Xiaomi at the top of the Chinese charts are Lenovo and Yulong, followed by BBK, Oppo, K-Touch and the more recognisable Huawei and ZTE. Together, they accounted for a total of 70.7 million units and a 65 per cent market share. Samsung and Apple were the only non-Chinese vendors in the top ten. Samsung fell into second place for the first time since 2011 with a 15 per cent year-on-year decline. Apple had a better performance, up 58 per cent.
Worldwide, Samsung retained its global lead with a 26 per cent share in the second quarter. It was ahead of Apple with 12 per cent, Huawei with 7 per cent and Lenovo with 5 per cent. Xiaomi's strong China performance meant it ranked fifth globally with a 5 per cent share.
Email Newsletters
Sign up to receive TelecomTV's top news and videos, plus exclusive subscriber-only content direct to your inbox.