The Red Hydrogen One is finally here… but what's its market?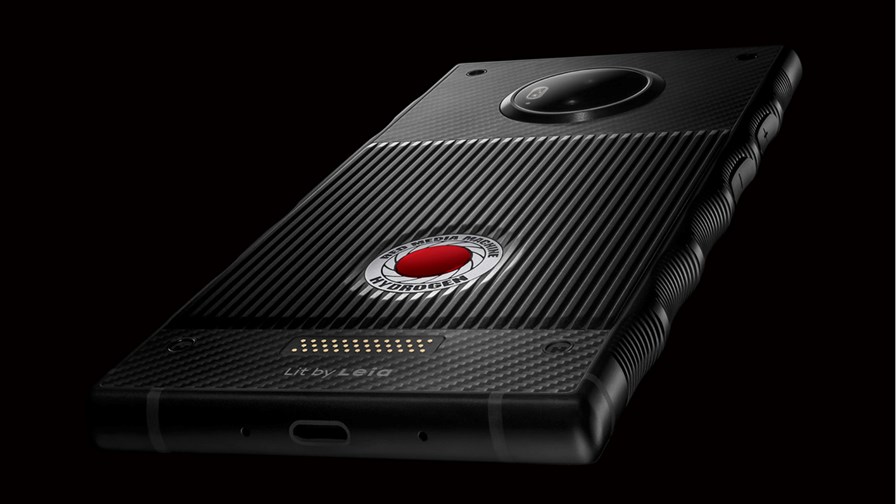 The $1,295 smartphone is available from AT&T and Verizon
Features a proprietary "holographic" display and cameras
Supposedly creates an experience that "goes beyond 3D"
Hardware modules not available until 2019
What a saga it's been. When the company behind Hollywood's digital camera pioneers announced it was releasing a camera phone, it raised more than a few collective eyebrows. There were the loyal Red fans and users who couldn't wait to shell out huge amounts of cash on the latest Red camera (albeit one that comes with a phone attached), whilst there were many jaded commentators who shock their heads and warned that we had seen this before and that it would all end in tears. The months (and years) rolled by with just the occasional sighting of a pre-release model. Now though, the Red Hydrogen One is finally about to be released, but so far only in the US and through AT&T and Verizon's networks.
So what's all the fuss about? It basically comes down to the screen, and Red's assertion that it is the world's first holographic smartphone. For $1,295 you get a titanium or aluminium (there are two models available) Android smartphone with added Kevlar that is (under?) powered with last year's Qualcomm Snapdragon 835 processor and running Android 8.1. The front and rear cameras also record in a 3D format, with a proprietary 4-View (H4V) codec that adds a depth map to footage. The rear camera sports 12.3 megapixels, whilst the front has 8.3 megapixels. There's also a proprietary A3D audio codec which "steers the sound to fill your room. A private concert. Just for you." Maximum onboard storage is 256GB.
But let's talk about the 5.7" holographic screen – or the "4-View Lightfield Display" to give it the correct name. The company says it creates an experience that "goes beyond 3D" (fellow scientists please take a second to gasp in awe and take in the implications) and doesn't not require the user to wear silly 1950s cardboard glasses. Instead, the display apparently delivers realistic depth, light and textures "bringing content to life in fundamentally new ways". There's more: "It's the display the world didn't see coming and it can't stop looking at." More like the Red Hype One than Hydrogen One.
The device is also built to be modular, enabling hardware accessories to be snapped into place – but users will have to wait until sometime in 2019 for these to be released. We are promised an additional power pack for increased battery life, external storage capabilities, and a camera module with interchangeable lens mounts.
So, iPhone XS, Samsung Galaxy S9, or Red Hydrogen One? You cannot help but think this device is already heading the way of Andy Rubin's Essential Phone. It's either an over-priced one-trick pony, or laser targeted at an incredibly small potential user group, or it's an expensive way of testing the waters for a more comprehensive offering to the professional broadcast and media sector at some later date. Either way, if you are curious and have cash to burn, you can buy a device from this Friday.
Optimistic Quotes:
"The Red Hydrogen One is a welcomed innovation in a device space where iteration has become the norm," said Kevin Petersen, SVP Device and Network Experiences, AT&T.
"Red Hydrogen One was designed with cutting-edge technology that simply can't be described," said Brian Higgins, VP device and consumer product marketing, Verizon, "you have to hold it in your hands and experience it yourself to understand why this is such a mobile game changer."
Email Newsletters
Sign up to receive TelecomTV's top news and videos, plus exclusive subscriber-only content direct to your inbox.