Tablet market starts to broaden and Apple loses ground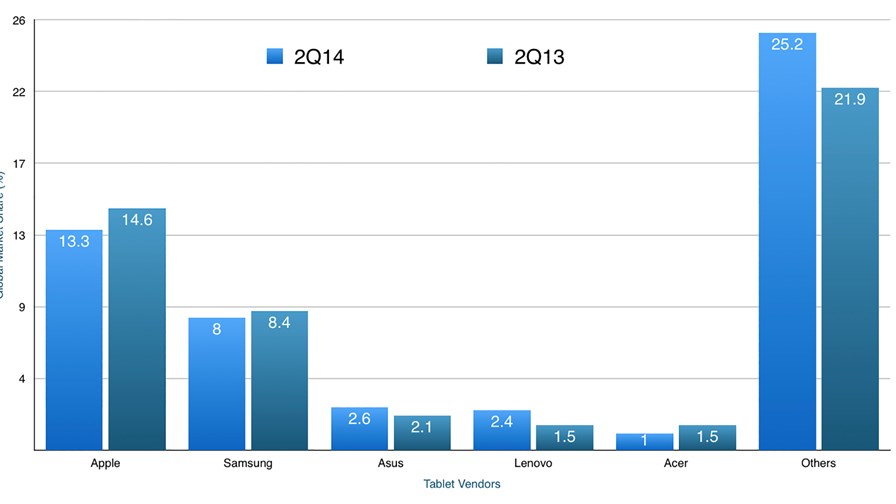 Apple may have started the tablet market with the iPad, but chances are it could follow the pattern of the iPhone and lead to a market dominated by lower cost, more simple models.
Research from Strategy Analytics shows that global tablet shipments reached 52.4 million units in the second quarter of 2014, up from the 50.0 million of the same period a year ago. However, tablet shipments from both Apple and Samsung were down on Q2 2013 volumes. In Apple's case, the fall was 9.2 per cent to 13.3 million units, and for Samsung the decrease was 5.3 per cent to 8.0 million units.
"The lack of new models from Apple clearly hurt the company's shipments, but we expect new products in the fourth quarter to reinvigorate shipments," said Peter King, director of tablets at Strategy Analytics. "While Samsung had a noteworthy quarter in Q1 2014, we suspect high inventory levels resulted in the fall in shipments in the second quarter. We expect both Apple and Samsung to have a stronger second half year with Q4 particularly strong due to new models and year-end seasonal promotion."
Asian manufacturers Asus and Lenovo were the only top five ranked vendors delivering shipment growth over Q2 2013. Own label 'White Box' vendors capitalised on the demand for low cost tablets, with shipments up almost 2 million units over Q2 2013. In fact, the "other" category of vendors outside the top five now accounts for 48.1 per cent of the total global tablet market, up 15 per cent on the year.
"Lenovo continues to build momentum with its PC+ strategy (that is smartphones and tablets)," added King. "For now Lenovo continues to outperform the market, but it needs to watch Asus who are fighting hard to gain third place in the Tablet rankings".
Email Newsletters
Sign up to receive TelecomTV's top news and videos, plus exclusive subscriber-only content direct to your inbox.