Samsung finally unveils its Tizen-powered smartphone, but is it really an Android alternative?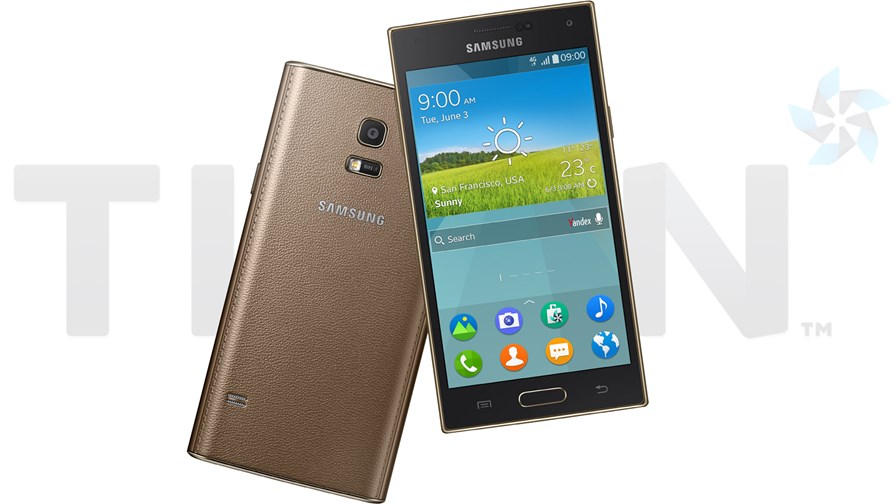 After years of waiting, Samsung has finally announced details of its first smartphone to be powered by its Tizen operating system. We thought it would never happen, but here it is – proof that Samsung isn't totally reliant on Android and Google's future policy. But is this really a shot across Google's bows? Is Tizen a viable alternative to Android?
Ultimately, it will be consumers who decide, and at the moment there's not much of an appetite for any phone that doesn't run on either iOS or Android (as evidenced by Microsoft's attempts to break out of the "ten per cent" market share doldrums in which it currently finds itself, despite its best technical and marketing efforts). Perhaps this is the reason that the Samsung Z will only be available, initially at least, in Russia.
The Samsung Z will be on show at the Tizen Developer Conference in San Francisco this week, despite the full media glare being directed down the road towards the Apple Worldwide Developer Conference at the Moscone Centre (Apple is streaming the special keynote event at 10am local time today).
"Samsung is committed to enhancing the mobile experience of consumers with innovation that is both personal and unique to their needs," said DJ Lee, President and Head of Global Sales and Marketing, Mobile Communications Business, Samsung Electronics. "The Samsung Z integrates the power and adaptability of the Tizen platform, enabling users to browse the web faster and utilize applications more effectively."
The 4G LTE smartphone runs on a 2.3GHz Quad-core processor and features a 4.8-inch HD display. Other features are pretty much as you would expect for a mid-level smartphone.
It will run Tizen version 2.2.1, which according to Samsung offers users "a faster startup time and immediate multi-tasking capabilities" with improved memory management. Presumably this is a comparison against Android, although it is not explicitly stated. There's also claims of smoother scrolling and an improved rendering performance for web browsing. What is certainly different though is the external design. It is far more angular than users have come to expect from Samsung devices.
The Samsung Z will be available in Q3 in Russia and is planned to expand to other markets later. A Tizen Store will open on launch day, offering access to additional apps. Obviously there won't be the depth of choice that users have come to expect from Apple and Android, and so Samsung will launch a promotional programme to encourage developers to write for the platform.
15 per cent market share target
In an interview with Reuters in April, Yoon Han-kil, SVO of Samsung's product strategy team, revealed that the company was working on two Tizen smartphones – one high end, the other mid-level. He also acknowledged the difficult road to getting Tizen commercialised.
"We had tried to launch with DoCoMo and Orange, but couldn't because of poor market conditions," he said. "We have changed our strategy and will release the phones in a few countries where we can do well."
He added that he thought Tizen would have to account for up to 15 per cent of Samsung's total smartphone shipments to become a successful platform. In other words, exceeding Windows Phone.
No OEM wants to be fully reliant on one platform owner, which is the case with Android and Google. They've already seen Google remove certain apps from the core OS (Android Open Source Platform) and place within Google Mobile Services.
There's just too much uncertainty.
There's also the question of app revenue. If Samsung managed to create a viable alternative market to Android (even with much lower volumes) and took ownership of the associated app store, then it could charge a percentage of revenues, as Apple does.
By all accounts, Tizen is an attractive platform to developers and could easily square up against Android. But technical excellence is not enough; it has to have the support of telcos and the wider ecosystem, and ultimately the support of consumers. NTT DoCoMo, Orange, Sprint and Telefonica have all backed away from Tizen in the past six months.
In fact, it looked like Samsung might abandon Tizen altogether. Then in a surprise move, it decided to use the OS to power the second generation of its Gear smartwatches, just as Google announced Android Wear in an attempt to make Android more suitable to the potentially lucrative wearables sector.
Tizen is a successor to the Samsung Linux Platform, which was developed as part of the LiMo operator consortium. It's also partly a successor to Nokia's Meego OS – which collapsed when Nokia decided to focus on Microsoft's Windows Phone. Meego itself was an amalgamation of Moblin and Maemo, created in February 2010 out of a merger of Nokia's Maemo and Intel's Moblin Linux-based mobile platforms.
To say it has enjoyed a troubled history is an understatement. Irconically, given that Tizen is an attempt to break free from Android, whether or not Tizen has a viable future depends an awful lot on what Google does next.
Email Newsletters
Sign up to receive TelecomTV's top news and videos, plus exclusive subscriber-only content direct to your inbox.