Microsoft's new €19 phone keeps the spirit of Asha alive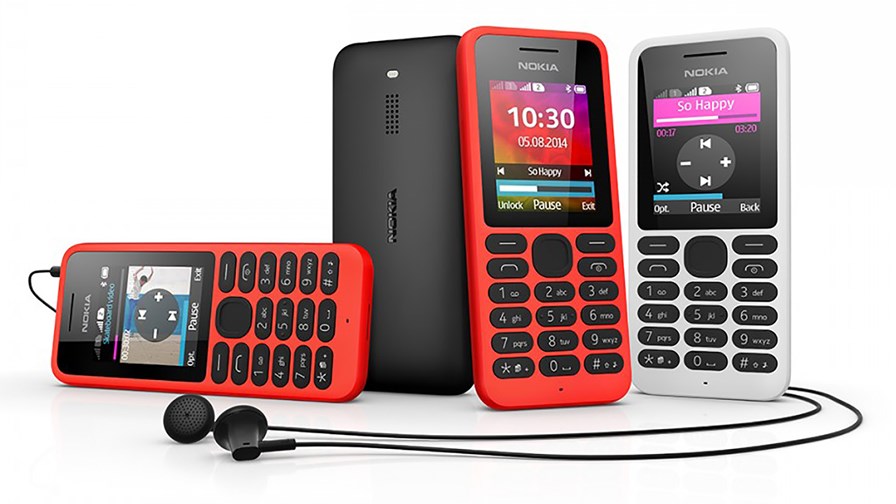 Ever get the feeling that Microsoft didn't really want to buy Nokia and that now that it has, the new management doesn't really know what to do with it? Weeks after Microsoft announced that it was scrapping the low-cost Asha feature phone line along with the Nokia X forked Android devices, it goes ahead and launches a new low-cost Series 30+ powered mobile phone.
The Nokia 130 costs €19, or $25, and is primarily aimed at emerging markets and those people who have yet to own a mobile device. Yet the company is also suggesting that it would make an ideal back-up device in developed markets. Microsoft quotes research from Strategy Analytics that says 300 million purchase sub-$35 phones each year.
Cheap it may be, but it does feature a music player, video player, FM radio, torch and even expandable 32GB storage via microSD cards. It's got a small colour display but no touchscreen; this isn't a smartphone. Microsoft claims 36 days' standby for the single-SIM variant on a full charge with 13 hours talk time.
What it also doesn't feature though is wi-fi (although there is Bluetooth), so it's not going to really help connect the unconnected – especially as it appears to be a 2G GSM 900/1800 device. There is no mention of GPRS, or of email or even WAP browser support.
"As demand in the affordable mobile segment continues to grow, Microsoft remains committed to delivering market-leading mobile innovation at each and every price point," said Jo Harlow, corporate VP for Phones at Microsoft. "With handsets like the Nokia 130, we see tremendous potential to deliver the experience of a 'mobile-first' world to people seeking their first device, and we continue to invest in ultra-affordable devices that will introduce people to a 'cloud-first' world through Microsoft services such as Bing, Outlook.com and OneDrive."
Well yes, but you need the internet for that, which is sadly lacking in the Nokia 130. It wasn't so long ago that we were praising companies for trying to connect those in emerging nations with low-cost voice-centric mobiles. Now though, it's all about the internet and getting these same people online.
"It is estimated that at least 1 billion people in the world still do not have a mobile phone," said Ms Harlow, "while at the same time there is increasing demand for reliable backup phones in both mature and high-growth markets." Something of a conflicting sales strategy there, we think.
Only last month, Jo Harlow sent an internal memo to Microsoft employees stating that development and investment for Asha, Series 40, and Nokia X handsets will shift to "maintenance mode", and services to support existing devices will be shut down over the next 18 months. As reported by The Verge, she added: "This means there will be no new features or updates to services on any mobile phones platform as a result of these plans."
The strategy was to persuade users of Symbian and Asha devices over to the Windows Phone platform. As Ms Harlow also wrote in the memo: "Whereas successful hardware was the goal at Nokia; delighting our customers with Microsoft platforms, services, and applications through our hardware is our goal at Microsoft."
It would appear that someone has had a change of plan. Whilst there is still no evidence of new development and investment for Asha, the appearance of the Nokia 130 (despite not being an Asha-branded device) suggests that a non-Windows line has survived the new Burning of the Platforms. It also makes no sense of the desire to focus on Microsoft services rather than Nokia hardware (and the Nokia 130 is a rather stylish little phone), as Microsoft's services are somewhat lacking, to say the least, in the new device.
Harlow was also quoted today by ReCode as saying that: "Microsoft doesn't have any other project that can reach these consumers," Harlow said. The "project" to which she refers is most likely its "first phones portfolio" – a tag line on the press announcement
The Nokia 130 is expected to begin shipping in the third quarter of this year, and will be available in select markets, listed as including: China, Egypt, India, Indonesia, Kenya, Nigeria, Pakistan, the Philippines and Vietnam.
So low-cost, non-Lumia, non-Windows Phone devices are alive and well at Microsoft, and we applaud them for that decision. But who knows, we might see yet another new strategy next month. Microsoft needs to sort out its plans for Nokia pronto, rather than peddling out more confusion. Pick a strategy Microsoft, execute it, and stick with it. Wait a minute. Didn't Stephen Elop do just that a few years ago? It worked out fine then didn't it…?
Email Newsletters
Sign up to receive TelecomTV's top news and videos, plus exclusive subscriber-only content direct to your inbox.