Majority of the 302m smartphones sold globally in Q2 now feature LTE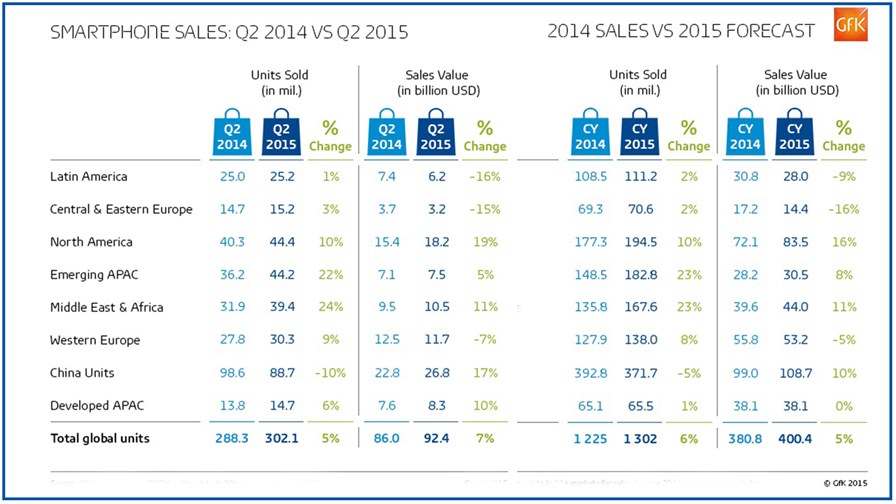 58% of smartphones in Q2 were LTE-enabled
1.302bn unit smartphone sales forecast for 2015
Global smartphone ASP expected to average out at $307
48% of smartphones sold in Q2 had screens 5-inches or more
Market research firm GfK has published the findings of a new global survey into smartphone usage. It differs from other specialist analyst surveys in that GfK forecasts end demand consumer purchases rather than manufacturer shipments, and determine market sizes from point-of-sale tracking in more than 90 markets
The firm found that 58 per cent of smartphones sold in Q2 this year were 4G-enabled, with 4G now available in all key countries. GfK forecasts 4G smartphone penetration to continue to grow at the expense of 3G, which currently accounts for 38 per cent of smartphone units and is forecast to decline by another percentage point by the end of the year.
In terms of actual sales numbers, GfK reports that there were 301.1m global sales in Q2, up 5 per cent year-on-year. These equated to $92.4bn in sales value, which was up 7 per cent on last year's value.
"India is expected to be the largest contributor of absolute smartphone unit growth globally this year," said Kevin Walsh, director of trends and forecasting at GfK, noting that the country now has a pan-India LTE service, via Airtel. "The main reason behind this is the currently low smartphone penetration in the market together with a significant intensification of the competition amongst the smartphone vendors, which will drive ASP erosion allowing more affordable devices in the market."
Regional trends
GfK notes some significant regional differences in 4G take up: for example, price polarisation in North America, saturation in Western European markets, local brands competing against global vendors in India and China, and intense price competition in emerging markets.
"The first half of the year has seen macro events providing headwinds to top-line demand in regions like Central and Eastern Europe, Latin America and China," said Walsh. "However, the underlying trend of consumers optimising their digital consumption by screen size, within affordability constraints, continues in all regions."
He added that this trend can be seen from TVs down to smartphones. In smartphones, it manifests in trends like price point polarisation in the US, the rapid screen-size increases in emerging markets and phablet market development. GfK believes these trends will continue to the end of year, but that we will see new inflection points and market drivers for 2016.
China is by far the largest single territory for sales (of the eight territories GfK uses) with 88.7m sales worth collectively $26.8bn, although unit sales fell 10 per cent year-on-year. However, high-end demand (for phones valued at $500 or more) increased 49 per cent from Q2 2014 and this segment now accounts for 17 per cent of the market.
North America saw a 10 per cent year-on-year growth in unit sales in Q2, as sales of high-end and low-end (sub-$250) devices both grew at the expense of mid-ranged devices. Devices in the high-end captured 43 per cent of smartphone unit share, up 38 per cent. North America and China were the only regions to see an increase in high-end smartphone unit share on a year-on-year basis.
GfK also reported that large-screen smartphones are selling well. Globally, the unit share of smartphones with large screens (5-inches or more) increased to 48 per cent in Q2, up 17 per cent year-on-year. China has the highest regional share of smartphones with large screens at 63 per cent.
"Weak macroeconomic trends will continue across a number of major countries such as Brazil, Russia and China, but recoveries when they come are often faster than expected especially for tech sectors," said Walsh. "In addition, we are still a long way from saturation in emerging market while adjacent industries to the smartphone fuel the next round of growth generally complementing and in some cases cannibalizing smartphone growth."
GfK is forecasting 1.302bn unit sales for the full year 2015, which would be an increase of 6 per cent from 2014. Sales value will also rise, but only by 5 per cent to $400.4bn. This would result in an average ASP across all regions of $307.
Email Newsletters
Sign up to receive TelecomTV's top news and videos, plus exclusive subscriber-only content direct to your inbox.