Far too many children using far too many smartphones far too early in life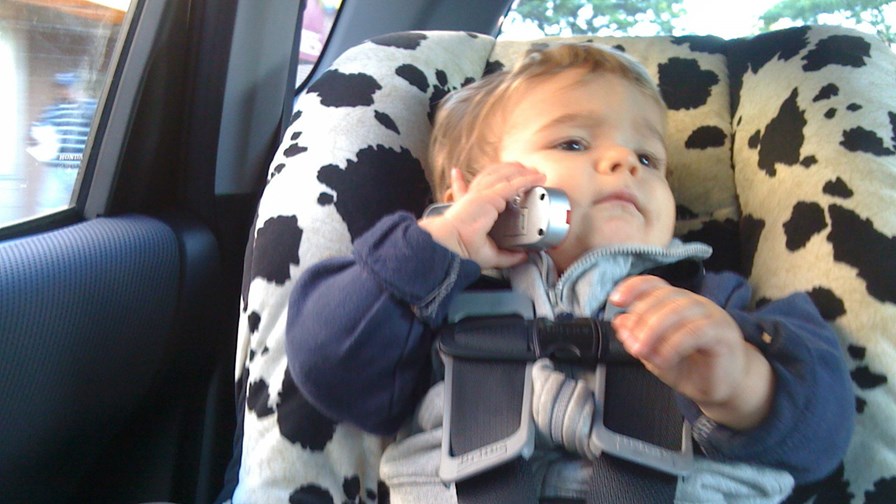 UK parents say 10 should be minimum age for smartphone ownership - except where their own kids are concerned
Children habituated to smartphone use - often at 3 or 4 years of age - by 'borrowing' parents' smartphones
In the US, 33 per cent of toddlers use smartphones before they can talk
38 per cent of American under-twos use the devices for 15 minutes a day
A new survey shows most UK parents believe that children under the age of ten should not be given a smartphone of their own… which rather beggars the question of why so many kids as young as five and upwards are proud owners (and over-users) of mobile devices.
The "Back to School 2015" research was undertaken by Internet Matters, a non-for-profit organisation supported by the likes of BT, Sky, TalkTalk and Virgin Media. It focuses ways and means to keep children protected from the worst excesses of some parts of the publicly available Internet and finds that the great majority of parents of primary school children are in favour of imposing an enforceable limit on child ownership/usage of mobile phones.
As is common in many other developed countries, indulgent parents and family members in Britain give young kids expensive and sophisticated smartphones, and, obviously, pay the monthly charges for them. The Internet Matters survey shows that 65 per cent of children aged between eight and 11 years old now own a smartphone.
Most parents, whilst deploring the fact that far too many kids now possess smartphones and tablet devices, exempt their own offspring from the same criticism because, they say, the handsets are given to them primarily for potential safety and emergency purposes. Unfortunately though, too few parents bother with any systematic regularity to check on just when and how their children are using their handsets and, parental controls and device settings notwithstanding, which highways and byways of the web their children have been exploring.
The survey shows that 84.6 per cent of UK parents consider 10 as being the minimum age at which children should be given a smartphone, although, but again many exempt themselves from that stricture as far as their own kids are concerned.
There is also a tremendous regional disparity on the matter, with the city of Newcastle-on-Tyne in the north-east of England being dubbed the "smartphone capital of Britain" with more than 92 per cent of eight to 11 year olds there owning such a device. The east midlands city of Nottingham comes second with 90 per cent. London and the south-east come well down the list. In the capital, 55 per cent of the under-10s own a smartphone and in Brighton (otherwise known as 'London-by-the-Sea') it is just 40 per cent.
Internet Matters has published a new online safety guide for parents urging them to ensure they speak seriously to their kids about how to be responsible on their phones and to ensure that the safety settings are in place across all their devices and search engines. The guide adds that parents should also be aware that a wide range of unscrupulous companies deliberately target sub-teenagers with aggressive marketing that encourages the all-too-easy purchase of very expensive add-ons to popular apps.
As in Europe, so in North America
Two years ago a major research programme conducted under the aegis of the European Commission (EC) surveyed children who used the Internet and mobile phones across nine European countries; Belgium, Denmark, Germany, Ireland, Italy, Portugal Romania, Spain and the UK. Back in those days 30 per cent of boys and 32 per cent of girls aged 9-12 owned a smartphone. Things have moved on apace since then.
One of the survey's main findings was that many children get access to, and gain experience to smartphones long before they actually own one themselves by dint of borrowing parents' devices. The research suggests that many infants become habituated to smartphones at a very young age indeed - maybe three or four years. Later, junior school and senior school children find themselves put under intense peer pressure to have smartphones.
Meanwhile, over in the US, 33 per cent of children now use smartphones or tablet devices before they can talk! A survey commissioned by US pressure group, Common Sense Media, found that 38 per cent of children aged under the age of two have used gadgets like iPhones or Kindles for 15 minutes per day on average, playing games or watching films on the devices. The American Academy of Paediatrics recommends that is that the under-twos should have no access to smartphones or tablets whatsoever.
Also in America some 29 per cent of children begin to use smartphones as toddlers and 70 per cent of them are expert users by the time they reach primary school age. By the age of nine, US kids will, on average, have sent 116 texts and 85 emails.
However, infant consumption of the old technology of television continues to dominate and increase. US kids aged between two and four watch the goggle-box for an average of two hours per day, every day, and those age five to eight watch TV for two hours and 20 minutes each and every day of their lives. Incredibly, 99.8 per cent of US kids under the age of eight have their own TVs, 74 per cent have access to cable channels and 30 per cent have video-on-demand.
Ah, civilisation.
Email Newsletters
Sign up to receive TelecomTV's top news and videos, plus exclusive subscriber-only content direct to your inbox.