Cheap smartphones ready to take over - as we knew they would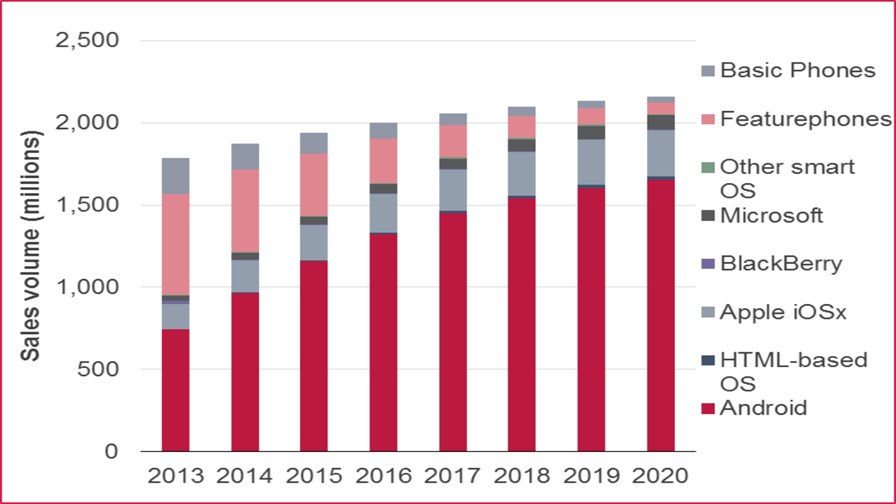 Smartphone top brands ridiculously expensive
Cheap equivalents now arriving, will they stack up?
By 2020 smartphones will comprise nearly the whole phone market
Like many smartphone users I've decided - on this purchase cycle at least - to give the budget end of the smartphone market an outing. Why pay around £600 for an iPhone or getting on for that price for a Samsung Note or upmarket HTC (or pay it off on a two year contract) when I could take a chance and pay a fraction of that price for one of the Chinese black slabs which, according to many reviews, provide all the same things minus the (apparent) brand value? So I'm reckoning on between £100 and £200 outlay for the phone and then £10 - 15 per month for a SIM-only service with unlimited texts, 2000 minutes and 2GB of 4G data. Why should I pay more? Time with my new, cheap phone might provide the answer.
According to Ovum, I won't be alone in my quest for value. It projects that smartphones are set to snaffle 95 per cent of global handset sales by 2020, up from 65 per cent in 2014, but that most of this growth will come from the sale of sub-$100 devices in BOTH developing and developed countries.
So vendors (and users) are looking at steep price declines for the next five years, although according to Ovum the price decline so far is "largely attributed to a structural shift toward lower-end smartphone models rather than price decreases in particular segments," which I take to mean that so far the segments have stayed in pretty much the shape they're in now, it's just that globally, users seem to be crowding into the lower segments to grab cheaper phones.
Whichever way you look at it, from the user side that means an excellent smartphone or phablet (albeit without the magic branding sauce) will soon be yours for around $100.
In support of its projections, Ovum's study points out that between 4Q13 and 4Q14, the median price of prepaid and SIM-free smartphone, which now account for over half of all operators' offers, decreased 28 per cent, from US$360 to US$258.
For the first time, Ovum claims, we will see 2 billion unit sales in 2020 when Android and iOS devices will continue to lead the market (80 per cent and 14 per cent respectively). Not much hope for Microsoft there, with just 4.2 per cent share.
Ovum says "Africa and the Middle East and Latin America will lead the smartphone market in terms of growth over the next six years with a CAGR of 17 per cent and 11 per cent respectively, reaching a combined 576 million units sales by 2020, up from 254 million in 2014. In Asia Pacific, the Chinese market is reaching saturation with an expected CAGR of only 4.1 per cent in the next six years, versus 19.7 per cent for India and 16.3 per cent for Indonesia. North America and Western Europe will be trailing behind with a CAGR of only 2 per cent in the next six years.
Email Newsletters
Sign up to receive TelecomTV's top news and videos, plus exclusive subscriber-only content direct to your inbox.