A case of the emperor's new clothes: has the shine just come off China's Xiaomi?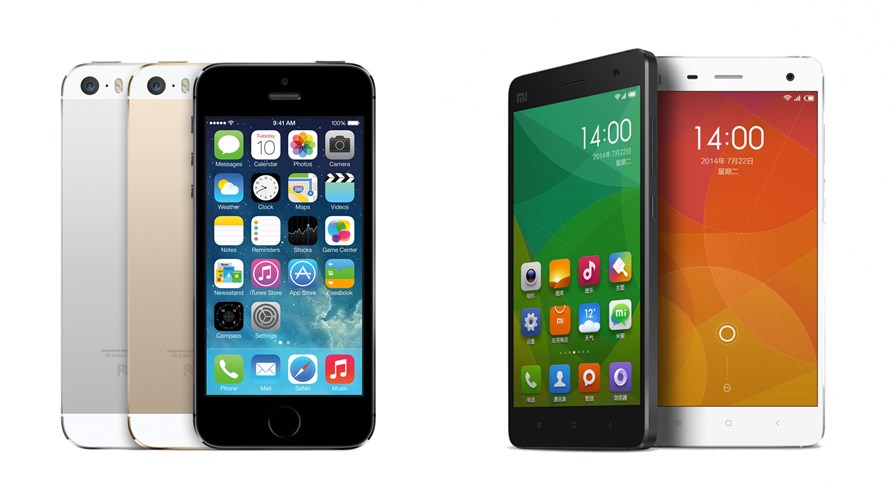 It's being billed as China's answer to Apple, but the device manufacturer has so far failed to display any of the originality that made the US firm an industry giant. What's more, it's now being claimed that it not only blatantly copies other products, but that it is deliberately misleading potential customers as to the capabilities of its latest handset.
Last Tuesday, Xiaomi launched the Mi 4 smartphone, it's latest flagship device. It also has an incredible resemblance to the iPhone. Being known as the "Chinese Apple" for your innovation and design flair is one thing, but when the term is used to imply that the best you can do is copy someone else's hard work then you're in trouble.
There are more and more examples and claims of Xiaomi's copycat practices appearing on the web. So many, in fact, that Xiaomi global vice president Hugo Barra, who used to be in charge of Google's Android division – and therefore knows a thing or two about following in Apple's footsteps – went on the record to convey his unhappiness at the allegations.
"We're not copying Apple's products. End of story," Barra told The Verge website. "Mi is focused on making the best products that it can and refuses to shy away from a good idea just because Apple might have done it already."
The love of Apple comes from the top. Xiaomi CEO Lei Jun took to the stage in his customary black top and denim jeans and announced "one more thing". Wait a minute, wasn't that the annual description of Steve Jobs?
Lei Jun has not only produced a phone that looks incredibly similar to the iPhone, with a metal frame incorporating the antenna, chamfered edges and speaker grille, but he's built an entire company that mimics Apple. Its Mi Pad features the same size screen, resolution and aspect ratio of the iPad mini; its Mi Box looks like a carbon copy of the Apple TV; it even sells the Mi Router Mini which you would fool most people into thinking it was the Apple Magic Trackpad. Even its retail outlets look like Apple Stores.
Xiaomi isn't copying Apple products? Oh come off it Barra, wake up and smell the coffee. You want photographic evidence? Have a look at these images.
But the latest allegations don't concern copying, they concern copyright theft and misrepresentation. It appears that Xiaomi's marketing team aren't adverse to bending the rules a little.
Various images on the Mi 3 web page have come under close scrutiny after it was revealed that there were used without permission. An image purporting to represent an Android photo gallery on the device, featuring shots taken by the phone's camera, was actually copied from Flickr and was taken with a Nikon DSLR. This led to the discovery of four others (so far), including one from National Geographic.
On the same page, the promotional shot of the rear of the Mi 3 shows a camera lens that looks familiar – because the image was lifted from Apple's product icon for its Aperture application (update: sometime over the past couple of days, the Aperture image was replaced with a more generic one – now that wasn't difficult, was it?)
And yet, Xiaomi is doing tremendous business in China. It's basically offering Apple-looking products at a fraction of Apple's price. True, what you get is not an iPhone, but even from close up it looks like one.
But if Xiaomi thinks it can export these devices to Western countries without incurring legal sanctions then it has another thing coming. It'll be a cold day in hell before Apple's lawyers allow the Mi 4 to enter the country – they are already pretty worked up about Samsung's devices for goodness sake.
Surprisingly, it looks like Xiaomi is about to sell the Mi 4 in Italy. According to this page, it will go on sale for the rather costly sum of €395, for a version without LTE capabilities. For how long, though, is another question.
However, Xiaomi doesn't need to launch globally. There are plenty of countries in the world where copyright and IP laws are rather more lax than the US and Europe. Having said that, it faces delays of up to 12 months to get device certification approval in Brazil, a country that, along with India, Barra believes will be "the biggest markets to focus on after China." It has plenty of room to grow its business. Xiaomi sold 18.7 million smartphones in 2013 and on Tuesday the company said it would achieve its target of 60 million sales for 2014.
But at some point, surely, it will have to create its own identity? Even if it's just for internal pride.
Email Newsletters
Sign up to receive TelecomTV's top news and videos, plus exclusive subscriber-only content direct to your inbox.