Hong Kong protests highlight peer-to-peer mobile - could it really be a 'good thing'?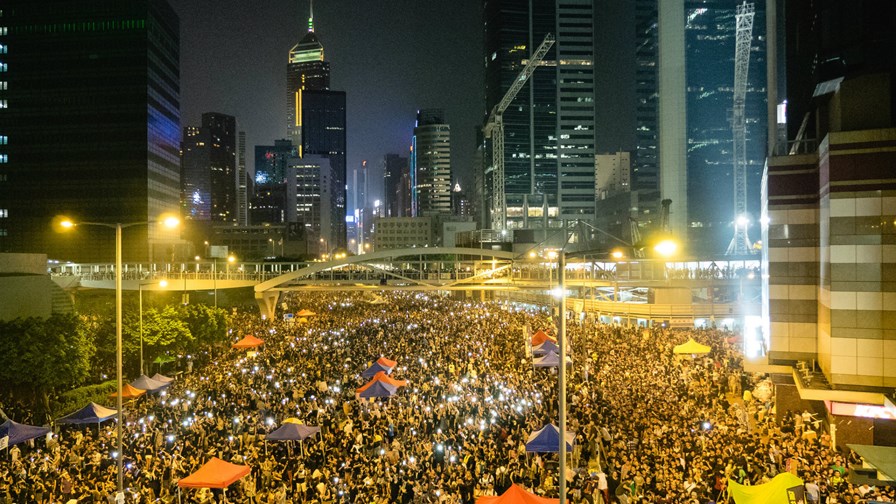 Hong Kong is currently in turmoil (or at least part of it is) as students, school pupils and others take to the streets to protest the Chinese government's decision to vet and proscribe election candidates. It's democracy Jim but certainly not as we thought we knew it and, arguably not as the "one country, two systems" agreement envisaged when the UK gave all of Hong Kong back to China in 1997.
So Hong Kong is protesting and, as has become usual on these occasions, smartphones, tweeting and social media is playing its part - this time with an additional twist. A peer-to-peer ad hoc network app, FireChat, has become the protester's communications weapon of choice. Using it they can stay both under the radar of government surveillance (as far as we currently know) and be equipped to keep on chatting and messaging each other should the conventional networks be blocked or get taken down if things were to get out of hand.
Peer-to-peer mobile technology isn't new - we've covered it on at least one of its several false dawns, back in about 2008 - but with smarter apps and better hardware it's no doubt becoming much more capable.
FireChat builds an ad hoc network using Bluetooth and WiFi to link up FireChat users into a mesh. Messages are then skipped from one smartphone or tablet to the next to their routed destination(s). So far so obvious.
On top of that capability, it's possible to build private chat groups to share messages so there can be structure and complexity build in as well - more on this in a moment.
As well as being useful to stoke the fires of insurrection (great if you're overthrowing a tyrannical government, not so great if the overthrowers are a bunch of murderous morons like IS), it's possible to see peaceful humanitarian uses. Clearly FireChat or something similar might be of interest to those who want to set up emergency networks in the aftermath of a disaster. A real disaster - like a tsunami for instance - will take out all or some of the cell and WiFi infrastructure leaving charged up smartphones the only communications things left standing within a particular geography apart from (perhaps) emergency radio telephone systems.
So is Firechat the answer?
Perhaps part of it, but there are big problems with unfettered communications (and not just for authoritarian governments). The sad truth is that in a disaster (as in everyday life) we can talk ourselves into a confusing panic that makes matters worse rather than better.
So says Robin Burton, head of marketing at Evolved Intelligence and also a long-standing supporter of the Red Cross and its disaster aftermath activities.

In a disaster situation, the management of content is very important, he says.

"You need to think about exactly how you would use [something like FireChat]. "You could suffer from the 'arc of distortion' where messages being relayed from one person to another actually amplify the panic causing more harm than good. In disaster situations, aid agencies put a lot of thought into exactly what effect a message might have before it is sent out."
Then there's the problem of misdirection. "At some disasters we've had awful examples: people being told they have to pay up to get aid and that sort of thing. So you have to consider how to make sure that people trust the right messages and ignore the wrong ones."
Indeed a fraudulent smartphone app claiming to coordinate the Occupy Central pro-democracy movement, has allegedly already circulated online in Hong Kong. It seems the spammers and fraudsters are always the first on the scene.
Email Newsletters
Sign up to receive TelecomTV's top news and videos, plus exclusive subscriber-only content direct to your inbox.