Bowsy-wowsy. US federal watchdog plonks a friendly pawmark on the Facebook/WhatsApp merger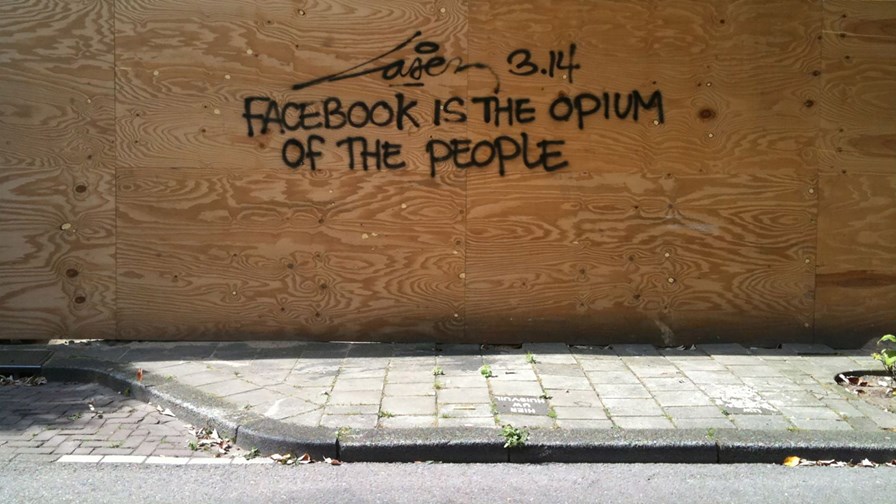 In an action that makes King Cunute's efforts to stop the tide from coming in and wetting his kidskin bootees look halfway sensible, the over-priced (US$16 billion) acquisition of WhatsApp by Facebook has been approved by the US Federal Trade Commission (FTC) - with the utterly unenforceable and therefore pointless proviso that Zuckerberg's data-munching monstrosity adheres to WhatsApp's privacy policies. There's about as much chance of that happening as me becoming the next Pope.
In an official letter sent to both companies, the FTC gives the deal a nod - provided that WhatsApp (as a part of Facebook) maintains and continues the privacy regime it had in place before the merger.
The letter states that "regardless of the acquisition, WhatsApp must continue to honour these promises to consumers. Further, if the acquisition is completed and WhatsApp fails to honour these promises, both companies could be in violation of Section 5 of the Federal Trade Commission Act and, potentially, the FTC's order against Facebook."
That FTC order was imposed on Facebook in 2011 after the social media company, taking full advantage of the phenomenon of user inertia, unilaterally and with minimal pretence of consultation with its customers, changed its privacy policy to enable it to get its hands on confidential user information and bend it to its own advertising and information-broking ends.
In its defence Facebook claimed that users were free to 'opt-out' of the system but the FTC decided that Facebook must gain "affirmative consent" and that this must be via individual user "opt-in" rather than the default "opt-out" that Facebook would, obviously, very much have preferred.
Bolstering and extending that earlier requirement, the FTC has now told Facebook that should any changes be proposed or made in and to the ways in which it collects, archives, manipulates, uses and/or sells-on data from WhatsApp after completion of the takeover, WhatsApp users must be informed and given time to opt-in if they are prepared to permit Facebook/WhatsApp to interfere with their extant data privacy entitlements.
Furthermore, Facebook and WhatsApp are required to ensure that they do not "misrepresent" the parameters of the privacy and security of user data.
The FTC's letter adds, "WhatsApp's privacy policy clearly states, among other things, that users' information will not be used for advertising purposes or sold to a third party for commercial or marketing use without the users' consent. Facebook's purchase of WhatsApp would not nullify these promises and WhatsApp and Facebook would continue to be bound by them."
Is also states, "Further, Facebook has recently promised consumers that it would not change the way WhatsApp uses customer information. Therefore, any use of WhatsApp's subscriber information that violates these privacy promises, by either WhatsApp or Facebook, could constitute a deceptive or unfair practice under the FTC Act."
Indeed it could, but even were it to be proved, the FTC's powers of sanction against Facebook/WhatsApp are risible in the context of the money the companies would make and the pecuniary penalties they might eventually be levied against them. The fines would be meaningless in comparison to the sums that could be made by circumventing the FTC's ruling.
Prior History
Back in 2011, Facebook was forced to settle FTC charges that it conned users "by telling them they could keep their information on Facebook private, and then repeatedly allowing it to be shared and made public." So the company has previous form in this regard. WhatsApp, meanwhile, has always said that it does not collect or use customer data for advertising purposes and that the app stores only mobile phone numbers and not names, emails or other data.
In a statement of its very own, Facebook wrote, "We're pleased the FTC has completed its review and cleared our acquisition of WhatsApp. Naturally, both companies will continue to comply with all applicable laws after the transaction closes." The trouble with written statements is, of course, that you can't see if the writer is smirking or not.
Oh, and don't you just love that "naturally". From what we have seen from Facebook's previous actions it's natural inclination is to collect as much data it can from as many individuals as it can and then use it to pump endless adverts at them.
The fact of the matter is that Old Gummy has no power to prevent Facebook from introducing new terms and conditions encapsulating the requirement that 'customers' signing-up to continue to use WhatsApp to give their permission for their personal data to be collected, manipulated and sold to the highest bidder.
Any such proviso will probably be tucked away in the small print in the expectation that 99.9 per cent of punters won't bother to read it. So what's the point of the FTC's strictures? It's the same old Lobster Quadrille being danced yet again. And it's still a ludicrous spectacle.
The Facebook/WhatsApp deal still requires regulatory approval in Europe and other regions. But that will quickly be forthcoming - especially here in Poodleland.
Email Newsletters
Sign up to receive TelecomTV's top news and videos, plus exclusive subscriber-only content direct to your inbox.