SMBs want cloud services so much, they would happily switch telcos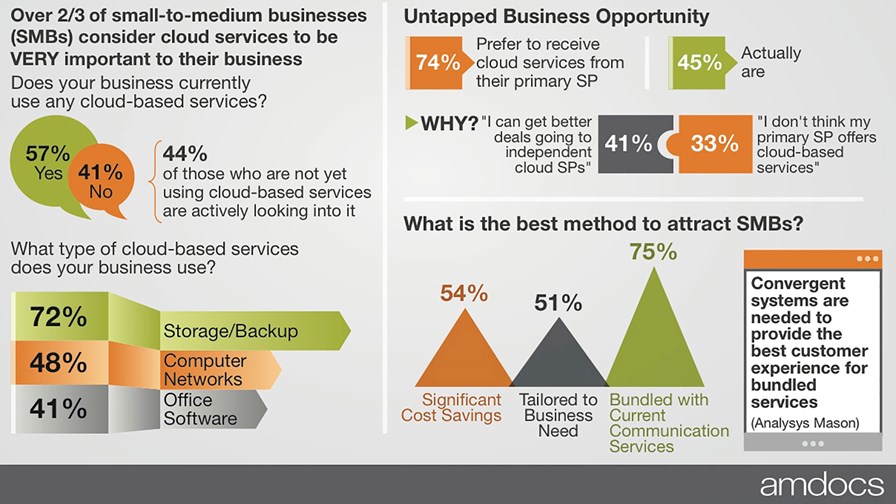 44 per cent of small and medium-sized businesses (SMBs) said they would switch from third-party cloud services providers to their primary communications providers if they were offered bundles of traditional and cloud services. That's according to a new global survey conducted by Coleman Parkes Research on behalf of OSS company Amdocs.
Thankfully for independent cloud providers, telcos aren't getting the message. The survey found that although 74 percent of SMBs want cloud-based services from their primary service provider, only 45 per cent actually are receiving them. There's some missed revenue and market share opportunities out there.
"The research validates that there is increasing need and adoption of cloud-based services by SMBs," said Ian Parkes, managing director at Coleman Parkes Research. "It identified that service providers are considered a viable and even preferred source for cloud-based services, representing a big revenue opportunity for service providers who choose to capitalize on this. Those who become a one-stop-shop for all SMB communication needs, focusing on what SMBs consider essential such as bundles with cloud-based and traditional services, as well as a unified bill, will be most successful."
The research surveyed 1,311 SMB decision makers from North America, Europe, Latin America and Asia Pacific. It also found that 66 per cent of respondents regarded cloud-based services as being very important to their business with 57 per cent stating that their companies already take advantage of cloud-based services. Of those not currently using the cloud, 44 per cent said they are actively considering it.
SMBs engage with three different vendors on average for their cloud-based services requirements. The most consumed cloud services are for storage and backup (72 per cent), networks (48 per cent) and software (41 per cent).
One of the reasons why some SMBs are not using their telecoms service provider for cloud services is done to a perception of costs – 41 per cent of respondents believe they can get better deals from independent cloud vendors. Also, 32 per cent have never received information about cloud-based offerings from their telco, and an alarming 31 per cent do not believe they even offer cloud services.
Telcos should also consider that SMBs looking to select a primary service provider are becoming increasingly focused on cloud as a factor in their decision-making. 68 per cent say they are more likely to select a service provider that offers cloud-based services over one that does not, and 80 per cent want to receive one bill for all their communication services (which is obviously exactly the kind of news Amdocs wants to hear).
"To be able to capitalize on the SMB cloud-based services opportunity, communications service providers must have a convergent BSS and OSS systems environment that can cost-efficiently support both cloud-based and traditional services," said Rebecca Prudhomme of Amdocs. "Such a convergent systems environment enables service providers to differentiate themselves from independent cloud-based services vendors and empower SMBs with cross-service bundles and discounts, tailored to their needs."
Email Newsletters
Sign up to receive TelecomTV's top news and videos, plus exclusive subscriber-only content direct to your inbox.