Red Hat the bright spot in IBM's Q1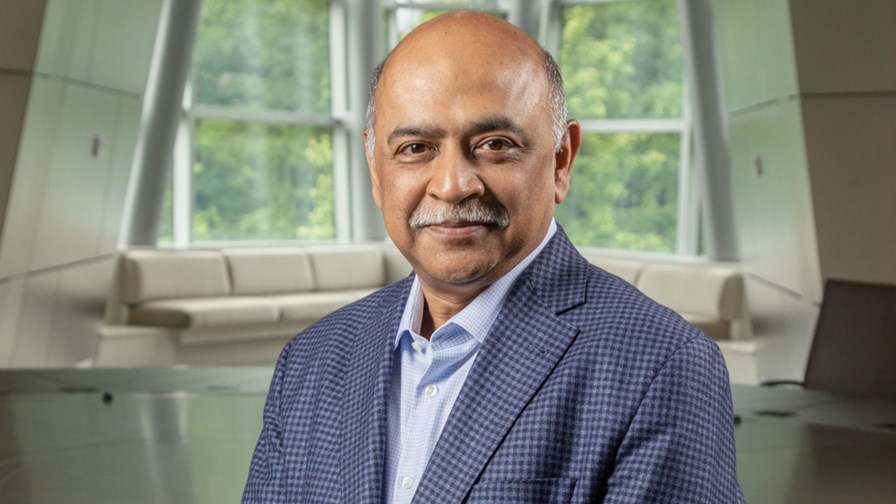 Open source software unit helped deliver the one standout growth performance in IBM's first quarter numbers

Tech giant withdraws its full year guidance but has cash cushion and is still profitable
New CEO highlights focus on enabling hybrid cloud and use of AI tools and hints at possible further M&A
IBM joined the legion of companies withdrawing its full year financial guidance as it reported its first quarter financials late on Monday, citing the impact of the Covid-19 pandemic on its ability to forecast upcoming business performance.
The key takeaway for the company is that it will likely be glad it acquired Red Hat ahead of the current global crisis, as the open source software specialist gives IBM a strong hand in an enduringly critical sector – the migration by businesses of all kinds (including telcos) to cloud platforms.
"IBM, together with Red Hat, have unique sources of competitive advantage we can leverage to win the architectural battle for cloud," noted CEO Arvind Krishna, who took over from Ginni Rometty on April 6, during the company's earnings conference call. "There's our open source and security leadership, our deep expertise, and trust. But also, the fact that we give clients the unique ability to build mission-critical applications once and run them anywhere. Together with Red Hat, we are establishing Linux, containers, and Kubernetes as the new standard. This is winning the architectural battle for hybrid cloud."
In general, the good news for the tech giant is that it's better placed than many to weather the storm. Its numbers may look a bit ropey when compared with the same period a year earlier, but it still managed to generate revenues of $17.6 billion and a net profit of $1.6 billion, though the latter figure was down 18% year-on-year. It also has $12 billion of cash to hand (though its debts total $64.3 billion).
IBM splits its business into five units to report its financials, with Cloud & Cognitive Software the most interesting for a couple of key reasons.
First, it was the only unit to record any notable sales growth during the first three months of 2020, climbing by 7% year-on-year to $5.24 billion.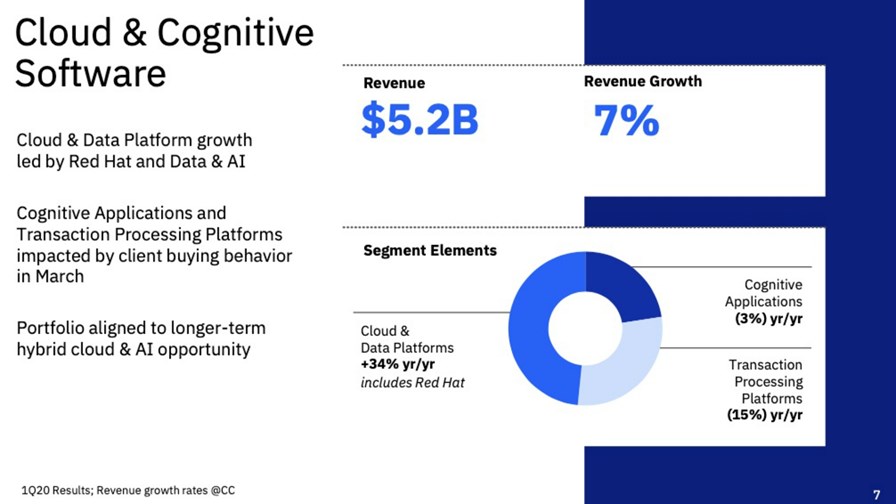 Second, its component parts highlights how IBM's customers are adjusting their critical tech spending. The unit comprises three 'segment elements':
Cloud & Data Platforms, which accounted for almost half of the unit's revenues in the first quarter, grew by 34% compared with a year earlier, helped by demand for Red Hat's software;

Cognitive Applications, which includes key artificial intelligence (AI)-based products and which accounted for about 20% of the units first quarter revenues, grew by just 3%;

Transaction Processing Platforms, which accounted for about 30% of the unit's first quarter sales, suffered a 15% year-on-year decline in revenues.
Red Hat, which IBM acquired for $34 billion in a deal that closed in July 2019, contributed $719 million to reported first quarter revenues, with the company noting that the hybrid cloud open source software specialist signed the two largest deals in its history during the quarter. (It should be noted that IBM refers in its earnings press release to an 18% year-on-year increase in Red Hat revenues, but that growth figure is related to a sales number of just over $1 billion that includes "deferred" revenues and which is "normalized for historical compatibility" – accountants, eh?)
And it seems IBM is keen to add to its portfolio with other M&A deals. "I am going to focus on growing the value of the company. This includes better aligning our portfolio around hybrid cloud and AI to meet the evolving needs of the market. We will continue investing, including acquisitions," noted Krishna during the earnings call.
Such developments are important for the telecoms sector as network operators try to figure out how to develop their private cloud architectures, embrace cloud-native technology and processes and make best use of public cloud platforms as part of their revamped operations. With its heritage in OSS and systems integration services and its investments in AI/analytics and IoT platforms and tools, IBM was already an important supplier/partner to the vast majority of the world's major telcos prior to the Red Hat acquisition: With the OpenStack and Kubernetes specialist on board, the company formerly known as Big Blue has the opportunity to become a key influencer in telco cloud strategic developments, as long as it can help the telcos adapt in a meaningful, timely and efficient way.
Covid-19 is, of course, impacting everything right now: How influential giants such as IBM act and perform once the pandemic releases its grip on people's lives (and the global economy) will tell us a lot about their true worth and the ability of their leaders. Krishna has taken over in the most trying of circumstances – being an open, honest and visible leader will serve him, Red Hat and the enterprise community well once 'normality' returns.
Ray Le Maistre, Editorial Director, TelecomTV
************************************
We want to hear from you!
Take part in our 5G and Security survey and receive a free copy of the downloadable report ahead of general release.
Email Newsletters
Sign up to receive TelecomTV's top news and videos, plus exclusive subscriber-only content direct to your inbox.