TelcoDR accelerates growth plans with ZephyrTel acquisition, plans further M&A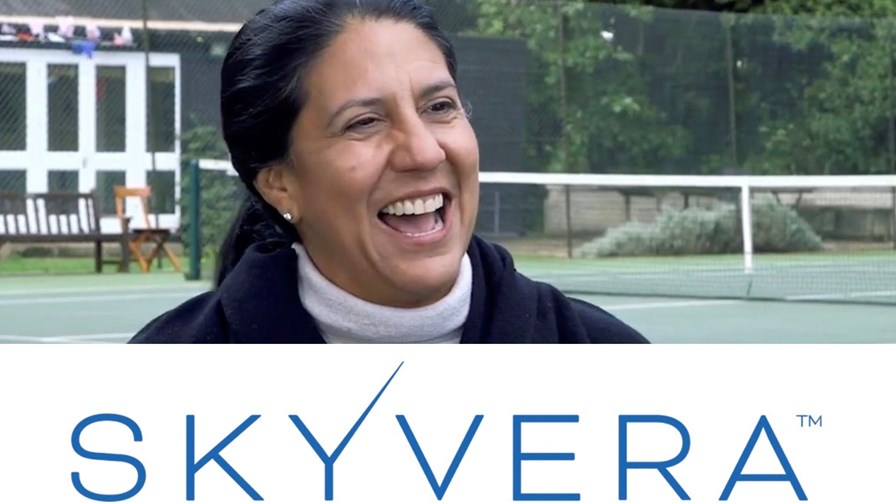 TelcoDR founder and CEO Danielle Royston is on a telco public cloud mission
She claims to have $1 billion of backing from unidentified investors to fulfil her plans
Now she has splashed some of that cash on acquiring telecom software specialist ZephyrTel from Joe Liemandt's ESW Capital
Royston has discussed the deal in an exclusive interview with TelecomTV
ZephyrTel's name has been changed to Skyvera, which will be TelcoDR's M&A and growth vehicle
Is billionaire Liemandt playing some kind of role in the TelcoDR story?
TelcoDR, the telco public cloud consultancy founded and run by Danielle Royston, has accelerated its plans to disrupt the world of telecom software and operations with the acquisition for an undisclosed sum of ZephyrTel, which has been given a marketing makeover and the new name of Skyvera.
Royston (pictured above), the former CEO of BSS vendor Optiva, has spent the past year championing public cloud platforms as the home of telco applications as well as operational and business processes, and earlier this year announced an investment of $100 million in startup Totogi, which is aiming to provide a new rival to the likes of Amdocs, Netcracker, Oracle and others with a cloud native, webscale real-time charging platform. That investment cash comes from TelcoDR's secretive financial backers, who, according to Royston, have pledged at least $1 billion towards a long-term strategy that aims to capitalize on anticipated demand for cloud-oriented operational and business support systems: Royston talked about the plans and the financial backing during a recent video interview with TelecomTV.
Now, more of that funding has been put towards TelcoDR's acquisition of ZephyrTel from ESW Capital, a deal that, she says, closed in July. Royston declined to share the value of the deal, and confirms that this wasn't a transfer of assets or any other kind of deal – "I acquired the assets, [ESW] divested them." And she says she got "a good deal... I don't like to overpay for assets, because it makes it harder for you to hit your return... We've had a couple fish get away. There have been a couple of acquisitions that have been announced over the last year that, you know, went for higher than we were bidding, so we're still trying to find that sweet spot in the market."
ZephyrTel/Skyvera is a relatively new company, having been formed in 2018 as a vehicle for acquiring specialist telco software companies, revamping the code to make it cloud-friendly, and then offering the capabilities on a software-as-a-service (SaaS) basis through a single interface, so enabling Skyvera (as it is now) to build up a portfolio of telco-focused applications that run in the public cloud. During the past few years, it has acquired and re-engineered at least nine companies – Accuris Networks, Mobilogy, NewNet, PeerApp, ResponseTek, Invigorate, Service Gateway, Vasona Networks and VoltDelta. See:
The approach of shifting business support system (BSS) applications (billing, rating, charging, customer experience management) and operational support systems (OSS) tools (network, service and performance management, fault management, provisioning, activation, test and validation etc) to the public cloud makes sense, has been underway for a few years, and ties in with the way network operators are seeking to free such capabilities from vertical software stack silos and gain greater flexibility (as well as make use of the IT resources and tools developed by the hyperscalers such as AWS, Azure and Google Cloud).
And, of course, it also fits neatly with Royston's "run everything in the public cloud" mantra – and that doesn't look like a coincidence: TelcoDR's CEO has a long history with ESW Capital and its billionaire founder Joe Liemandt, having worked for him initially at enterprise software firm Trilogy, and then found herself parachuted in by him as the CEO of Optiva (formerly Redknee) when ESW Capital became the controlling shareholder in that BSS vendor in 2017. (Royston's tenure at Optiva ended in mid-2020, reportedly over compensation requests that were declined by the Optiva board, and ESW sold its holding in Optiva earlier this year.)
Royston describes Liemandt as a "mentor" – and now that mentor has seemingly broken with ESW Capital tradition of buying and building, but not offloading, companies by selling ZephyrTel to TelcoDR. We'll come back to this later...
You bought what?
So what has Royston brought on board? She says Skyvera (let's call it that from now on...) has 150 to 200 customers, mostly network operators, and of all sizes. "For the most part they're telco customers, so that's great. It's perfect, exactly the people we would want to focus on," says the TelcoDR CEO.
Any big names? The Skyvera website names the likes of A1 Telekom Austria, Batelco,
M1 (Singapore), Taiwan Mobile and TM (Telekom Malaysia) as customers – Royston namechecks AT&T, Vodafone Germany, Vodafone Egypt, parts of African giant MTN, and O2 UK [now part of Virgin Media O2].
And what about the size of the business? She says it's "a $30-to-$40 million business, roughly. It's a good size – it's not super big, but it's a nice little chunk." And it's profitable, according to Royston.
The former CEO of ZephyrTel, Mike Shinya, was more bullish about the company's progress, citing (on LinkedIn) revenues of $70 million and boasting more than 330 telco customers in ZephyrTel press releases.
Royston's focus with Skyvera is ensuring what she calls "customer success... that's a leading indicator on long-term revenue. When you ask customers, 'Are you successful with this product?' as an open-ended question, and when you talk to executives, you get a really honest answer about how things are going. There are some really nice pockets in ZephyrTel of success... they want to understand where the roadmap is going, and then there're some other areas that have been a little bit neglected, and so we have to do a lot of catch-up work."
She adds: "It's really important that you stabilise the base, talk to the customers get them in front of the leadership team, introduce them to Matt Taylor [the new CEO, previously with MATRIXX Software] – he has a great rapport with customer executives. So we're focusing on customer success."
And what is the relationship now between Skyvera, which has customers and revenues, and Totogi, which is still in the early stages of building its platform? Royston says the two will remain separate under the TelcoDR umbrella, but that they will try out a model, called Skyvera Cloud Club, whereby Skyvera customers will gain credits with Totogi and Totogi partners depending on how much spend with Skyvera. "We've started testing this idea with customers... the whole idea is to accelerate CSPs' moves to the public cloud."
And part of the Skyvera role will be to continue the Zephyrtel model of expansion through M&A as well as organic growth. "There are about 1,500 to 2,000 telco software companies and some are in the market to sell... I'm a buyer, a big buyer, and I want to pivot their products to the public cloud. Skyvera is going to be the umbrella that's running the acquisitions of TelcoDR. This is the first acquisition, but it won't be the last. We're in the market, we have bids out, we're looking for more," says Royston, who can now expect to hear from a lot of companies looking to cash in on their telco software assets...
More than a mentor?
And when opportunities arise, she may just talk to Joe Liemandt about it. She describes their relationship as "super deep... I count him as a mentor, and I go to him for advice frequently. He's an enterprise software expert, so I'm always going to really welcome that counsel."
So is he an investor in TelcoDR? Is he one of the behind-the-scenes backers?
"It's a group of investors. They want to remain anonymous. [Liemandt] continues to be a mentor and a good friend."
So you're not saying Liemandt isn't an investor? "The investor group wants to remain anonymous," repeats Royston. So, it's neither confirmation nor denial.
But it seems inconceivable that Liemandt does not have an economic interest in TelcoDR: Being a mentor and handing out advice without financial gain doesn't seem like a good fit with the Liemandt ethos, which is all about efficiency and returns. And ESW is not known for selling companies -- it's a buyer and builder, so why break the habit with ZephyrTel unless it's part of a broader investment play? In addition, Liemandt is publicity shy, so that fits in with anonymity of the backers.
But, this is all mere speculation on the part of this editor, and not confirmed by Royston. If Liemandt is involved, though, that would appear to be a positive for the TelcoDR team, as he has deep pockets that can help with TelcoDR's long-term goals and is clearly a fan of Royston.
She's much more keen to talk about the advantages of the public cloud to telcos and seems convinced there's a ton of money to be made in running a software empire that can capitalize on the kind of next-generation telco software demand that incumbent providers, who have already proven that the outspoken Royston has put their noses out of joint, might not be so keen to offer in a rush.
But why not stick with the Zephyrtel name? It may only be three years old but at least it's out there and on the books of, apparently, hundreds of network operators. So why change the name?
"I didn't really like it," says Royston.
Fair enough!
- Ray Le Maistre, Editorial Director, TelecomTV
Email Newsletters
Stay up to date with the latest industry developments: sign up to receive TelecomTV's top news and videos plus exclusive subscriber-only content direct to your inbox – including our daily news briefing and weekly wrap.