Cisco's annual traffic forecast shows wireless driving growth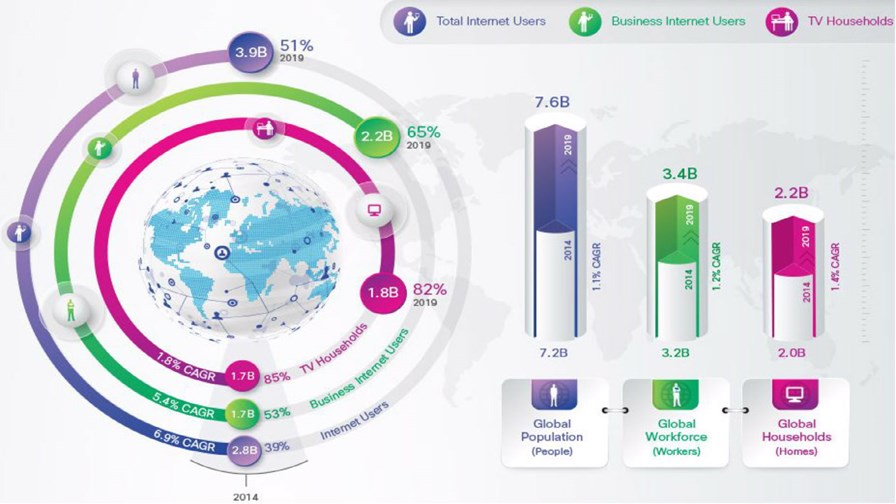 Cisco's annual Visual Networking Index (VNI) Forecast is out - this is the one that counts up Internet traffic and usually issues slightly alarming projections about how it is set to climb at break-neck speed. This year it reports that annual Internet Protocol (IP) traffic is set to triple between 2014 and 2019. By 2019 it will reach a record 2 zettabytes - a very big number indeed. What's driving it? Standard global increases in the actual number of global Internet users; an increase in the volume of personal devices and an increase in time spent online by those already connected, and the expected rise in machine-to-machine (M2M) connections.
All this is pushed along by the tail wind of faster broadband speeds and, of course, the adoption of advanced video services.
It all adds up to a compound annual growth rate of 23 per cent. Cisco says this represents the first increase in consecutive VNI forecasts in nearly a decade, pointing out that last year's projected CAGR for 2013 – 2018 was 21 per cent.
So what's happening of note within the headline numbers? Mobile data traffic is set to triple its share of IP traffic over the next few years. By 2019, however, Cisco predicts that a full 53 per cent of monthly IP traffic will come from Wi-Fi connections worldwide, up from 42 percent in 2014.
As a proportion, fixed IP traffic will drop down to 33 per cent in 2019 from 54 per cent now. Cellular data traffic, however, it expects to rise to 14 per cent from its current 4 per cent - just about the same percentage rise (10 per cent) as WiFi.
The Internet of Everything (Cisco's expanded version of the Internet of Things) is the standout, not because it's going to gobble lots of bandwidth but because, despite all the attention it's received, it looks like being particularly abstemious.
Cisco has IoT accounting for a tiny 2.7 per cent of global IP traffic by 2019, up from about half a per cent in 2014. This is clearly because of the nature of many of the applications (just a few bytes at a time) but it's still a surprisingly small number. However, Cisco does see growth in IoT itself, forget the traffic, with connections expected to more than triple to 2019.
Email Newsletters
Stay up to date with the latest industry developments: sign up to receive TelecomTV's top news and videos plus exclusive subscriber-only content direct to your inbox – including our daily news briefing and weekly wrap.