World watches as Yahoo hammers another nail into its own coffin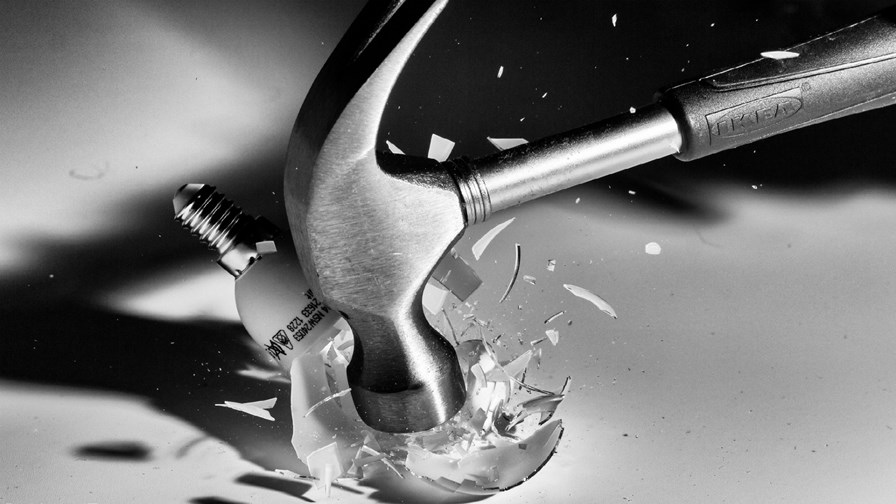 Anger grows over Yahoo's decision to prevent access to email accounts of those using ad blockers
A PR disaster of its own making
Company relying on (very )small print in its Terms & Conditions to justify actions
Meanwhile, the UK's biggest mobile operator, EE, will allow users to block ads
Outraged reaction to Yahoo's "small" and very sneaky "test", which prevents subscribers who have the temerity to use ad blockers from gaining access to their own emails, is growing and the unannounced 'experiment' has further dented the troubled company's already battered reputation. Yahoo was bleeding subscribers before the weekend's ill-advised action that has turned into a debacle and was already having difficulty attracting new users. Now many more existing subscribers have announced their intention to vote with their feet and leave Yahoo to it's own devices - as it were.
In the US media much is being made of Yahoo's legal position and whether or not it acted within the law by requiring users to turn off ad blockers before it would permit them to regain access to their locked email accounts. As you would imagine, this being the litigious US, where so many hold fast by the maxim "when in doubt, reach for a lawyer" there are plenty of opinions being bandied about for and against Yahoo's actions.
Much is being made of the fact that Yahoo's terms and conditions for users do not specifically prohibit subscribers from using ad blockers but when punters sign-up to the Ts&Cs they have to confirm that they have read every last endless jot and tittle of seemingly endless pages of very small print (and it is well-known throughout the industry that no-one ever does read these deliberately obscure and difficult documents because A) life is too short, and, B) if users did read them and understood them properly they would not sign up to them in the first and then where would the telecoms sector be?
However the Ts&Cs do state that in agreeing to take Yahoo's services, subscribers must agree to the following statement: "Yahoo may include advertisements and that these advertisements are necessary for Yahoo to provide the Yahoo Services."
As they say in journalism, this one will run and run - but whatever the eventual outcome there is no doubt that Yahoo has presided over a PR disaster entirely of its own making. Add to that the continuing decline in advertising revenues and a run of poor quarterly results (the Q3 figures were particularly disappointing) and it is evident that Yahoo is struggling under the leadership of its current CEO, Marissa Mayer. This is now a company that seems to be intent on committing suicide in full public view.
Just think back a few years to what many now regard as a golden age; a time when web ads were fairly unobtrusive and did not interfere with the experience of reading a web page. In those days ad blockers were rare and, while they were available, few people bothered to load them. Why? Because advertising was not the endless, irritating deluge that it is today. Too many advertisers are treating users with contempt, embedding surveillance codes and using them to garner details about individuals, the devices they use and the sites they visit many of which are not in any way related to the advertising that is being pumped out at them.
It is getting to the point that ad blockers are becoming as important and vital as anti-malware software and virus scanners. Users have had enough and they are finally doing something about it. The current ad-based monetisation business model is broken and it is too late for it to be repaired and reinstated. Times have changed but some (too many) advertisers and service providers have not and they'll pay the price.
But it's getting better in Blighty
Meanwhile, over in Europe, the ad blocker versus advertisers and service providers 'debate' is not as inflamed pustulent as it is in the US. For example, in recent months a few German companies went to court and sued the parent company of Ad Block Plus in attempts to get a judgement that would see ad blockers, well, blocked. They lost.
And, just yesterday, here in the UK, EE, the country's biggest mobile operator with 27 million subscribers, announced that it will intervene at the network level and introduce new technology to let smartphone users control the advertising with which they are bombarded by enabling them to block various forms of advertising, not only on the mobile web, but also within applications. It wouldn't stop all advertising getting through but it will give back to users a high degree of control over what amount of extraneous drivel gets though onto their devices. Pop-up page top banners and videos that play automatically are likely to be the first to be given the bum's rush by subscribers.
Announcing what will no doubt be a very popular technological initiative, the CEO of EE, Olaf Swantee, said, "Not all ads are bad, but when they're intrusive or crass they tend to drive people crazy. This is not about ad blocking, but about starting an important debate around customer choice, controls and the level of ads customers receive."
EE's decision will cause ructions amongst the UK's mobile operators and play havoc with the established way of doing things in the country's £2 billion mobile advertising market, but, by not blocking all advertising and handing to users the power to decide what ads they might want to see EE will put immense pressure on an industry that, in far too many cases, is spiralling out of control and needs must ameliorate its behaviour.
Email Newsletters
Sign up to receive TelecomTV's top news and videos, plus exclusive subscriber-only content direct to your inbox.