Vodafone writes £6.6 billion off its European assets: share price plunges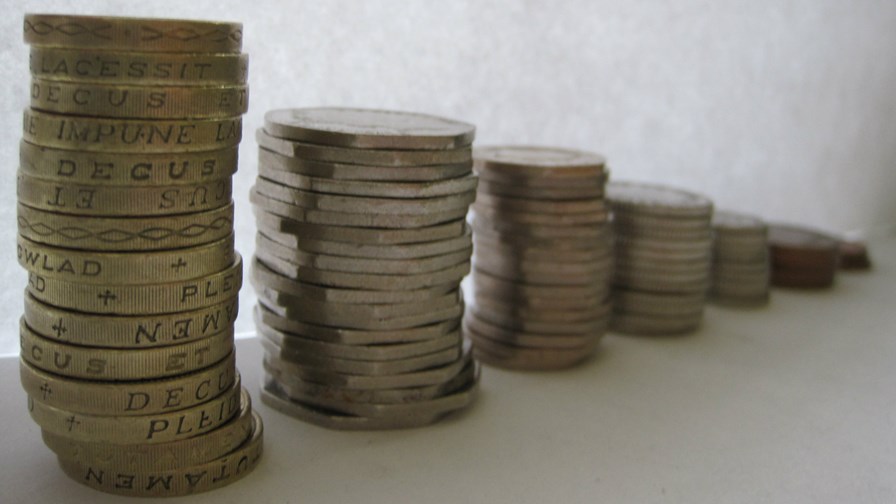 Having used the money made from the sale of its holding in Verizon Wireless to pay out big to investors and set aside billions for much-needed investment in Europe, Vodafone faces an uncertain future after issuing a 2015 profits warning. The news caused the company's share price to fall by 5.5 per cent.
A few short months ago it seemed that Vodafone could do no wrong as investors swilled the champers and swigged the truffle oil, all paid for courtesy of the proceeds of the sale of the company's 45 per cent share in US operator Verizon Wireless.
But that was then, and this is now and it is dawning on the market that Vodafone, having killed the goose that would have continued laying ever bigger golden eggs, isn't quite as wonderful a punt as it would like us all to believe. In fact, Vodafone is a classic 'curate's egg', good in parts but stinkingly bad in others - and all encapsulated in a single cracked shell.
Yesterday Vodafone's shares fell by 5.5 per cent, knocking £3 billion of the operator's value in just a few short hours of trading. It was the company's biggest share price drop in one day since 2009 and came as it issued a warning that earnings for 2015 will be below forecast and market expectations.
Two months ago Vodafone shares were trading at £2.50. That pence figure has now been reversed. The shares are selling at £2.05 and it will take a lot of effort, and probably quite a long time, before the shares hit those dizzying heights again.
Vodafone got US$130 billion for its Verizon Wireless holding and returned a great deal of that cash to restive shareholders. I was a great pay day for them and a grand party followed but now the hangover is kicking-in and Vodafone has been forced publicly to admit what analysts have been saying for months: Now that it has taken Uncle Sam's dollar and departed American shores, the remains of the company stands overexposed and vulnerable in too many parts of its European operations.
Vodafone has rested on its European laurels for far too long and, perhaps distracted by the Verizon saga, has under-invested there for years. Now it is having to play catch-up in a very fast moving field and has set aside £19 billion to upgrade ageing networks (and tart-up and titivate its retail stores with some fresh wallpaper and a lick of paint).
However, and here's the real sting in the tail, the UK-head-quartered mobile service provider has announced that due to what it calls "significant ongoing pressures" it has been forced to write-down the values of its business units in the Czech Republic, Germany, Italy, Portugal, Romania and Spain by an incredible £6.6 billion. Since 2012 Vodafone has now written-off more than £18 billion in relation to its European operations. Knocks a bit of the gilt off the Verizon Wireless gingerbread, doesn't it?
Part of Vodafone's recovery plan is 'Project Spring', a two year-long £7 billion project that is a sub-set of Vodafone's £19 billion overall effort to make itself a technological powerhouse and thus a viable long-term competitor to the likes of Deutsche Telekom and Telefonica by rolling-out so-callled 4G services to "91 per cent of Europe" by 2016. That's a tall order, and, as Vodafone iteslf admits, Project Spring won't throw off any cash for a minimum of seven years. A lot can, and will, happen in the European mobile sector whilst investors wait for a pay-back over such a lengthy period.
OK, so Vodafone is doing well in places like India, the company has made an operating profit of £5 billion and the dividend yield, at 5.3 per cent, is good and expected to rise - in the short term ay least. But revenues are down by 2 per cent on last year and ebitda earnings have fallen by 7 per cent - and now there's no Verizon Wireless to fall back on if things get worse. What's more, European operators aren't going to stand back and do nothing for years on end whilst Vodafone mounts a belated competitive play.
For a while it was rumoured that Vodafone was hoping that a friendly acquisition offer from AT&T was in the offing. That would have solved a lot of problems but AT&T went and spent $49 billion to buy DirecTV, leaving Vodafone high and dry. So, it is not beyond the bounds of possibility that Vodafone could, perhaps sooner rather than later, find itself the target of an aggressive take-over bid - and if such a scenario were to come to pass, neither shareholders, government ministers nor the public would be likely to line up to protest about the acquisition in the way they did in the Pfizer/AstraZeneca case.
Email Newsletters
Sign up to receive TelecomTV's top news and videos, plus exclusive subscriber-only content direct to your inbox.