Two lame ducks limping towards the guns. Activist hedge fund urges Yahoo to buy AOL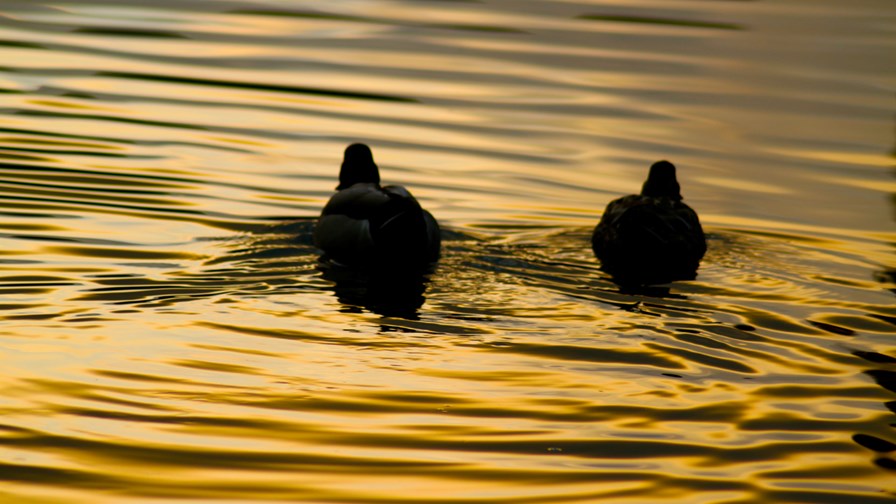 No sooner is the US$6 billion that Yahoo made from part of its share of the Alibaba Group finally in the company coffers than some hedge fund or other comes around with unsolicited advice on how to spend it. CEO Marisaa Mayer must be delighted.
The "activist" hedge fund Starboard Value, looming out of the spume and letting fly with a sudden broadside from hard on the port beam, has sent a missive to Ms. Mayer telling her that it is now time for Yahoo to pay its dues to patient shareholders by returning value to them asap - and that list of shareholders, naturally, includes Starboard Value itself.
The hedge fund won't reveal how much of a stake it holds in Yahoo (other than to say it is "significant") so it is no surprise that it wants to jolly things along a bit. However, what is surprising, nay, what is gob-smacking, is its demand that Yahoo should buy AOL or get into a "strategic combination" with it, presumably on the grounds that in the land of loony logic two weak companies when forced together will make one strong one. After all the world is just bursting at the seams with examples where that has paid off.
Merging with or acquiring AOL is idea that has been touted in the past but abandoned on the eminently reasonable grounds that the forced mating two tired and mangy old dogs will not necessarily result in the creation of a prize-winning champion greyhound. So, why would it be any different this time around?
Well according to Starboard Value anyway, a Yahoo acquisition of AOL "could potentially" result in "up to $1 billion of synergies" and so boost Yahoo's value and that could translate into bonus cash for shareholders. It is equally true that buying London Bridge and rebuilding over a lake in the Arizona desert could potentially result in billions of dollars being made from gullible tourists coming to gawp at what they expect to be Tower Bridge but actually isn't. Oh, yes, sorry, that's been done already, hasn't it?
Yahoo remains tight-lipped about Starboard Value's raking of the company stem to stern with an unexpected volley of opportunist grapeshot and will say no more other than a letter has been received and that Yahoo will "act in the best interest of the company", which isn't quite the same thing as saying it will act in the best interests of its shareholders.
In a statement Marissa Mayer writes, "We have maintained, and will continue to maintain, an open dialogue with all of our shareholders. As part of our regular evaluation of Yahoo's strategic initiatives to drive sustainable shareholder value, we will review Starboard's letter carefully and look forward to discussing it with them." We'll take that as a veiled "sod off" then, shall we?
"Strategic Combinations" - just like grandpa used to wear
Yahoo, a fading Internet star if ever there was one, continues to "re-organise" upon previous re-organisations as it tries to find and define a role for itself in the brave new world of digital media. It has not yet been particularly successful and Starboard Value is stressing that the value of Yahoo's core search and display advertising business, after the its holding in Alibaba and Yahoo Japan is deducted from the equation, is to all intents and purposes a big fat zero. Hence the outbreak of "activism".
Jeffrey Smith, the "managing member" of Starboard Value and the one who signed the letter to Marissa Mayer has a long history with Yahoo. He was instrumental in getting Ms. Mayer appointed Yahoo CEO in the first place and now is obviously getting bit twitchy about the future of the company under his preferred protege. He is not though (as yet) agitating for her resignation but he does want action and that action is for Yahoo to sell its remaining holdings in Alibaba, sell its interests in Yahoo Japan, cut costs by half a billion dollars a year, merge with or buy AOL and, simultaneously abandon Yahoo's markedly unsuccessful strategy or buying start-up after start-up that distract from the real problem and don't bring in anything by way of meaningful revenues.
Mr. Smith writes, "Yahoo's main assets include its core Search and Display advertising businesses, its non-core 15 per cent stake in Alibaba and its non-core 35.5 per cent stake in Yahoo Japan. There has been tremendous excitement around Alibaba and its IPO. Even after the previous ill-timed and tax-inefficient sales of Alibaba stock, Yahoo's remaining stake in Alibaba is currently worth more than the entire enterprise value of Yahoo. When adding Yahoo Japan, these two minority equity interests are worth approximately $11 billion, or $11 per share more than the current enterprise value of the Company."
Like strapping Long John Silver to Sarah Bernhardt and expecting them to win Strictly Come Dancing
According to Mr Smith the answer to Yahoo's problems are simple and blindingly obvious: "We believe that a combination of Yahoo and AOL could offer synergies of up to $1 billion by significantly reducing the cost overlaps in their display advertising businesses as well as synergies in corporate overhead. Importantly, we believe the combined entity would be able to more successfully navigate the ongoing industry changes, such as the growth of programmatic advertising and migration to mobile. In addition, we believe a combination could also lead to revenue growth opportunities given the broader user base, higher quality content, better technology assets, and enhanced relationships with advertising agencies."
Thus, "Unlocking the substantial value from Yahoo's non-core minority equity stakes in Alibaba Group Holding Limited and Yahoo Japan in a structure that delivers value directly to Yahoo shareholders in a tax-efficient manner" is the way to go, together with "halting Yahoo's aggressive acquisition strategy which has resulted in $1.3 billion of capital spent since Q2 2012 while consolidated revenues have remained stagnant and EBITDA has materially decreased" plus, "exploring a strategic combination with AOL, Inc. which could improve Yahoo's competitive position, deliver cost synergies of up to $1 billion, and potentially facilitate the realisation of value from Yahoo's non-core equity stakes with minimal tax leakage."
The letter adds that "Yahoo's recent strategy of focusing on acquisitions has not worked. Yahoo's stock price has merely been buoyed by the strong growth in value of Alibaba… We hope, and expect, that the management team and the Board will execute on the suggestions in this letter. We look forward to speaking with you in more detail about Yahoo's opportunities and the potential structures the Company can utilise to create value for the benefit of all shareholders."
Yup, it's deja vu all over again with Yahoo once more facing renewed shareholder pressure but the trouble is that combining one past-it technology with another isn't a sensible way to inject life into twoNow that Yahoo has attracted the basilisk stare of an activist hedge fund there's trouble looming. The situation is fluid and with investors looking for a quick buck on the back of a sudden but short-term rise in the value of Yahoo stock before selling up and getting out, it is also dangerous. There's even a possibility that Yahoo could become the hunted rather than the hunter.
But whatever happens the maintenance of the status quo is not an option so what's the betting that Marissa Mayer won't be at Yahoo this time next year and/or that Yahoo won't be Yahoo any more?
By the way, everyone knows that Long John Silver was missing one of his pedal extremities but fewer are aware that actress Sarah Bernhardt had a wooden leg.
Email Newsletters
Sign up to receive TelecomTV's top news and videos, plus exclusive subscriber-only content direct to your inbox.