BT offers 52Mbit/s FTTC-based 'standard' broadband in UK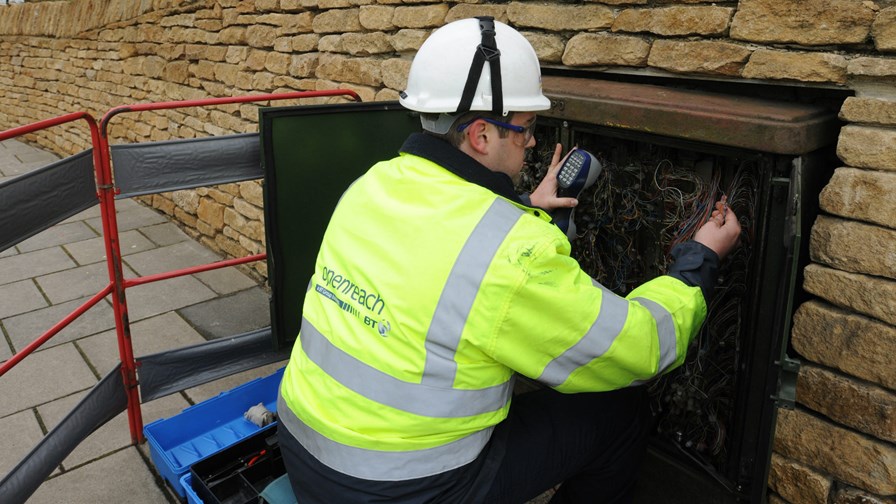 BT has bumped up its entry level FTTC-enabled broadband offering, BT Infinity 1, to 52Mbit/s saying it's now offering a faster 'standard' service than its major competitors - Sky, TalkTalk and Virgin. It's a good move of course. BT is offering uncapped data at a faster speed, with the 'new' BT Infinity 1 up to 52Mbps service costing £10 per month for the first 12 months on a 12 month contract, on top of the line rental which in the UK ranges from about £13 to £17 per month. Perhaps we shouldn't grumble (although I should because I can't get that speed where I live).
But… we know that most consumers aren't interested in technical detail or, in the words of David McDonald, director of broadband and more besides at BT, "Our research has shown that it's what you can actually do with your broadband that matters most to consumers."
On the other hand many do like a bit of technical context, so it's annoying to see that BT's smoke and mirrors are billowing and glinting as strongly as ever, with the words 'fibre' and 'fibre broadband' popping up here and there. In fact this is DSL - yes, short-run DSL (hence the higher speeds), but DSL none-the-less. It's not fibre.
For this service BT runs fibre out to the street cabinet and essentially intercepts the copper pair that used to run from home to the local exchange and drives its signals to the home across tens of metres not 1 to 3 kilometres.
Why not point that out? Distance and copper pair condition heavily influence final delivery speed. It's an important and easy thing to understand and is the reason that 52Mbit/s is an 'up to' indication, not a promise.
Email Newsletters
Stay up to date with the latest industry developments: sign up to receive TelecomTV's top news and videos plus exclusive subscriber-only content direct to your inbox – including our daily news briefing and weekly wrap.