Verizon trials 10Gbit/s NG-PON2 technology for FTTP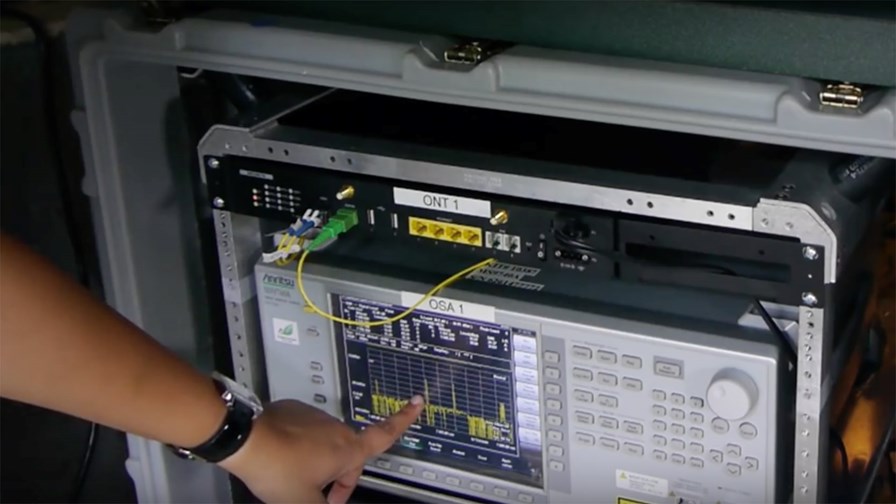 Trial conducted over 5km with 10Gbit/s uplink and 2.5Gbit/s downlink
Equipment provided by Cisco and Portugal's PT Inovação
NG-PON2 expected to reach 60km distances
Could enable speeds of up to 80Gbit/s downlink
US telco Verizon has announced that it has successfully completed a test of next-generation passive optical network (NG-PON2), which it says could provide businesses and consumers with upload and download speeds of up to 10Gbit/s, with the potential to increase this speed even further.
NG-PON2, or ITU-T Recommendation G.989 to give it its proper designation, describes 40Gbit/s-capable systems in an optical access network for residential, business, mobile backhaul and other applications. It uses 4 to 8 TWDM channel pairs, configurable for incremental growth, each enabled on a "pay as you grow" basis. In contrast, today's GPON networks operate at around 2.5Gbit/s downlink and 1.5Gbit/s uplink.
Verizon says it will look to upgrade its FTTP network when commercial equipment is available to support business services such as switched Ethernet services. The proposed NG-PON2 upgrade may also be used to support multi-gigabit-speed Internet access services for its FiOS customers – if the market demands such services, and as the technology matures.
Field testing of NG-PON was undertaken on a link from Verizon's central office in Framingham, Massachusetts, to a FiOS customer's home 3 miles away as well as to a nearby business location. This followed extensive testing in Verizon's laboratories in Massachusetts. The trail consisted of a new optical line terminal installed in the Verizon central office, generating four wavelengths, each capable of operating at 10Gbit/s downlink and 2.5Gbit/s uplink. Later versions are envisioned to support synchronous speeds.
Three miles is about 5km, which is a fraction of what NG-PON2 is theoretically capable of delivering. The ITU specification calls for an average of 40km, with a maximum reach of 60km. However, as with all communications technologies, distance comes at a price – there's the inevitable trade-off between reach and speeds, as well as optical split ratios. But when commercial deployments are announced, expect to see distances of 20km to 40km for synchronous 10Gbit/s services.
Optimising CAPEX investment
The trial also demonstrated that the network can simultaneously deliver GPON and NG-PON2 over the same fibre. This is important for telcos as the optical distribution network (i.e. the installed fibre) represents 70 per cent of the sum of investments in a PON rollout. Therefore, it makes financial sense for NG-PON2 technology to be compatible with the existing deployed networks.
It also validated the service reliability feature of NG-PON2 – a fault in the central office equipment was simulated and the customer's equipment autonomously tuned to another wavelength, quickly restoring its own 10Gbit/s service in seconds. The trial was conducted with a NG-PON2 equipment system from Cisco and Portugal's PT Inovação.
Verizon said it will issue a request for proposals later this year for the purchase of hardware and software for the new NG-PON2 platform. Business customers will be its first target, although as the adoption of 4KTV by consumers picks up this will provide another service channel, as will IoT with its requirements for higher symmetrical speeds and lower latency.
"The advantage of our FiOS network," said Lee Hicks, VP of network technology for Verizon, "is that it can be upgraded easily by adding electronics onto the fibre network that is already in place. Deploying this exciting new technology sets a new standard for the broadband industry and further validates our strategic choice of fibre-to-the-premises."
Hicks added that the technology will have the system capacity to grow to 40-80Gbit/s as the market demands (which is double what the current standard supports), by adding additional wavelengths onto the existing fibre, each augmenting the capacity by up to 10 Gbit/s.
As well as Cisco, other NG-PON2 vendors include Alcatel-Lucent, Huawei, Adtran and Calix. In Europe, Vodafone is conducting trials with Alcatel-Lucent in Spain.
Email Newsletters
Stay up to date with the latest industry developments: sign up to receive TelecomTV's top news and videos plus exclusive subscriber-only content direct to your inbox – including our daily news briefing and weekly wrap.